By Nicole Nalty
In our opinion, watching a fireworks spectacular is the best way to top off a perfect Disney day. According to Disney Legend Richard Sherman, Walt thought a sparkling fireworks show was the perfect "kiss goodnight" for guests enjoying a day at Disneyland (Richard even penned a song about it!). Guests visiting Disney's Florida-based fantasy land are in for a treat with the debut of Happily Ever After, a brand-new fireworks spectacular––created just for guests of Magic Kingdom park––full of unbelievable projection-mapping technology, an emotional score, and, of course, fantastic fireworks.
The nighttime spectacular, debuting this Friday, May 12, at Magic Kingdom, celebrates some of Disney's greatest adventures, with moments from Moana, Brave, Big Hero 6, Zootopia, The Princess and the Frog, and Aladdin among the many Disney favorites showcased throughout the show. While the stories told in Happily Ever After will be familiar to Disney fans, you'll find amazing new animation from the folks (read: creative geniuses) at Walt Disney Animation Studios for sequences exclusive to the new show. "It's just fun to play with these characters in a completely different context than the original film," Eric Goldberg, original animator of Aladdin's Genie and many more beloved characters, told the Disney Parks Blog.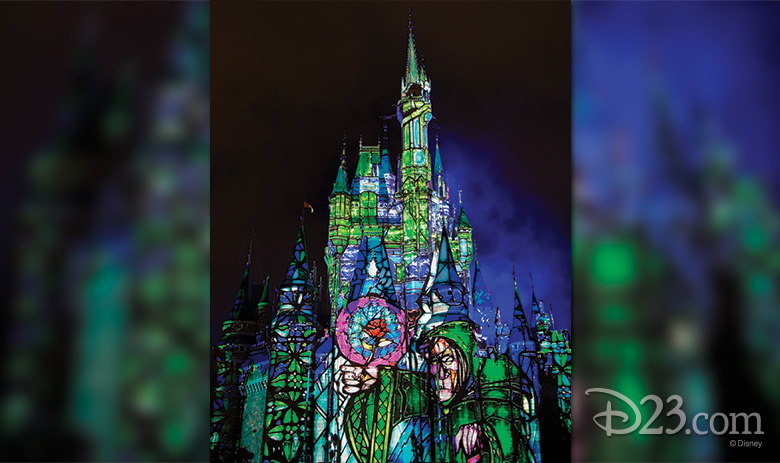 Melding together classic storytelling and the latest and greatest technologies is what Disney does best––in Happily Ever After, hand-drawn animation joins forces with the latest projection-mapping technology, a tool that the park has utilized since the debut of The Magic, The Memories & You in 2010. Cinderella Castle becomes a blank canvas for these magic makers––as art director Ryan Kravetz noted, "It's not paper, it's not a cel. The physical structure of this castle as our starting point is a really powerful medium to be using."
The soundtracks that accompany Disney fireworks are memorable and moving, and the new music created for Magic Kingdom's new show is no exception. Contemporary versions of popular Disney songs and an all-new score, recorded across the pond at London's Air Studios, will weave together the many Disney adventures you'll experience during the show, and a new song created just for the show—appropriately titled "Happily Ever After"—will inspire guests to dream big and never give up. The song comes to life through the voices of country music artist Angie Keilhauer and singer Jordan Fisher, who most recently took on Maui's "You're Welcome," alongside Lin-Manuel Miranda, on the Moana soundtrack. (Get a sneak peek of the song here).
Most importantly, Happily Ever After has heart. As Disney Legend Mark Henn put it, "I think that these characters, the stories, and the journeys that they've all gone through that we see in the show will remind people that happily ever after still can exist, we can still have our hopes and dreams and still hope for that 'happily ever after.'"