By Jim Fanning
For Walt Disney and his Imagineers to design, build, and open Disneyland Park 60 years ago took oodles of imagination, tons of creative courage—and a wee bit of luck. So it couldn't hurt to have a leprechaun on hand. A whimsical story about just such an Irish elf is one of the best-kept secrets surrounding the creation of Walt Disney's Magic Kingdom. Fans of this fanciful little fellow have been fascinated with him and his unique status as a "resident" of the magical park—in fact, some who have read his tale have been searching for his mysterious house ever since! But if you aren't acquainted with this legendary leprechaun, allow D23 to introduce you to the fabled Little Man of Disneyland.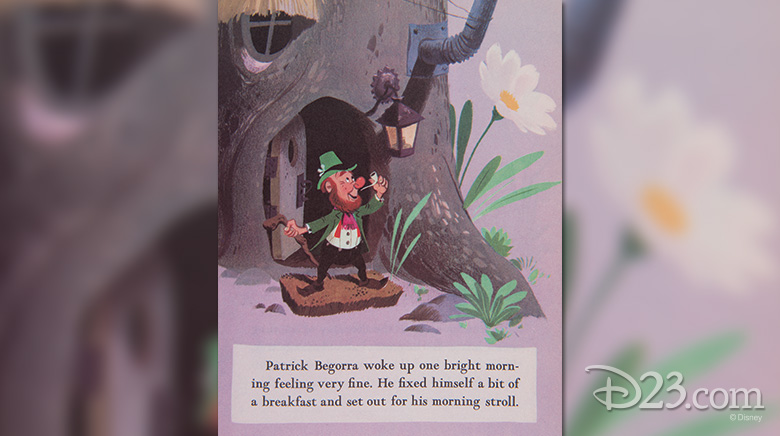 Meet Patrick Begorra
The "buried gold" of this elusive leprechaun begins with those fan-favorites, the Disney Little Golden Books. These well-told, richly illustrated volumes—both adaptions of classic films and specially created stories—were often illustrated by moonlighting Disney Studio artists, including such Disney Legends as John Hench, Al Dempster, and Mary Blair. In 1955, several Little Golden Books spun stories around Walt's latest dream-come-true, Disneyland. The most fantastical of these was Little Man of Disneyland, the charming story of Patrick, a leprechaun who lives in a tiny, half-hidden house at the roots of an Anaheim orange tree—until one day Donald Duck, Mickey Mouse, and Goofy (and Pluto too) turn up. They are ready to start moving trees so they can build "a wonderful place called Disneyland… with all sorts of marvelous things for fun." The friends take the little man on a helicopter ride back to the Disney Studio—exactly how Walt traveled back and forth from Burbank—to see the Disneyland blueprints, drawings, and concept paintings (all based on actual Disneyland art). Patrick agrees to let them build the Park—as long as he can live there in a new house. Once Disneyland is ready to open, Patrick moves into a "wee snug house" of his own in a secret spot at the Park known only to him.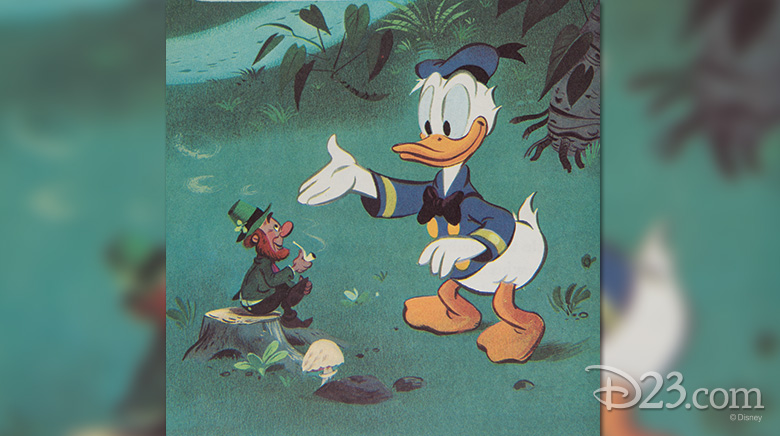 Authentic Art
Prolific Golden writer and editor Jane Werner penned Little Man of Disneyland. The author of more than 400 Little Golden Books, Jane wrote the tale of Patrick and his hidden home under one of her pen names, "Annie North Bedford." (The Golden Book offices were on North Bedford Drive in Beverly Hills.) The full-color illustrations "by The Walt Disney Studio," were adapted by Dick Kelsey. The illustrations are authentic: Richmond Kelsey joined Disney in 1940, with credits as an animator, art director, and writer, working on such animated classics as Pinocchio, Fantasia, and Alice in Wonderland. He was also one of Disneyland's designers. Dick's vibrant, artful illustrations are so intriguing, that young—and young-at-heart—readers have kept their eyes—and imaginations—open to wonder as they visit "The Happiest Place on Earth," hoping to find Patrick's home. Some readers even assumed Patrick's "out of sight, hidden away" home was in Adventureland, apparently because the art portrays Donald querying the Little Man about his hidden Disneyland home near the Jungle Cruise.
"Leprechauns are very unpredictable."
Little Man Gold at the D23 Expo
Walt Disney 's Little Man of Disneyland was published in 1955 as "A Mickey Mouse Club Book" in the Little Golden Book series. Random House— the publisher of the Golden imprint—has created a special reprint of the book that will debut at the 2015 D23 EXPO, August 14-August 16. This collectors' edition of the classic Little Golden Book will be available exclusively in the Random House booth, in the Disney Consumer Products area of the D23 EXPO show floor. This cherished Little Golden Book title is being "brought back" especially for D23 EXPO 2015.
See (and Hear) the Original Book
For longtime lovers of this vintage storybook as well as those just being introduced to this one-of-a-kind tale, a Little Man of Disneyland vignette can be discovered at the "Walt Disney Archives Presents: Disneyland–The Exhibit" pavilion on the show floor of the 2015 D23 Expo. Featured will be a 10' x 10' background image from the book, a case displaying two original 1955 copies of the Little Golden book, and a piece of the original art painted by Disney artist Dick Kelsey and on loan courtesy of Disney Consumer Products. As part of this unique exhibit guests can also see a video of Disney Chief Creative Officer John Lasseter relating his childhood memories of the beloved book and reading it aloud on camera.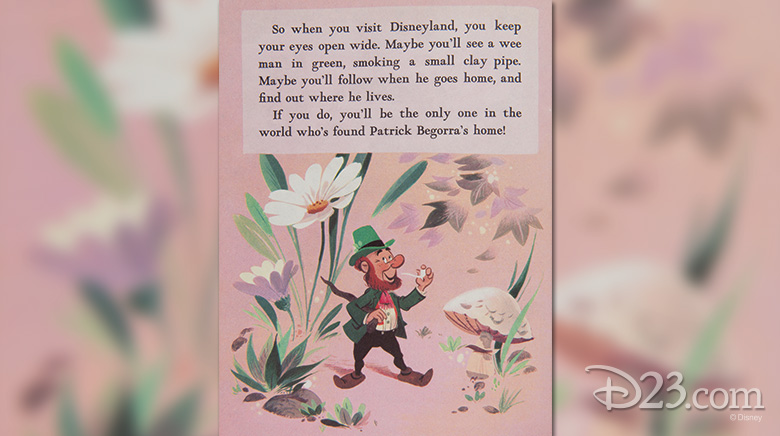 The Little Man at Disneyland?
But what of the legend of the Little Man of Disneyland? Is Patrick's tiny home hidden somewhere in the Park? Well, enchanting things have been known to happen at Walt Disney's Magic Kingdom, especially during such an extraordinary occasion as the Disneyland Diamond Celebration. And some even claim to hear whispers and murmurs on the wind that the leprechaun's new house just might "magically appear" during the weekend of the D23 Expo. And where exactly in the Park might the mystical miniature manse of the Little Man of Disneyland appear? When asked, all Walt Disney Archives director Becky Cline could do was shrug and say—with twinkling eyes worthy of Patrick Begorra himself—"Leprechauns are very unpredictable."