By Courtney Potter
Disney Junior's brand-new animated series Mira, Royal Detective introduces viewers young and young-at-heart to a brave and resourceful girl named Mira, a commoner appointed to the role of royal detective by the queen. Mira's often joined by best pal Prince Neel, cousin Priya, and some hilarious mongoose sidekicks named Mikku and Chikku; their mystery-solving adventures not only entertain, but also help encourage those ever-crucial deductive reasoning skills along the way. Set in the fairytale land of Jalpur—inspired by the cultures and customs of India—the series features a truly all-star cast of South Asian actors… not to mention a host of original songs, and some incredible dance sequences created especially for the show by Bollywood and So You Think You Can Dance choreographer Nakul Dev Mahajan. (For some D23-exclusive behind-the-scenes info from the creators of Mira, Royal Detective, be sure to click here and here!)
As the theme song to the series explains, "We'll take in the world with a whole new perspective!" And D23 found that out firsthand when we were lucky enough to sit down recently with the royal detective herself, newcomer Leela Ladnier—as well as Utkarsh Ambudkar (Chikku) and Freida Pinto (Queen Shanti)—to get some inside scoop on the show, and to find out what the messages they hope families take away.
Leela Ladnier (Mira) on the moment she found out she'd been cast, and what the opportunity to be a voice in a Disney Junior series means to her…
"My mom actually took me to an ice cream shop and told me," says the teenage Ladnier, chuckling. "I understand a lot more now how monumental this project is, [and] how much the show means to so many people—more so than I did then… I'm still trying to come to terms with it! Disney's been the biggest part of my life since I was little. I had all the dresses and the playsets; watched all the movies; sang all the songs. And to think now that I'm a part of this company that's been such a big part of my life—I can't even explain to you how much that means to me. It's amazing!"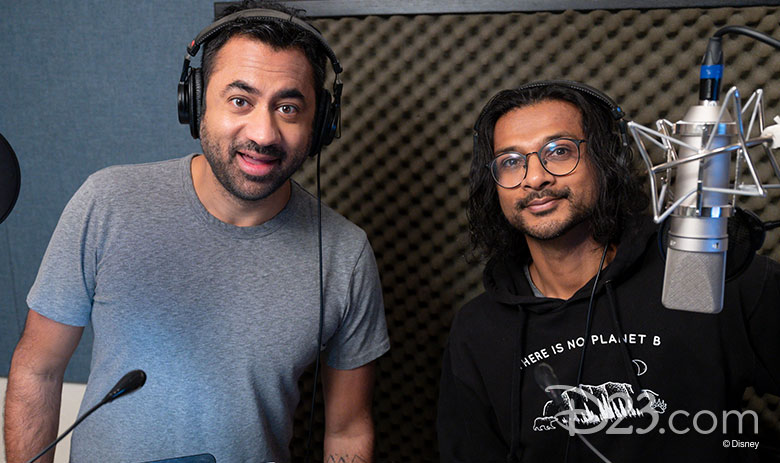 Utkarsh Ambudkar (Chikku) explains how he got involved with the show…
"I'm good friends with Anthony Veneziale; we're in this group called Freestyle Love Supreme," explains Ambudkar—for the uninitiated, FLS is a hip hop-improv group, co-founded by Oscar® nominee Lin-Manuel Miranda, that just finished a successful run on Broadway—"and [Veneziale and Mira, Royal Detective executive producer] Sascha Paladino are friends. That's how we got in each other's worlds. And they came to me with the offer for the role—and I saw the cast that was involved, and it looked really exciting… [The show is] a home run; it's really great. It's special, it's cute, it's rhythmic, it's fast-paced—I think kids are really gonna love it."
Freida Pinto (Queen Shanti) on how she connects to her character…
"I feel like there are parts of my character that I do relate to," admits Pinto, "in the sense that she's the leader and the ruler and has to make all the right decisions; she has this big responsibility to rule the kingdom and to guide the people of the kingdom in the right way. And so I do feel like in my own role as a leader—whether it's at my production company or growing up, when I would lead the children's choir [I took part in], just simple things like that, I had to always come from a place of inclusivity—making sure that the quiet ones and the shy ones were not being left out, making sure that I encouraged people to come forward, but at the same time also [offering] tough love. I feel like a combination of that is truly Queen Shanti's character… Every time I'd have a recording session, there'd be a sense of pride that I was getting to be a part of this show."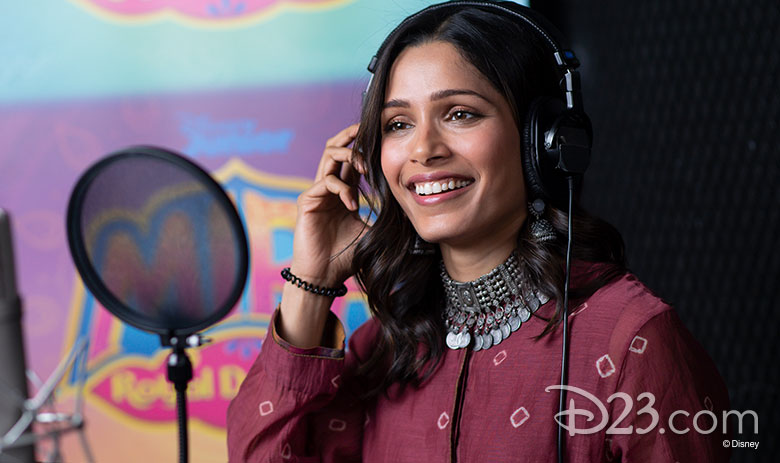 Ladnier on what it was like the first time she saw her character come to life in animation…
"I honestly was at a loss for words," admits Ladnier. "Obviously, with anything, when you work really hard on something, it's so rewarding to [watch] that actually manifest itself and to see it… I'm still getting used to hearing my voice alongside an animated character. This is my first voiceover job and so, it's definitely very surreal."
Ambudkar on the chance to record together with actor Kal Penn, who voices Chikku's mongoose cohort Mikku…
"We got to record together in New York a few months ago," says Ambudkar, "and that was super fun. They finally wrangled us both in the same room! It's different when you get to play together—especially when you're so connected on the show; our characters are basically finishing each other's sentences. So to be able to do that in the room [together] was really cool… [But] something special happened with the show, where the rhythm [Kal] hit and the rhythm I hit—totally independent of one another—just happened to work. And that's cool and rare. It doesn't happen often."
Pinto on what she thinks kids and adults—of any cultural background—will be able to take away from Mira, Royal Detective…
"For the South Asian kids, they're gonna feel seen and heard," believes Pinto. "And for the kids who are not South Asian, I think there'll be a sense of curiosity and excitement that they're learning new things. Kids 'get' the most when they watch their favorite animated movies or animated shows; they learn [and] absorb, and they're taking themes and ideas from it into their everyday lives—from fantasy to real life… And I feel like it's gonna be a fun time for the American adult audience [too], to go beyond America. And in a way, [the stories are] also deal with so much humanity and kindness and smarts and intelligence—common sense. All those themes tie in wonderfully."
Ultimately, Ladnier cannot wait for audiences to see the show…
"I think that Disney Junior's done a great job with the series," she says, "and anyone can relate to the messages and the themes of the show—like persevering in tough situations; being independent; not looking to other people to solve your problems for you… I really think that everyone deserves to grow up seeing themselves represented. I'm growing up in a time where you're seeing more diversity in the media—which has definitely encouraged me to pursue acting, and has encouraged me and helped me believe that I can do this. [And] I think that one of the things I really wanted to drive home when I was playing Mira was that she's just a regular girl. This does happen to be a show that features South Asian culture—but I'm hoping that young kids everywhere will be able to grow up [universalizing] our culture and learning to embrace diversity."
Don't miss Disney Junior's Mira, Royal Detective—premiering Friday, March 20, at 11 a.m. EDT/PDT on Disney Channel, and at 7 p.m. EDT/PDT on Disney Junior!