By Beth Deitchman
Jalpur, the fairytale land that's the setting of Mira, Royal Detective, the brand-new animated series from Disney Junior, is a spectacular world inspired by the customs and traditions of India. Its inhabitants make for a pretty beguiling bunch, as well. Before you tune in to the series premiere this Friday, March 20, on Disney Channel (11 a.m. ET/PT), Disney Junior (7 p.m. ET/PT), and in DisneyNOW, get to know Mira, her mongoose sidekicks, and more.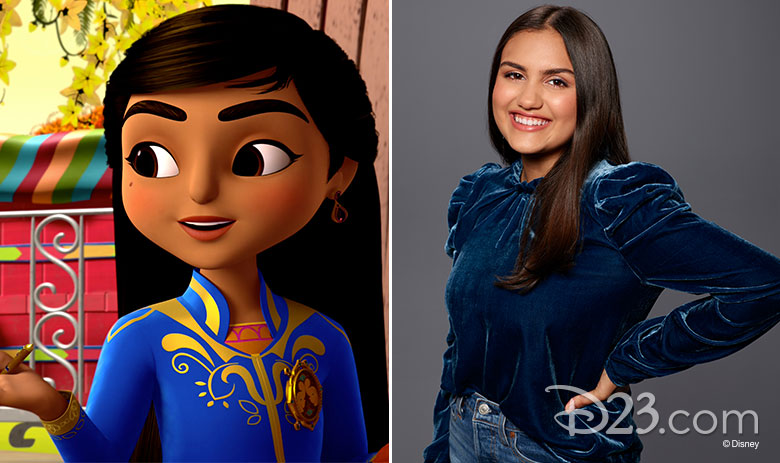 Mira
Mira may be the most diminutive royal detective Jalpur has ever known, but no sleuthing is needed to understand why the Queen appointed the young commoner to the prestigious role. Nothing can stop Mira when she's on the case, and she never hesitates to make solving mysteries a team effort, bringing her friend Prince Neel, cousin Priya, and mongoose mates Mikku and Chikku along on the adventure. Mira is voiced by newcomer Leela Ladnier.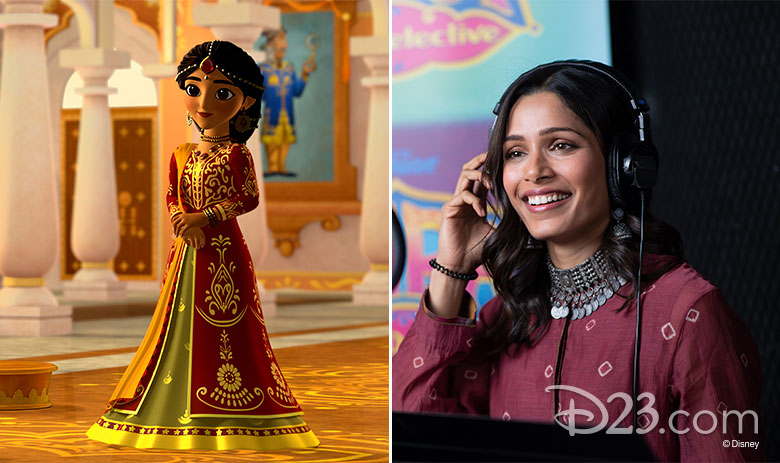 Queen Shanti
Jalpur is in benevolent and compassionate hands with Queen Shanti as their ruler. It is Queen Shanti who saw in Mira all the qualities that are so important in a royal detective, and she becomes a mentor to Mira as the young girl grows into her role. Freida Pinto (Slumdog Millionaire) lends her voice to Queen Shanti.
Auntie Pushpa
Mira's aunt, Auntie Pushpa, is proprietor of the high-end boutique in Jalpur where the royal detective's first adventure in the series, "The Case of the Royal Scarf," unfolds. Auntie Pushpa is voiced by Jameela Jamil (The Good Place).
Mikku and Chikku
What could be better than a mongoose sidekick? How about a pair of them? Mikku is charming and quirky, and he's a stickler for rules. He's also obsessed with food. Chikku is certainly not one to pass up a snack himself; the zany, cuddly mongoose also has a fondness for the spotlight. Kal Penn (Sunnyside) lends his voice to Mikku, while Utkarsh Ambudkar (Brittany Runs a Marathon) plays Chikku.
Pinky
The sweet and bubbly Pinky is a commoner in Jalpur, just like the royal detective herself. She loves animals—especially goats!—and is one of Mira's closest friends. Hannah Simone (New Girl) voices Pinky.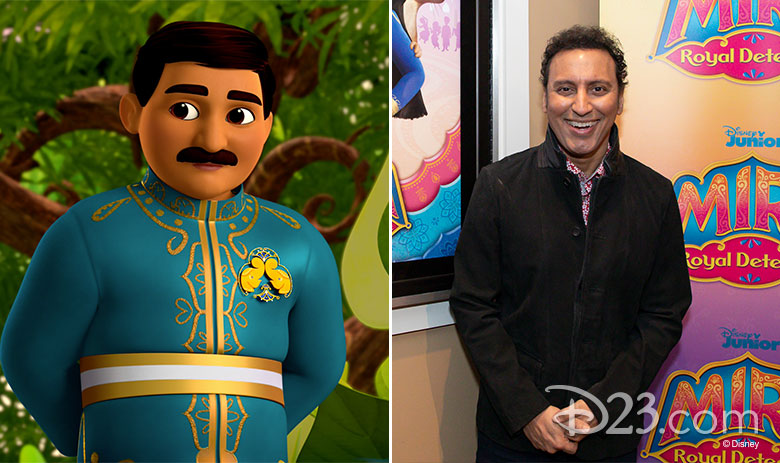 Sahil
Mira's sweet and funny father oversees transportation for Queen Shanti and the rest of the royal family. He is voiced by Aasif Mandvi (The Daily Show).
Meena
You'll often find Mira's stylish cousin Meena among the beautiful scarves and accessories in Auntie Pushpa's boutique. Aparna Nancherla (BoJack Horseman) lends her voice to Meena.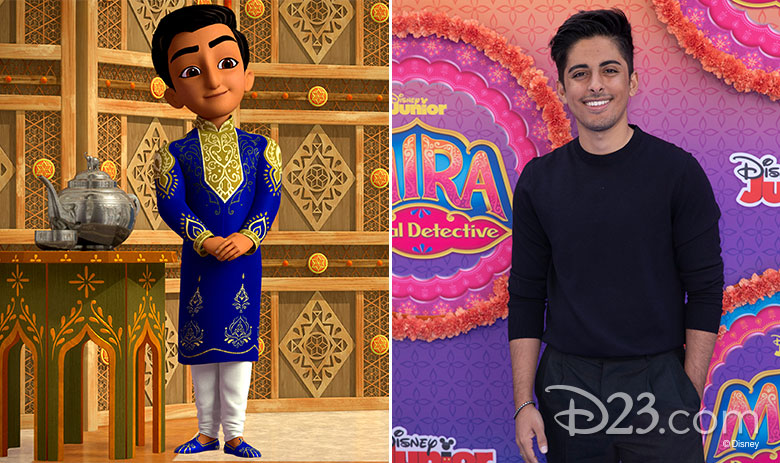 Prince Veer
Queen Shanti's eldest son loves being a member of Jalpur's royal family and he enjoys all of the trappings that come with his status. Prince Veer has strong opinions on, well, most things—and he's always happy to share those opinions with Mira and her friends. Prince Veer is voiced by Karan Brar (Disney Channel's BUNK'D).
As you watch these characters in action on Mira, Royal Detective, get ready to see some magical, musical moves created by acclaimed Bollywood choreographer Nakul Dev Mahajan. And get clued in on all the reasons why Disney fans are sure to love Disney Junior's new animated mystery-adventure series right here on D23.com.