By Beth Deitchman
Disney Junior's latest series, Mira, Royal Detective, set in the India-inspired fairy-tale land of Jalpur, kicks off with an infectious Bollywood dance number. But before the animators could create this spectacular sequence on screen—and others like it—dance consultant and choreographer Nakul Dev Mahajan first had to bring it to life in his studio.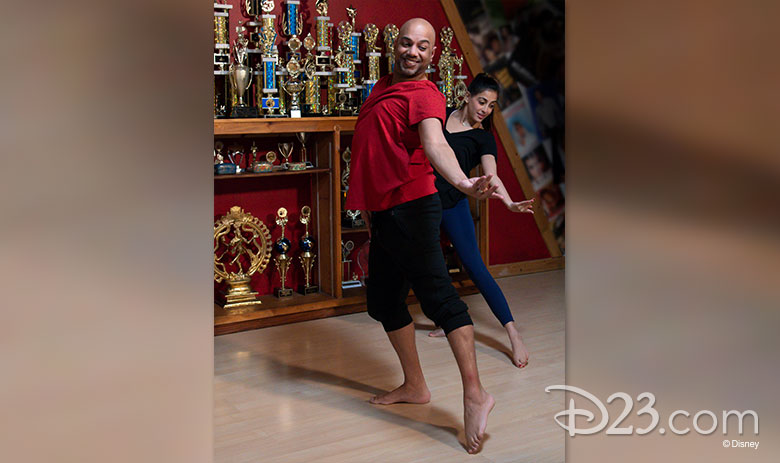 Fans might remember Mahajan from the Emmy®-winning dance competition series So You Think You Can Dance, and Bollywood dance has been part of his life since he was 5 years old. He came in to meet with the Mira, Royal Detective team during the early stages of production, and shares, "I was literally blown away with the artwork, the narrative, and the story they were telling me. It was so detailed. I wanted to live in this place, it was so stunning." Mahajan was struck by how beautifully Mira, Royal Detective represented his South Asian culture and knew, "I had to be part of this."
Mahajan is new to the medium, but he's quickly learned that some movements translate to animated characters—humans and mongooses alike—better than others. "Bollywood dancing can be super-fast. It can be very intricate, and it can be very detailed," he explains, adding that his greatest challenge is maintaining the genre that he "lives, breathes, eats, and sleeps," without overwhelming the artists.
It's also important to note, Mahajan says, that Bollywood dance has evolved in the last 25 years. When asked to define it, he shares, "I would always say [Bollywood dance] is every genre of dance under the sun on a Bollywood song… And then from there you have your sub-categories: Is it traditional Bollywood? Is it Bollywood hip hop? Is it Bollywood jazz? Is it Bollywood contemporary?"
All of these sub-genres have been incorporated into Mira, Royal Detective, for which most episodes will feature authentic forms of dance that can be found across India. Mahajan lets the story and the music serve as his guide. "I can tell by the music tempo and the types of instruments that they're using what part of India it's from," he says.
Mahajan's creative process starts with the script and the music, and after he and the animation team hone in on a shared vision for a dance sequence, he heads into his studio and begins to choreograph. Mahajan and his assistant perform the dances themselves and create very detailed videos that address formations, nuances, facial expressions, and more. He explains, "For me, Bollywood is not just moving your body." Go into Mahajan's studio in the exclusive behind-the-scenes featurette below to see firsthand what it takes to create these magical moves for Mira, mongooses Mikku and Chikku, and more:
Mahajan, a lifelong Disney fan, was born in Agra, India, and raised in Southern California. As a child, he spent every birthday at Disneyland and says that now seeing his choreography come to life on Disney Channel is a dream come true. "It's perhaps my favorite job," he confesses. Beyond its authentic portrayal of Indian culture, Mahajan appreciates how Mira, Royal Detective inspires critical thinking in young viewers, and he loves the series' confident, independent protagonist: "If there's anything that has those components and my name can be attached to it, I can be a very happy man for the rest of my life!"
Disney Junior's small and mighty detective is on the case this Friday, March 20, in the series premiere of Mira, Royal Detective. Tune in to Disney Channel at 11 a.m. ET/PT and Disney Junior at 7 p.m. ET/PT. The episodes will also be available on DisneyNOW.