By Courtney Potter
Disney Junior's newest animated series prepares to premiere next month, and Disneyland offers up a glimpse into what to expect from their latest parade… Read more, along with other news from around Disney, in this week's news briefs!
Disney Junior's Mira, Royal Detective Premieres in the U.S. and India Next Month!
There's a new animated series, fit for royalty and sure to delight, coming soon… Our pals at Disney Junior just announced that Mira, Royal Detective will premiere in the U.S. on Friday, March 20, (11 a.m. EDT/PDT on Disney Channel and 7 p.m. EDT/PDT on Disney Junior). The very same day, Disney Channel India will debut a sneak-peek at the show—followed by the series premiere on Sunday, March 22. And following its premiere in the U.S. and India, the series will roll out to an estimated 160 countries on Disney Channel and Disney Junior platforms worldwide. (Pretty cool, right?) Hear from some of the show's all-star cast in the video, above.
Set in the magical Indian-inspired land of Jalpur, Mira, Royal Detective introduces viewers to a brave and resourceful girl named Mira, a commoner who is appointed to the role of royal detective by the queen. Along with her friend Prince Neel, cousin Priya, and mongoose sidekicks Mikku and Chikku, Mira sets out on mystery-solving adventures that highlight and encourage critical thinking and deductive reasoning. Each episode of the show (created for kids age 2-7 and their families) is comprised of two 11-minute stories that celebrate the cultures and customs of India by incorporating authentic food, fashion, language, and art; reflecting their importance in Indian culture, music and dance play an integral role in Mira, Royal Detective—with each ep featuring at least one original song and dance number that showcases the diversity of the culture.
The series—which has already been ordered for a second season—stars Freida Pinto, Kal Penn, Utkarsh Ambudkar, Hannah Simone, Jameela Jamil, Aparna Nancherla, Aasif Mandvi, Karan Soni, Maulik Pancholy, Sarayu Blue, and Sarita Choudhury. Newcomer Leela Ladnier stars as the voice of Mira, alongside additional cast members Roshni Edwards, Kamran Lucas, Karan Brar, Parvesh Cheena, and Sonal Shah. Leading up to the big premiere, look for a new mash-up music video of the series' main title song and Mira's song, "We're on the Case," debuting Friday, February 21, on DisneyMusicVevo… and keep your eyes peeled for a Mira, Royal Detective-based hidden object game coming soon to the DisneyNOW app.
Save the Date!
Be sure to mark these upcoming Disney events on your calendar:
D23 and Walt Disney Archives


February 13, 2020


Attend The Call of the Wild Red Carpet Premiere in Hollywood!


February 15, 2020


D23 Magical Screening Series: The Three Caballeros 75th at Walt Disney World


February 16, 2020


D23 Magical Screening Series: The Three Caballeros 75th Near Washington, D.C.


March 4, 2020


D23 Member Preview of Inside the Walt Disney Archives at the Bowers Museum


March 11, 2020


D23 Member Mixer in Raleigh, N.C.!


March 14, 2020


Mickey's of Glendale – March 2020


August 9, 2020


Adventures by Disney Rhine River Cruise Presented by D23
Parks
January 17—February 24, 2020


Epcot International Festival of the Arts


February 28—April 21, 2020
Disney California Adventure Food & Wine Festival returns to Disneyland Resort


March 4

—

June 1, 2020
Epcot International Flower & Garden Festival at Walt Disney World Resort


March 4, 2020


Mickey & Minnie's Runaway Railway opens at Disney's Hollywood Studios



Studios




March 6, 2020


Onward opens in U.S. theaters


March 27, 2020


Mulan opens in U.S. theaters


May 1, 2020


Marvel Studios' Black Widow opens in U.S. theaters


May 29, 2020


Artemis Fowl

opens in U.S. theaters




Television


February 14, 2020 (8 p.m. EST/PST)
ZOMBIES 2 premieres on Disney Channel and DisneyNOW
February 16, 2020 (8 p.m. EST/ 7 p.m CST)
American Idol returns to ABC
Disney+
February 7, 2020
Timmy Failure premieres
February 14, 2020
Disney's Fairy Tale Weddings premieres
February 21, 2020
Star Wars: The Clone Wars premieres
March 13, 2020
Stargirl premieres

Here's a Colorful First Look at the New Magic Happens Parade
In just a few weeks' time, an incredible new daytime spectacular is coming to Disneyland park—and our good pals over at Disney Parks Blog just revealed a sneak peek; see some of what's sure to make Magic Happens magically awesome in the new clip, above.
The parade's opening sequence will feature Mickey Mouse (in a brand-new costume, based on his iconic Fantasia look) leading the way on a gleaming float that includes a 15-foot-tall representation of Mickey's sorcerer hat! Minnie Mouse, Donald Duck, Goofy, Pluto, and Chip 'n Dale are also along for the ride as the parade opens, and a host of eclectic contemporary dancers—known as "magic makers," representing aspects of that iconic "Disney magic" we love—will glide along the route as well.
Magic Happens will debut at Disneyland on February 28, and we seriously can't wait!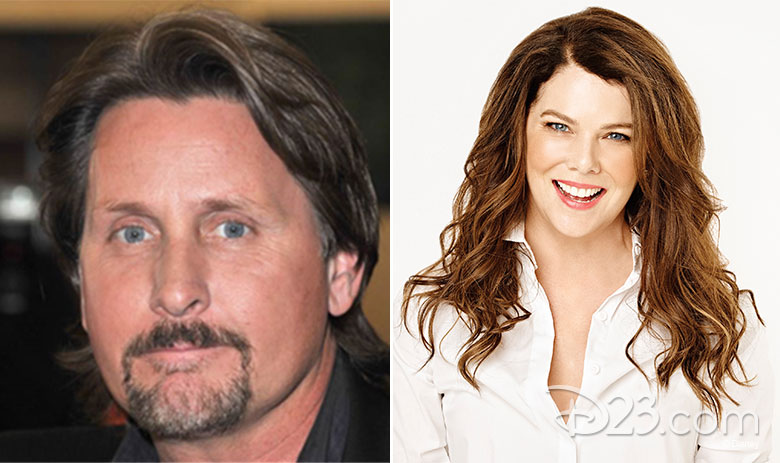 Emilio Estevez and Lauren Graham to Star in Disney+ Series The Mighty Ducks
Yes, you read that correctly: There's a new series coming to Disney+ based on the beloved '90s franchise of the same name… TV veteran Lauren Graham has been cast in the lead role in (and is also a co-executive producer for) The Mighty Ducks, a 10-episode original series that begins production this month in Vancouver. And Coach Gordon Bombay himself will be lacing up his skates once again: Emilio Estevez is reprising his iconic role in the series, coming to the streaming service later this year.
"Once a Duck, always a Duck!," said Emilio Estevez, "and after 25 years, I am delighted to lace up my skates, put on Coach Bombay's jacket, and return to play the iconic character for this new chapter in The Mighty Ducks franchise. Likewise, I am thrilled to return to my old stomping grounds with my friends at Disney and Steve Brill, the original creator of the franchise, to join them on their exciting new platform, Disney+."
Set in present-day Minnesota, the Mighty Ducks have evolved from scrappy underdogs to an ultra-competitive, powerhouse youth hockey team. But after 12-year-old Evan (Brady Noon) is unceremoniously cut from the team, he and his mom Alex (Graham) set out to build their own ragtag team of misfits to challenge the cutthroat, win-at-all-costs culture of competitive youth sports.
Steve Brill—the original creator, writer, and executive producer of all three films, which spawned an NHL franchise—is back as co-creator and executive producer of the series. Stay tuned for more on The Mighty Ducks as additional details are revealed.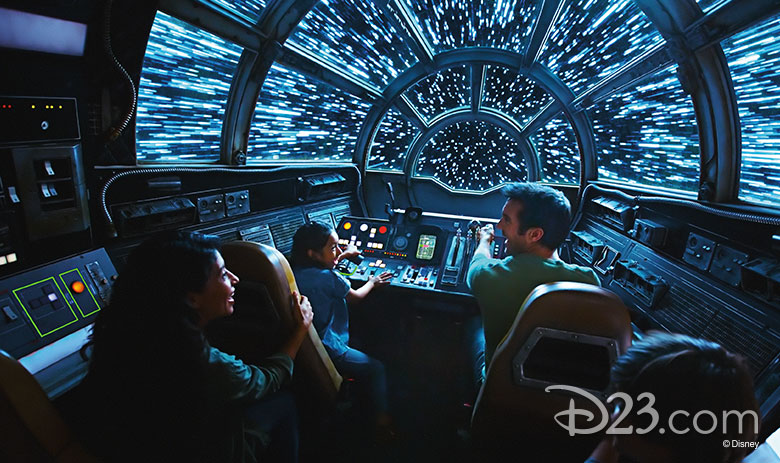 Millennium Falcon: Smugglers Run Coming to FASTPASS and MaxPass at Disneyland Park
For Disneyland Resort guests, the chance to fly the "fastest hunk of junk in the galaxy" is about to get easier! Millennium Falcon: Smugglers Run will soon be added to Disney FASTPASS. And just this week, Disney FASTPASS begins on two other beloved attractions: Autopia in Disneyland park and Monsters, Inc. Mike and Sulley to the Rescue! in Disney California Adventure park.
Once Millennium Falcon: Smugglers Run is added to the FASTPASS lineup, Disney FASTPASS will be available for more than 20 popular attractions—including Space Mountain, Guardians of the Galaxy – Mission: BREAKOUT!, and Toy Story Midway Mania!, as well as entertainment across the Disneyland Resort. That means less time waiting in line, and more time exploring the magic!
And don't forget: For those guests looking to maximize their day, there's Disney MaxPass—an add-on you can purchase for your theme park ticket with the ability to make digital Disney FASTPASS selections (for select attractions and entertainment) right from your smartphone… plus the ability to download an unlimited number of Disney PhotoPass photos from your day.
For more info, make sure to download the Disneyland app. Perhaps we'll see you in Batuu?
ICYMI: How Pixar Created Its Own Brand of Magic in Onward
We'll all soon get to meet the Lightfoot brothers in Disney and Pixar's Onward. Recently, D23 was lucky enough to visit Pixar Animation Studios in Emeryville, CA, for a behind-the-scenes look—click here to see what director Dan Scanlon, producer Kori Rae, and other members of the Onward team have to say about their magical movie-making experience…