(above) Walt Disney plans out the spot for his Smoke Tree Ranch vacation home in the desert with measuring tape.
Head to Palm Springs, California, via Highway 111, and you'll see the astonishing natural beauty of the South Mojave Desert. Low-lying brush, lizards, cacti, and tumbleweeds provide an idyllic backdrop as the narrow roadway leads you to the town's entrance on the northern side of the towering San Jacinto Mountains. Movie stars have been heading to Palm Springs since the 1920s, and this desert oasis still casts its spell on Southern Californians searching for the perfect weekend getaway.
Vacationers from around the world have traveled here for world-class golf, spectacular resorts, and one of the world's most dramatic desert settings, but few of them are aware of a very special enclave, located just a few minutes from the Village of Palm Springs, that holds a special place in Disney history: the Smoke Tree Ranch. Here, among the breathtaking beauty of the mountains and the fragrant scent of desert flowers is a world removed, a place that looks very much the same as it did when a man named Walt Disney would take his family here, leaving the pressures of the Studio behind and enjoying long weekends and holidays with the ones he loved in this one-of-a-kind dude ranch.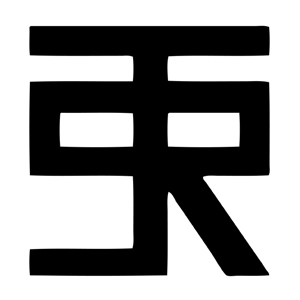 Homes on the Range
Smoke Tree Ranch is made up of an enclave of privately owned homes and rentable guest cottages on 375 acres of natural desert. Those who've purchased lots and built homes on the property are fondly referred to as "colonists," and both the colonists and the cottage guests have access to the property's all-inclusive three-meals-a-day dining plan (don't be late for the dinner bell!), horseback riding, and other ranch activities. Today there are two homes and six cottages, with Disney beginnings, that currently reside on the Smoke Tree Ranch.
Tracy Conrad, chief operating officer of Smoke Tree Ranch believes Walt probably heard of the ranch early on in his life, since he often visited Palm Springs to play polo. "But Smoke Tree Ranch had a thing about no show people," Tracy says. "They didn't want the attention. The people who lived here were the captains of industry—I lovingly refer to them as the brand names, the last names." Walt eventually became a member of Smoke Tree Ranch in 1946 and built his own house on the property in 1948. Later, a recreational facility called Disney Hall and Disney cottages were added to the ranch. "Walt charmed them," Tracy says. "He would bring down rough clips from movies that were in the making and show them to all the kids on the ranch in advance of the movie being released."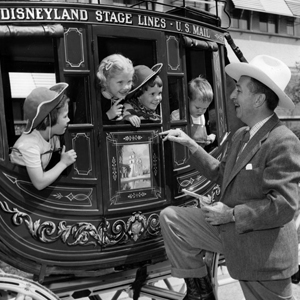 The first Disney house at Smoke Tree "was built by William Cody, a famous architect known for his mid-century modern style," Tracy says. And Walt enjoyed several years at this residence until his dream for Disneyland forced him to sell off his assets. Among other things, Walt sold off his property at the ranch to place a down payment on Disneyland. "He asked a few of the colonists if they wanted to invest in Disneyland," Tracy says. "I'm sure they regret not having done so now." But after Disneyland proved successful, he was able to buy a second lot and build another house, and he moved into his second home on the ranch in 1957. And Walt, train connoisseur that he was, had the idea to put a train around his ranch house. "He was just a big kid," Tracy laughs. "But the architectural committee would not let him do it because there are strict rules on maintaining the desert look. Walt compromised and put a sidewalk around his house so the kids could ride their bicycles and tricycles around the house instead."
Very Happy Trails
"I don't think people really knew that he was an equestrian," Tracy says of Walt. "And he was such a handsome figure on a horse." Walt often accompanied his wife, Lilly, out on breakfast horseback rides, a ranch tradition that ended with a pancake breakfast in the desert with a large skillet to cook up the pancakes. A group would sit together at long picnic tables and enjoy their breakfast in the fresh outdoor air. "People came here to play cowboy, and the ranch was at the center of it," Tracy says. "They were here to have a good time and relax."
There were desert activities aplenty at Smoke Tree Ranch, and almost all of them were meant to bring families together. It wasn't uncommon to see a large group of buckaroos gathered together, singing along with a guitar. Some homes included rooftop decks for prime sunbathing in the day and cozy stargazing at night. "No houses, prior to 1946, had their own pool so everyone congregated together and they played bridge and had parties," Tracy explains. "It was like adult summer camp. They would have German Oktoberfest and everyone would wear lederhosen. And all the holidays had square dancing, marshmallow roasting, cowboy crooning, the whole nine yards."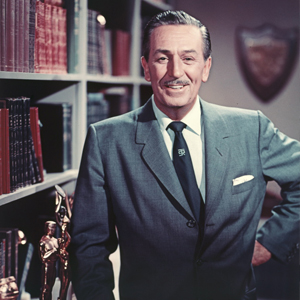 Walt took a particular interest in the Smoke Tree tradition of lawn bowling. Along with the other lawn bowling enthusiasts at the ranch, Walt would get dressed up in all white attire and spend an afternoon rolling lopsided balls across a 100-foot green space. "He was an avid lawn bowler, and he sponsored a tournament," Tracy says. "He and Lilly gave prizes that were engraved with their signatures." Walt had his share of worthy challengers, which made the sport even more enthralling.
"I think he was quite happy here at Smoke Tree Ranch," Tracy reflects. Walt's love of the wild frontier lives on in films, theme park experiences, and Walt's Chili, the quintessential cowboy meal, which is still offered at the Walt Disney Studios commissary today. Walt Disney's True-Life Adventure: The Living Desert, which won an Oscar® in 1954 for Best Documentary, showcased the creatures and beauty of the desert. And it's easy to see Walt's wild-west influences in Disney parks—Disneyland Frontierland's Stagecoach, Nature's Wonderland, and Rainbow Caverns Mine Train were a few of the early attractions inspired by the wilderness. While many people visit the desert to enjoy high temperatures and sunshine, it was the warmth of the people at Smoke Tree Ranch that kept Walt coming back time and again. And that's a ranch tradition that will never go out of style.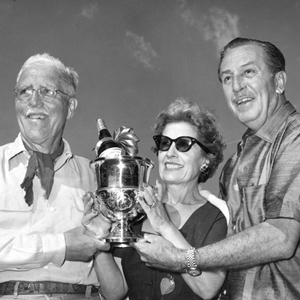 The Mark in Question
You've probably seen the brand for Smoke Tree Ranch—and by brand we mean the hot iron a cowboy uses to mark his cattle—many times and passed it off as a symbol of Asian origin. After all, Walt regularly wore an embroidered tie with the Smoke Tree Ranch logo, derived from the original Smoke Tree Ranch brand—on episodes of Disneyland and Walt Disney's Wonderful World of Color. The design is based on the letters S, T, and R.) Tracy points out an example of Walt wearing the brand from an episode of Wonderful World of Color." In The Nine Lives of Elfego Baca, he's wearing a dark tie with the insignia embroidered in white," she says. "He knew what he was doing by letting himself go on the program with that on. It was a little silly since no one else would know what it was unless they were part of the club."
Disney Legend Blaine Gibson, known for his contributions to Walt Disney Imagineering and Disney Animation, sculpted the Smoke Tree Ranch brand directly on the famously known "Partners" statue in 1993. You can see a version of Blaine's masterpiece in several places: the center of The Hub at Disneyland, in The Hub of many other Disney parks, and at The Walt Disney Studios' Legends Plaza.
"It's amusing to look on the Internet to see what people postulate that it is," Tracy points out. Rumors and stories about the symbol range from it referencing a character in the Chinese alphabet to a sign that Walt was part of a secret society. "It was a common sight—everyone wore bolo ties on the ranch—with that insignia, and Walt was no different," Tracy adds. "The brand was designed in the '20s, and because the lines in it are too close together, it was a really bad brand for a horse, but it's a good brand for dudes."
It sure was good enough for a dude named Walt Disney.