Opened on June 18, 1988, as part of a yearlong celebration of Mickey Mouse's 60th birthday, Mickey's Birthdayland was meant to be a temporary land that occupied the approximate three-acre space adjacent to Fantasyland that's currently part of Storybook Circus in New Fantasyland at Magic Kingdom Park.
For a generation of twenty and thirty-somethings (and their families), simply mentioning this area will bring back fond memories of meeting Mickey Mouse for the first time, pastel colored Duckburg-themed building facades, and Minnie Moo the cow. There was something for everyone to enjoy in this colorfully simple land tucked away in the back of Magic Kingdom Park. Its success at entertaining and pleasing guests would spur the area to be re-themed as Mickey's Starland in 1990, Mickey's Toyland in late 1995, and finally as Mickey's Toontown Fair for the summer of 1996.
But before we get there in Disney history, let's take a stroll back in time to Duckburg, U.S.A., to help wish our pal Mickey a happy 60th birthday. All aboard Mickey's Birthdayland Express, next stop—fun!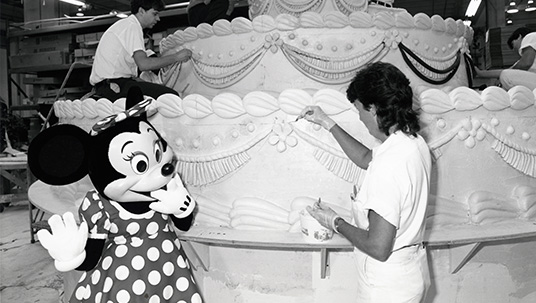 Here, Minnie Mouse helps a talented and dedicated team of artists complete a "surprise" cake for Mickey. This large set piece would appear in Minnie's Surprise Birthday Party, the featured show that ran from June 18, 1988, to April 22, 1990, in Mickey's Birthdayland.
Goofy prepares to trim the hair of an artist touching up the façade of "Goofy's Clip Joint Barber Shop" – one of the many Duckburg-inspired toon-themed buildings and storefronts that populated the area. Other facades included McDuck's Mansion, Daisy's Café, Duck County School, McDuck's Bank, the S.S. Donald Duck, and others. These quirky locales proved to be popular picture spots for many guests.
While birthday festivities took place at Magic Kingdom Park, the Walt Disney World Railroad temporarily was called the Mickey's Birthdayland Express. Guests boarded the famous railway for a scenic trip around the Magic Kingdom, embarking on to Mickey's Birthdayland where the whole family could partake in the party.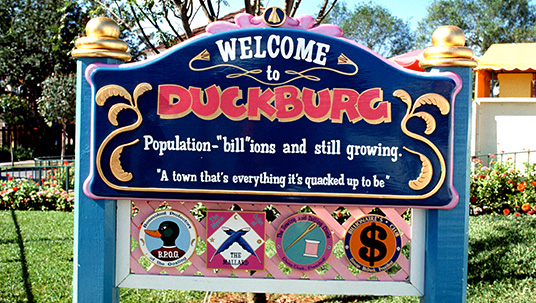 Duckburg, U.S.A. welcomed you to help celebrate Mickey's 60th Birthday!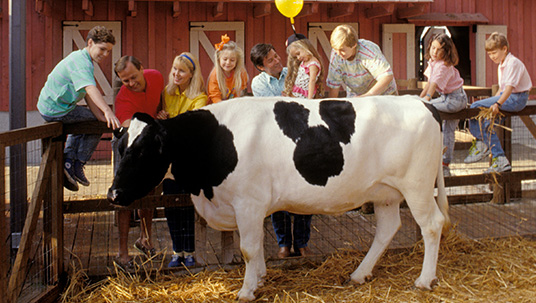 Grandma Duck's Farm, and the famous tri-circle spotted cow, Minnie Moo, entertained guests from June 18, 1988 to March 11, 1996.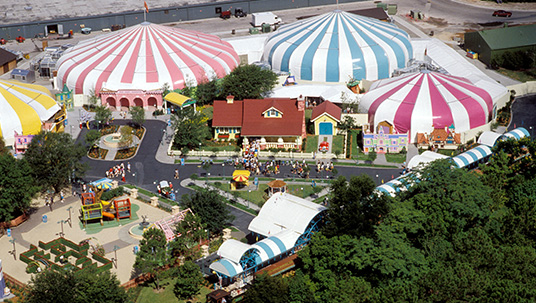 This bird's-eye view of Mickey's Birthdayland showcases the general layout of the area. Note Mickey's house at center (complete with car parked in the driveway), and the several small Duckburg-themed facades near the front sides of the larger show tents. Weather eyes can spot Cornelius Coot Commons at the top left. This small square and fountain was dedicated to the founder of Duckburg, U.S.A., Cornelius Coot.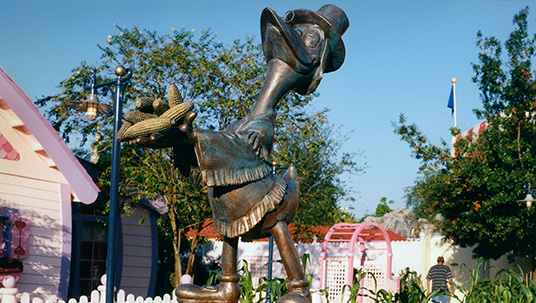 The large, memorable statue of Cornelius Coot would hold over into Mickey's Starland in 1990, and Mickey's Toontown Fair in 1996. After the closing of the Fair in early 2011, the statue of Coot was safely transitioned to the Walt Disney Archives, where it proudly resides today as a fun (and heavy) reminder of the growth and change that has occurred in that section of Magic Kingdom Park. It's a fine piece of Disney craftsmanship and history, representing more than 20 years of fun-filled and whimsical memories.