By Jim Fanning
On November 1, 1940, Mickey Mouse first sported a straw hat, twirled a cane and whistled a happy traveling tune as he waited at the Burbank, California train depot (presumably not far from the newly opened Walt Disney Studios on Buena Vista Street in that same city) to start a jaunty train journey to Pomona in Mr. Mouse Takes a Trip. This classic short continues to entertain today with its surefooted mix of slapstick action, comedic antics, merry music, and masterful personality animation straight from the Disney golden age. In this animated gem, Mickey's plans for a quick getaway (Pomona is about 40 miles from Burbank) with his pal Pluto are derailed when they discover that no dogs are allowed on the train—but tricky Mickey doesn't let that stop him from boarding the train anyway. What follows is a hilarious game of cat (Pete in one of his intimidating authority figure roles as the brutish conductor) and mouse (you-know-who). Pete chases Mickey and Pluto throughout the train, and ever-resourceful Mickey adopts a number of disguises to elude the pursuing Pete.
The animators who created this cartoon classic included Dick Lundy (credited with the first animation of Donald Duck), Ken Muse, Ed Love, Marvin Woodward and Nick Nichols, who went on to become the primary director of the Pluto cartoons. Leigh Harline, fresh off his Oscar®-winning scoring of Pinocchio, also released in 1940, composed the music. Cues included "Trains on Time," "Pluto Plays Follow the Leader," "Watchful Villain," and, of course, "Mr. Mouse Takes a Trip." (The cut-off word "GERONOM" on the side of the train is an oft-overlooked nod to the film's director, Disney animation stalwart Clyde Geronimi.)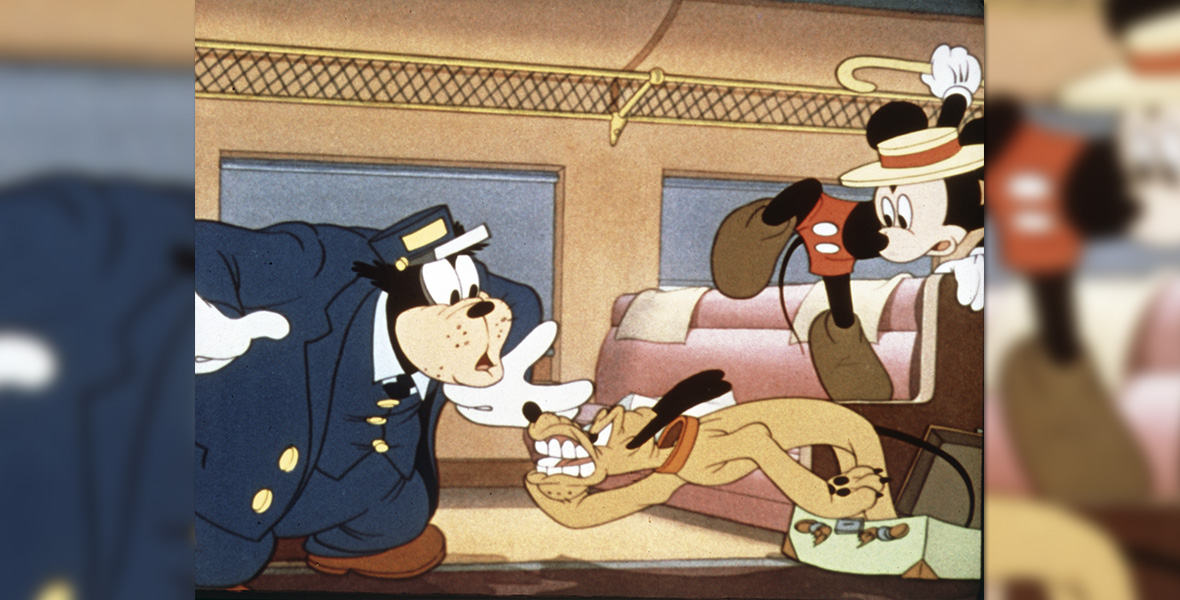 Even though it's set aboard a train, this is an everyday "domestic" story that balances out the other two Mickey Mouse shorts released in 1940: Tugboat Mickey (an adventurous team-up with Donald Duck and Goofy) and Pluto's Dream House (a fantasy). Whatever the story team's motivation in cooking up the plotline, they actually regarded it as something outlandish. "The director and crew on the [short] considered the plot 'a lovely thought—but not at all practical,' to use the philosophical words of Jiminy Cricket," according to the Disney Publicity Department. "'But who wants a practical plot in a cartoon anyway,' the Disney gang said. 'No cartoon plot is supposed to be true-to-life.' And so the picture went on. On one of the last days of 'shooting,' the director walked in with a strange look on his face. In his hand he carried a newspaper clipping. Yes, it was about a man who was thrown off a train when the conductor discovered he was carrying his dog aboard!"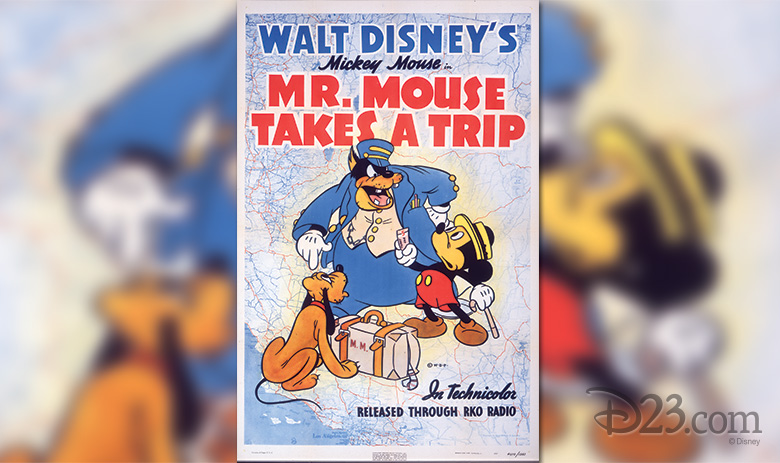 Mr. Mouse Takes a Trip was only the fourth Mickey Mouse cartoon to feature the beloved icon with his newly designed eyes-with-pupils. (That major alteration in the character's countenance was actually introduced in The Sorcerer's Apprentice but that production was not seen until Fantasia was released on November 13, 1940, 12 days after the debut of Mr. Mouse Takes a Trip.) And it was the last of his cartoons to be produced before Mr. Mouse's short-lived redesign (including more realistic ears that worked in perspective) that began with The Little Whirlwind (1941).
Because of the short's railway setting, we can assume that train-enthusiast Walt had a particular affection for this short. And though it's not exactly hard evidence of the great showman's specific interest in this cartoon, the only known footage of Walt performing Mickey's voice is for dialog recorded for this short. The reason behind the existence of this film is lost to history but this invaluable footage shows Walt happily performing Mr. Mouse Takes a Trip lines along with Billy Bletcher, who is voicing Pete. (The footage of longtime voice artist Bletcher, who was also the voice of the Big Bad Wolf, is of course even more rare than that of Walt's.) Between the classic cartoon itself and this priceless film of Walt Disney, Mr. Mouse Takes a Trip continues to deliver, right on time every time, after 75 years of train-travel-with-Mickey fun.
Watch the Mr. Mouse Takes a Trip classic short over at Disney.com.