By Zach Johnson
Before 20th Century Studios' Avatar: The Way of Water opens exclusively in theaters on Friday, December 16, D23: The Official Disney Fan Club is introducing five new characters. Each day this week, visit D23.com for an exclusive interview with actors Jamie Flatters, Trinity Jo-Li Bliss, Jack Champion, Bailey Bass, and Sigourney Weaver.
In James Cameron's Avatar: The Way of Water, newcomer Trinity Jo-Li Bliss stars as Tuktirey, aka "Tuk," daughter of Jake (Sam Worthington) and Neytiri (Zoe Saldaña). The young Na'vi is daring, mischievous, and incredibly close to her mother; her grandmother, Mo'at (CCH Pounder); and her big sister, Kiri (Sigourney Weaver). In outtakes from Disney twenty-three, the publication available exclusively to Gold and Gold Duo Members, Bliss opens up about her role, her audition process, and more.
D23: You were only 7 years old when you auditioned. What was that process like?
Trinity Jo-Li Bliss (TJLB): It was late February of 2017 when I first got the audition notice. I showed up in the audition office a week early! You can see how excited we were! We were going to head back home, but Margie Simkin, our amazing casting director, was kind enough to see me! I saw Margie a couple times after that, and, eventually, I met Jim [Cameron] at the MBS studio [aka the headquarters of Lightstorm Entertainment]! I still cannot believe it all happened. I am so lucky!
D23: How familiar were you with the first Avatar film during your audition process?
TJLB: I was an infant when the first Avatar came out [in 2009]. While I was at home sucking on my binky, all of my family went to see the film and loved it! I finally got to watch Avatar when I was auditioning. I fell in love with the movie and watched it many times. I loved walking and talking like Neytiri! I still enjoy watching it. In fact, Jim has built such an incredibly rich world of Pandora, I feel as though I see details I have not noticed before every time. It remains one of my favorite movies!
D23: How did you discover you'd won the role of Tuk?
TJLB: Not long after exiting Manhattan Beach Studios—after I met Jim—I got a call from my agent and she told me I got the role. We pulled the car over as we were just way too excited to keep driving! That was the best call—the best news I have ever received in my whole life! We went to the Santa Monica Pier on the way home for a celebration. I felt emotionally high above the world—and also literally high up since I was riding the Santa Monica Pier roller coaster!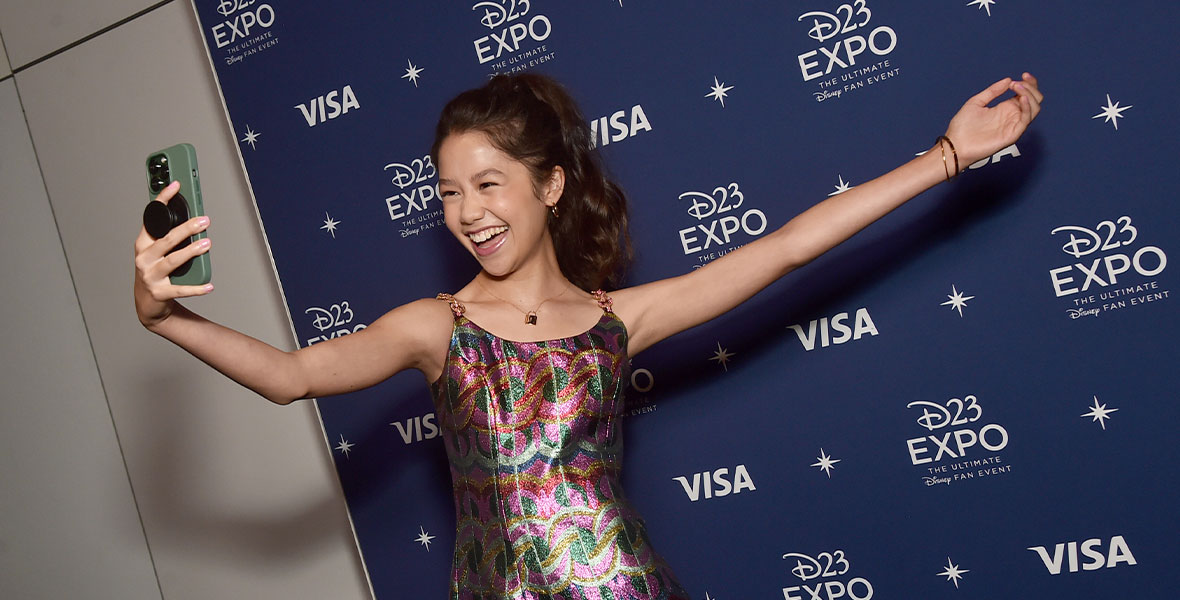 D23: How would you describe your character?
TJLB: Tuktirey, a.k.a 'Tuk,' is the youngest member of the Sully kids. She does not see herself as the youngest. She is small in size but mighty in courage! She wants to be helpful. She has a big heart and her family is the most important thing to her. She'll do anything to protect them!
D23: Does Tuk take after one parent more than the other? If so, who? How?
TJLB: Like both her parents, Tuk is brave and will do anything to protect the ones she loves. In some ways she takes a lot after her mom. Like her mom, she has three fingers and a thumb. Emotionally, she considers her family/home/Pandora to be the most important thing to her and is inclined to be healing and nurturing. At the same time, she also gets a lot of her personality from her dad, like being a daredevil and a bit willful—or, if you prefer, brave.
D23: What did you learn from working with Zoe Saldaña and Sam Worthington?
TJLB: In many respects, our time together mirrors our characters. Zoe is like a high-water mark for beauty and grace; she's a legend! I look up to her so much. I learned so much from her while filming with her. She's also very down-to-earth, fun, and motherly. We FaceTimed with her boys when filming went late into the day. We would hang out in her trailer and have mother-daughter chats sometimes. Sam is a great actor—master of the craft! I always felt so natural to walk into the Volume [the virtual filming environment] and see him as my dad. When scenes got intense, Sam always made sure I felt comfortable and safe, just like a real dad. He is a father himself and in between scenes, he would talk to us about his baby boy and what it was like for him to be a dad. On and off set, we feel like a family!