By Zach Johnson
Before 20th Century Studios' Avatar: The Way of Water opens exclusively in theaters on Friday, December 16, D23: The Official Disney Fan Club is introducing five new characters. Each day this week, visit D23.com for an exclusive interview with actors Jamie Flatters, Trinity Jo-Li Bliss, Jack Champion, Bailey Bass, and Sigourney Weaver.
In James Cameron's Avatar: The Way of Water, Jack Champion stars as Spider, who was orphaned by the war and too small at the time to return to Earth. Much to the chagrin of Jake (Sam Worthington) and Neytiri (Zoe Saldaña), their children— Neteyam (James Flatters), Lo'ak (Britain Dalton), Tuk (Trinity Jo-Li Bliss), and Kiri (Sigourney Weaver)—often hang out Spider, who, despite being a human, feels like a Na'vi at heart. In outtakes from Disney twenty-three, the publication available exclusively to Gold and Gold Duo Members, Champion opens up about his role, his audition process, and more.
D23: What was your audition process like?
Jack Champion (JC): It was long. My mom originally submitted me through an open call, and I got a call back, but then I didn't hear anything. A couple months later, in May 2017, my agent submitted me for an open call, and that's when I got self-tape call backs and working sessions with Margie Simkin, the casting director, in June. Then I heard they were going to fly me out for a screen test with one of the original cast the weekend of July 4, when I was on vacation. My mom and I would fly out and work with Margie and the troupe, and then the next day do a full makeup test on camera with Jim and Sigourney. They would fly us home and then we would get a call that they wanted us to come back for another. They did that three times over July and August.
D23: How did you find out you won the role of Spider?
JC: The day of the last screen test we wanted to celebrate just being in L.A. and went to the Santa Monica Pier. While we were in an Uber going back to the hotel, we got the call from Margie that I had booked it! I think I was speechless. [Laughs] And when we got back to the hotel, Sigourney called and congratulated me. It was crazy!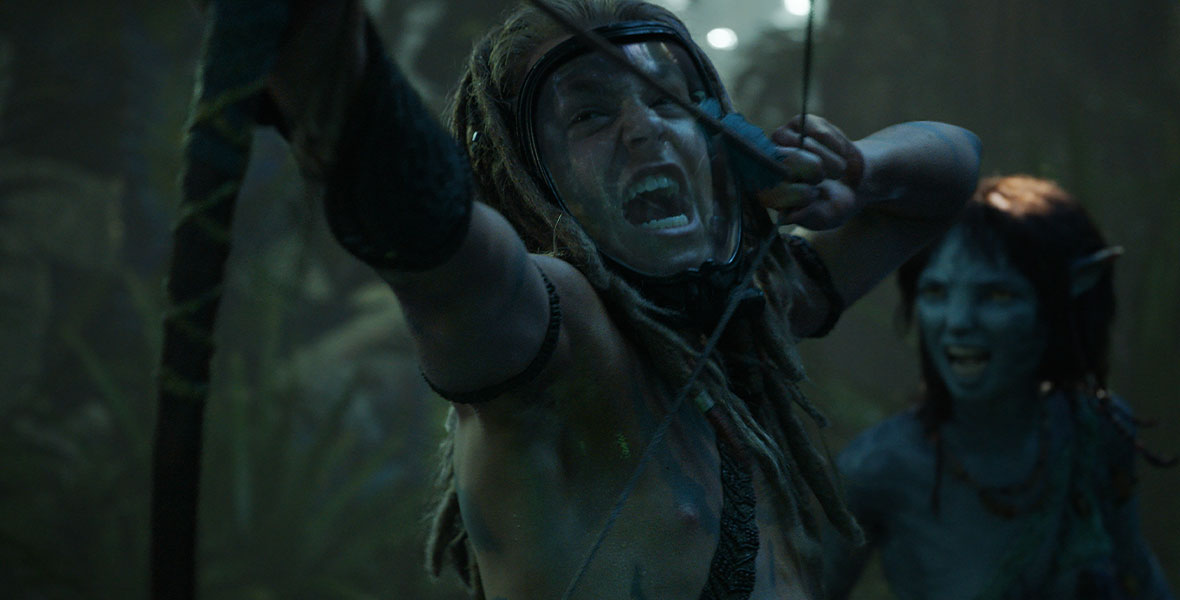 D23: How would you describe your character?
JC: Spider is a high-energy, tough, fun kid. He thinks of himself as one of the Na'vi, even though he knows he has limitations that they don't. I think I got to infuse some of my own light-heartedness and empathy into Spider. We both share a love of outdoors and tree climbing. I even sent Margie some pictures of me in our neighborhood trees during the audition process.
D23: As a human not using an avatar, how does Spider fit in with the Na'vi?
JC: The Sullys have mostly accepted Spider into their family, except for Neytiri. She has a more complex relationship with him as she sees him as one of the people that killed her family and destroyed their home. The rest of the Na'vi people also don't entirely accept him. The younger generation is more accepting than the older generation is.
D23: Did you do any stunt training to prepare for your role?
JC: I got to do a lot of training for the role—particularly in parkour, along with some fight training, archery, and a lot of free diving and scuba training. I also had a personal trainer who has been with me since 2018, Josh Murillo, who helped transform me from a non-muscular 12-year-old to the Spider we see in the films. Over the four years of filming, I got really close to the stunt coordinator, Garrett Warren, and assistant stunt coordinator Steve Brown.
D23: Describe your first day on set. What happened? What did you see and feel?
JC: That was a big day. Our first day filming mocap was a big scene with the recoms [an avatar that has been embedded with the memories of a human driver] and Quaritch [Steven Lang]. I remember it feeling like a play because we were on this big soundstage and there were a lot of people watching. Spider was showing the recoms how to move and act like Na'vi. It was ironic since it was my first day doing it as well!
D23: What do you hope Disney fans take away from Avatar: The Way of Water?
JC: Avatar [2009] is not just a one-off movie. Pandora is a wide-open world filled with people, Na'vi, and wildlife to discover. This is a generational story, and if you stick with it, it will lead to fantastic adventures, love, and discovery.