By Zach Johnson
Before 20th Century Studios' Avatar: The Way of Water opens exclusively in theaters on Friday, December 16, D23: The Official Disney Fan Club is introducing five new characters. Each day this week, visit D23.com for an exclusive interview with actors Jamie Flatters, Trinity Jo-Li Bliss, Jack Champion, Bailey Bass, and Sigourney Weaver.
In Avatar: The Way of Water, Sigourney Weaver returns to James Cameron's Avatar franchise—albeit in a different role—as Kiri, the biological daughter of the avatar of Dr. Grace Augustine, the deceased character she played in the first film. Kiri is adopted by Jake (Sam Worthington) and Neytiri (Zoe Saldaña) and raised alongside their three kids. In outtakes from Disney twenty-three, the publication available exclusively to Gold and Gold Duo Members, Weaver opens up about her role, what made her want to return, and more.
D23: How did James Cameron pitch the role of Kiri to you?
Sigourney Weaver (SW): We had lunch in L.A. Jim had mentioned a character that had a connection to Grace, and we started to talk about this forest girl—a girl who felt more at home in the forest with the plants and animals than with people. Maybe she would be different, maybe she would be able to blend in with the forest. In any case, I was immediately entranced. I was excited because it was like nothing I've ever done before. And I was thrilled that Jim would entrust me with such a character. I felt an immediate connection to her. I knew it would be probably the biggest challenge I've ever taken on, but I thought, with his help, with his amazing writing, with our wonderful cast, I would definitely give it my best shot. Also, one of my favorite Classics Illustrated comic books when I was growing up was Green Mansions that had this forest girl in it—a bird girl. Anyway, I started to work on it immediately. This was about 2010.
D23: What made you want to come back for four more Avatar films?
SW: Originally, it was three. [Editor's note: The plan is to have five films in the franchise.] When Jim Cameron calls you and says, "I have three more parts of this adventure," what are you going to say? No? I think he had me at "hello." The story he wanted to tell, the story of this family—of Neytiri, Jake, and their children—on the run for their lives from the RDA, fleeing into other worlds on Pandora, trying to find a safe haven, I thought it was so timely and moving. There was also a special connection between Kiri and Spider [Jack Champion] and Kiri and Pandora. So, of course I said, "Let's go."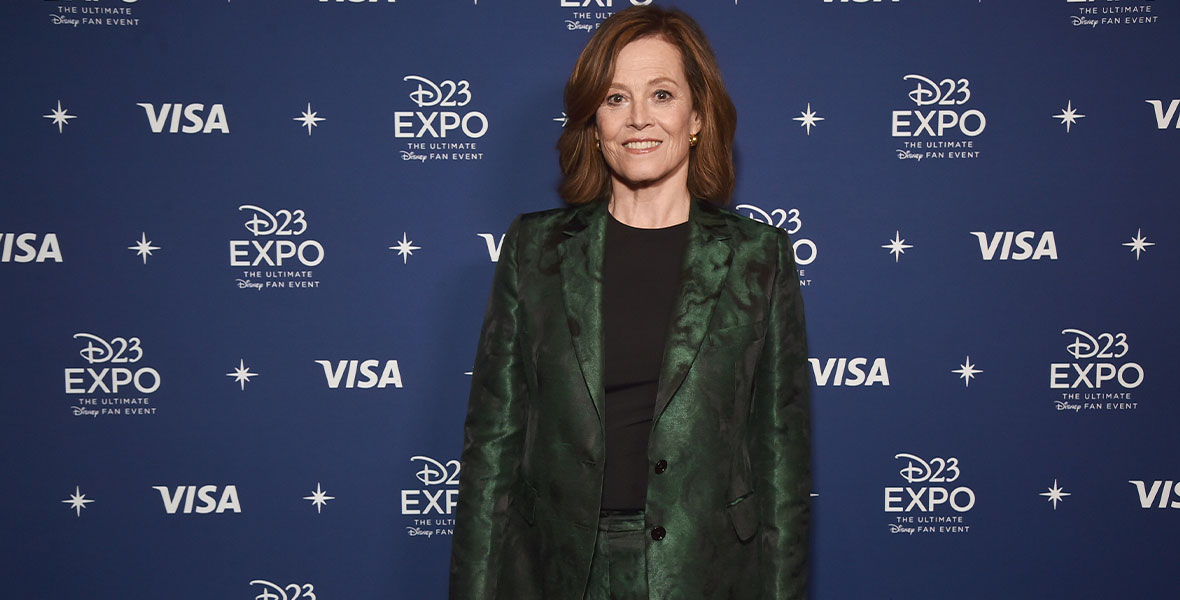 D23: Aside from the obvious, how do Kiri and Dr. Grace Augustine differ?
SW: Grace was a scientist. She approached Pandora's wonders analytically. She researched, she theorized, she kept brakes on her emotions. She was objective, she brought a scientist's objectivity to her work. She wasn't very successful in being objective because she fell in love with Pandora and the Na'vi. Kiri is a much more intuitive, instinctive, smart girl who's extremely curious and independent. She's much more one with her environment. She flows through the forest, the sea with knowledge, effortlessly. And because she's also an adolescent, there are no brakes at all on her feelings. It's all primary colors, yes/no, red/black. I would say Grace is rational, objective, human, and distraught, and Kiri is a passionate, wild, frustrated 14-year-old.
D23: What specific experiences did you draw from childhood and infuse into Kiri?
SW: When I was growing up, we lived in a place on the north shore of Long Island that was just this forest and field with little paths down to the beach. Really, in those days, you had no supervision, so I think as young as 4, I would eat breakfast and run out of the house and just stay out as long as I could. I remember I didn't want anyone to see me, so I pretended to be invisible. I lived completely in my imagination in those days. I was always pretending I was either a renegade hiding out, a runaway, a vagabond, or Robinson Crusoe. By the time I was Kiri's age, we were living in a different house, but it had this willow tree on it—sort of far from the house. I would try to hang out at the willow tree and not come in all day. I'd sneak into the house, steal lunch, and get away before anyone could see me. It's kind of amazing how much fun I had doing that. My mother was a serious tennis player and she wanted me to be good at sports. I was a good swimmer, and one day I came in third in a swimming race for my age. My mother immediately started talking about my participating in the Olympics. So, I was pretty far away from what my mother had in mind for me which, I think is sort of how Kiri feels.
D23: What was it like reuniting with Steven Lang, Zoe Saldaña, and Sam Worthington?
SW: I was thrilled. I had never gotten to do any scenes with Zoe, and I got to be her daughter and do several scenes with her. Sam, it was great to be reunited with him. He's such a present actor. It was such a privilege to be interacting with them. We all trusted each other, encouraged each other, believed in each other. Slang and Kiri have a definite animosity, but Slang and I have become good friends through all this. I think he's a brilliant actor, amazing as Quaritch, and I love him. I love them all. I'm very lucky.