Many Disney fans don't know much about Mickey, Donald, and Goofy: The Three Musketeers , so here are five reasons to love this animated gem.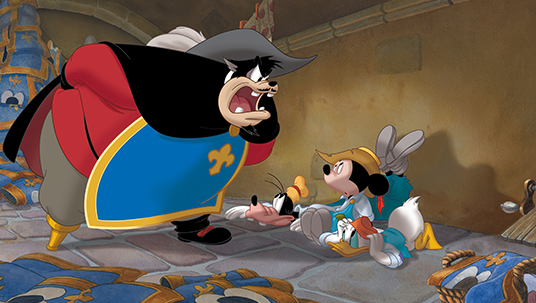 5. A villain with old-Hollywood roots
The film features Pete, Mickey's foe in many classic cartoons, as the sinister head of the Musketeers. Pete's lead animator wanted to bring him to life as an old-time, big baddie, so he looked to Hollywood and found inspiration that was literally larger-than-life: Jackie Gleason. "They're both such physical characters," said Murphy. "Pete looks a lot like him, so Gleason was a big influence."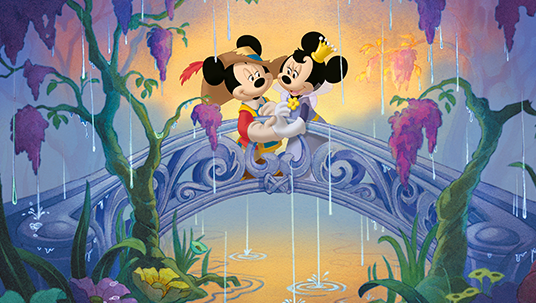 4. The soundtrack is a new twist on classical compositions
Due to the classical nature of the subject material (Alexandre Dumas' source material was written in the mid-19th century and set in the 1600s), the soundtrack is comprised entirely of classical music adapted with modern lyrics and arrangements. From a romantic remix of Tchaikovsky's "Dance of the Reed Flutes" to a silly finale that incorporates Beethoven's Fifth Symphony, you might not know the words to every song, but you'll definitely recognize the melodies.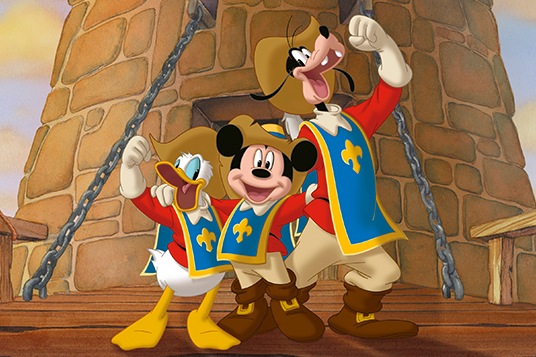 3. Production spanned two continents
It really is a small world after all! The film took three years to create, and was produced on two continents! Pre-production, including character development and storyboarding, took place in Los Angeles, while actual animation of the film took place in Sydney, Australia.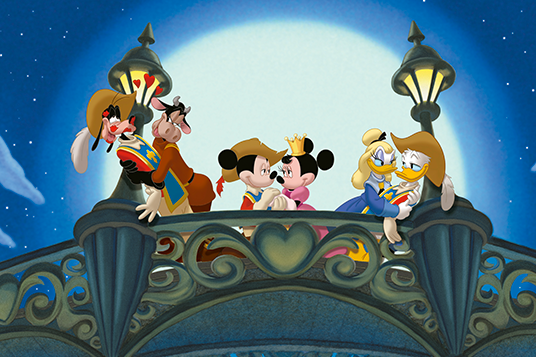 2. The cast is made up of Disney royalty
The film's main voice cast includes four Disney Legends: Wayne Allwine (Mickey), Russi Taylor (Minnie), Tony Anselmo (Donald), and of course, Bill Farmer (Goofy). Does the name April Winchell sound familiar? She voices Clarabelle Cow in the film, and if her last name sounds familiar, it's because her father is the late Paul Winchell, best known to Disney fans for lending his voice to Tigger.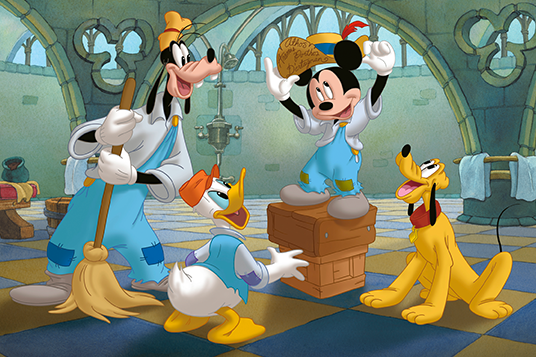 1. It's a throwback to early Disney animation
Although computer-animated films were just entering their heyday in 2004, when The Three Musketeers was released, its creators purposely chose to make it using classic (and labor-intensive) 2D animation. Donovan Cook, the film's director, felt "these characters are the strongest when they're drawn the way they were drawn back in the '30s and '40s, which is very honestly, very sincerely." The backgrounds, including French castles and gardens, were even done in watercolor, an intentional throwback to the "golden age" of Disney animation.