By Beth Deitchman
For the imaginative, enthusiastic title character of Disney Junior's Fancy Nancy, "less" is never more… and "more" can always be brighter, louder and livelier. But when Nancy meets her friend Lionel's cousin Sean, she discovers that children with autism don't necessarily see the world as she does—and she learns that their perspectives are just as unique and interesting as hers. This special 11-minute story, "Nancy's New Friend," premieres on Disney Channel this Thursday, April 2 (8 a.m. ET/PT), which happens to be World Autism Awareness Day, a day set aside to recognize people with autism and those who love and support them.
Inclusion is a priority at Disney Junior, and the Fancy Nancy creative team initially found inspiration close to home when they set out to introduce a neurodiverse character, drawing upon personal experiences with family members and friends. They also consulted at length with experts from the organizations Autism Speaks; RespectABILITY; and Hollywood, Health & Society; all of whom offered valuable insights every step of the way. "They really stayed with us throughout the entire process," says co-producer/story editor Krista Tucker, who emphasizes, "We really took our time. We wanted to get it right."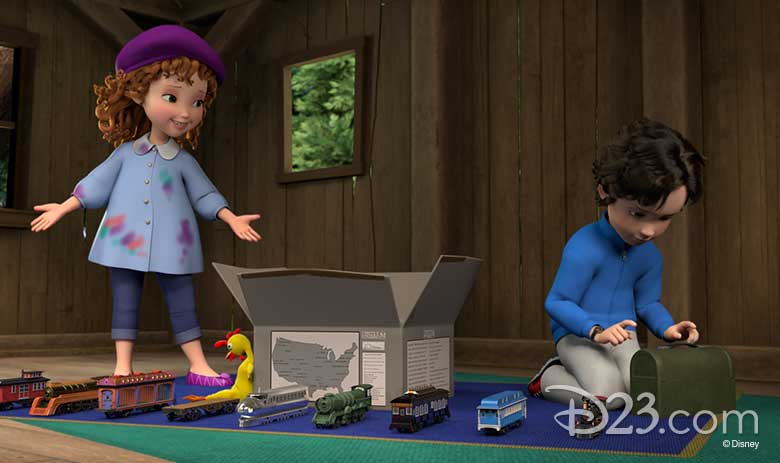 In their commitment to getting it right, the Fancy Nancy writers kept in mind Autism Speaks' tenet, "If you've met one person with autism, you've met one person with autism." With expert assistance, they identified common attributes among children with autism—such as restricted interests and intense reactions to sounds, smells, tastes, textures, lights and/or colors—and allowed those traits to inspire the character of Sean. Tucker shares, "For example, one of ["Nancy's New Friend" writer] Matt Hoverman's friends said that her child will freak out if he has chunky peanut butter. He only likes smooth. That's something we actually used in the script, and the autism consultants said that's a great example of how a child might be."
For Nancy, Sean represents the first person with autism she has met—and, in fact, she misunderstands her friend Lionel and initially believes she is going to meet his "artistic" cousin. Nancy also learns that "sensitive" can have different meanings and, through Lionel, she finds a way to connect with Sean that is comfortable for him and also exposes her to his interests and unique point of view. "Sean's is Lionel's favorite cousin," Tucker explains. "He loves hanging out with Sean because Sean sees the world in ways that Lionel doesn't, and Lionel thinks that's really cool. Sean is just part of the family and he is who he is, and that's great." Lionel shares his experience and understanding in relating to Sean with Nancy—and, indirectly, with kids watching from home.
Sean is voiced by 11-year-old George Yionoulis of Raleigh, North Carolina, who was diagnosed with autism when he was 2 years old. Yionoulis gained attention in 2017 through a video he and his mom created to explain for his fourth grade class what it's like to be autistic. That video quickly went viral and now has more than 1.3 million views on YouTube. Hoverman found Yionoulis' video while researching the episode, and Disney Junior reached out to see if he would be interested in lending his voice to Sean. "We're just so happy he could be part of this," Tucker says, adding, "He was a natural."
Elaine Hall, global neurodiversity expert and founder/director of The Miracle Project for RespectABILITY believes that "Nancy's New Friend" plays an important role spotlighting for kids and families the commonality of those who experience the world differently. "This episode sheds a most important light to understanding that not everyone is the same; understanding sensory, neurological and emotional differences; and how not to take a person's reactions personally," Hall says. "I truly believe that 'Nancy's New Friend' can be a most positive influence and teaching tool for this young generation, which will lead towards a more inclusive and understanding world for generations."
As World Autism Month is celebrated around the globe throughout April, Chief Strategic Initiatives and Innovation Officer Lisa Goring expresses Autism Speaks' excitement to have partnered with Disney Junior for the special episode and its authentic portrayal of someone on the spectrum. She says, "Global understanding and acceptance of people with autism is core to our mission, so it's important to help young audiences learn more about their peers with autism."
Tucker and the Fancy Nancy team are thrilled to give a voice to children and families with autism and create a place on screen where they can be seen. "The other part of what we're excited for is for kids who don't have autism—kids who are in classrooms or on playgrounds with kids who have autism—to just have a better understanding of who these people are," she says. "Understanding creates compassion and kindness, and people with autism can really open our minds. They see the world in different ways and that can be a huge benefit to us if we will take the time and the effort to be friends with them."
Tune in to "Nancy's New Friend" in this week's episode of Fancy Nancy, premiering Thursday, April 2 (8 a.m. ET/PT) on Disney Channel and in DisneyNOW.