By Beth Deitchman
Kara Saun is tasked with making sure that evil is always in fashion. The designer—a finalist on the first season of the hit series Project Runway, and who recently served as judge for D23 Expo's Mousequerade costume contest—is in her dream job, creating the costumes for the Villain Kids in Disney's Descendants and Descendants 2, premiering on Friday, July 21, in an unprecedented simulcast on ABC, Disney Channel, Disney XD, Freeform, Lifetime and Lifetime Movies at 8 p.m. EDT.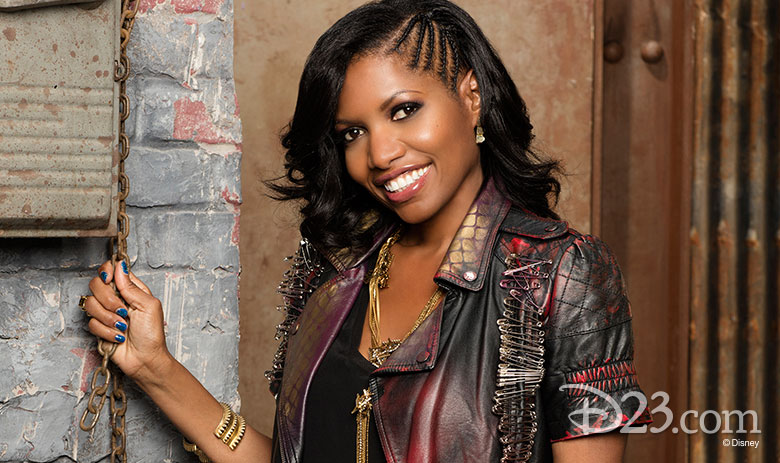 D23 spoke to Saun recently about what inspires her wickedly wonderful wardrobe for the sons and daughters of Disney's iconic villains. When she embarked upon designing the costumes for the first Descendants movie, Saun did a ton of research—including trips to Disney's Animation Research Library to look at the original artwork from classic animated films, which she watched "over and over again."
"I start with the heritage parents to create a color wave," Saun says. She assigns each character a dominant color based on the heritage parent and her research. For example, so as not to mix up Harry (son of Captain Hook, played by Thomas Doherty) and Gil (son of Gaston, played by Dylan Playfair) by dressing them both in red, like their fathers, Saun clad Gil in mainly burnt orange, a hue worn by Gaston in some early artwork she was able to view.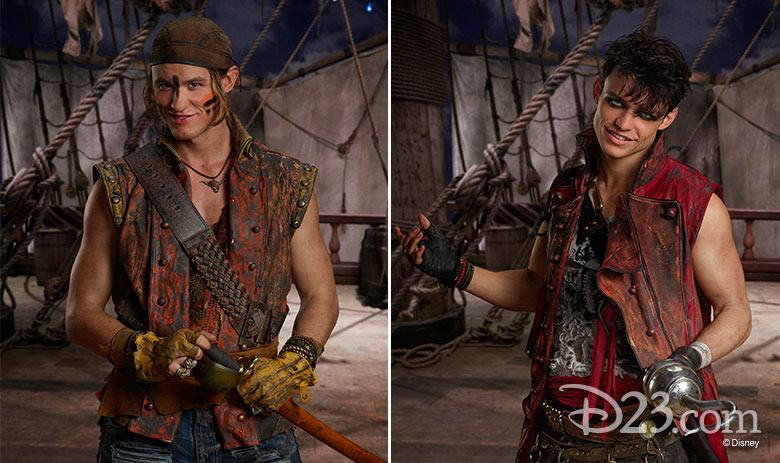 Once she's determined the color wave, Saun shares, "I pick out little things," such as a white feather or an abundance of hooks worn by Captain Hook in some research material she turned up. "I really do start with the parent and then add my little version of punk to it."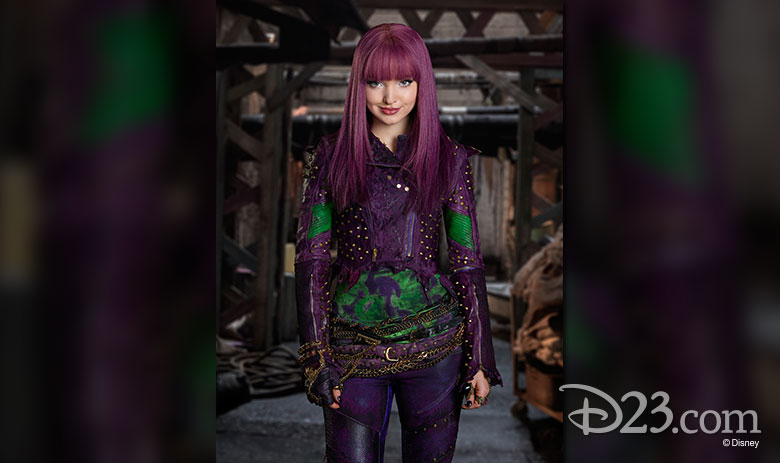 Mal (Dove Cameron)—Daughter of Maleficent
"She went from being the girl from the Isle of the Lost to, literally, a princess overnight. It's really fun to create all of these princess looks for Mal in colors that she normally wouldn't wear," says Saun, who points out that Mal's look has evolved from 1970s punk to preppy punk to a more polished punk. Mal's wardrobe is still edgy but with more sophistication, and Saun notes, "It really tells her story. She's just trying to fit in."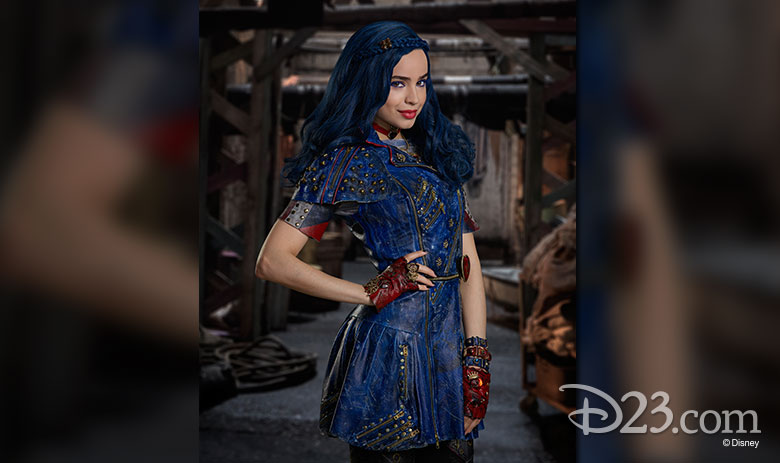 Evie (Sofia Carson)—Daughter of the Evil Queen
Since Evie is now the junior fashion designer for all of Auradon, her wardrobe has been customized, from earrings and accessories to her distressed shoes. "Everyone is wearing Evie's clothing to the cotillion, so for Evie, every time you see her I want you to feel like she's a designer," Saun says.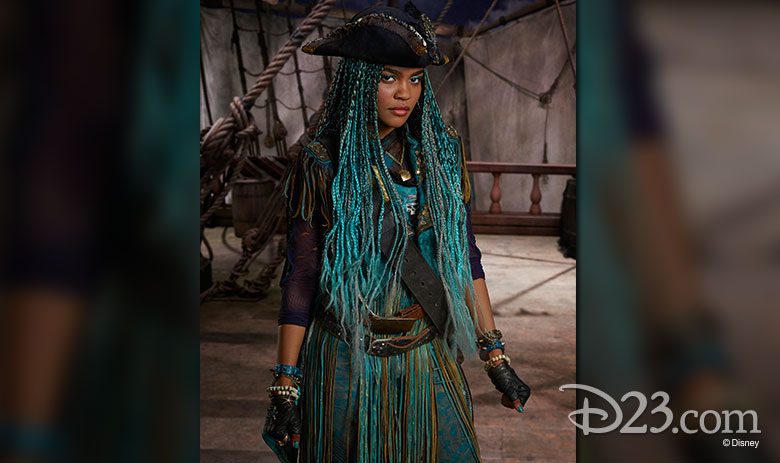 Uma (China Anne McClain)—Daughter of Ursula
"I wanted to create a whole new color wave for Uma," Saun tells D23. "I watched all the movies over and over again, and one thing that was so striking in Ursula's look was that very bright turquoise eyeshadow, and that is how I got Uma's color." Uma's braids are intended to look like tentacles, Saun says, "So when she's fighting and dancing and you see the fringe going and you see her braids flying in the wind, it really looks like an octopus." Viewers might also take note of the fishnet-inspired mesh Uma wears, and the trinkets that adorn her pirate jacket and her bag. "It's really fun because Kenny said to me, 'I want Uma to look like you just dragged her on the bottom of the sea,'" Saun laughs.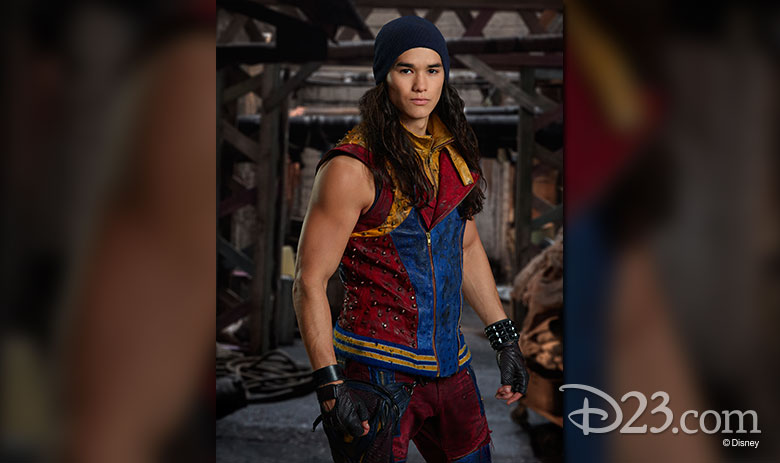 Jay (Booboo Stewart)—Son of Jafar
A natural athlete, Jay's wardrobe in Descendants 2 reflects the growth of the character, who has now become a natural leader. Saun points out, "For him, it's still a polished punk but it has a little athletic twist to it, with the red knit on the sleeves and the waist."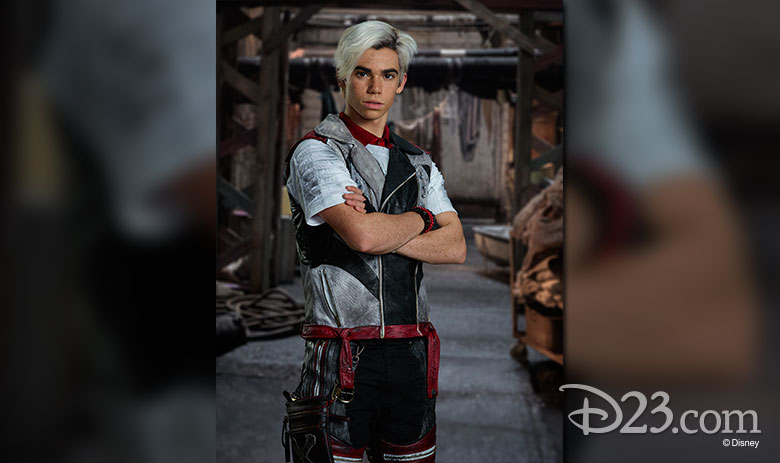 Carlos (Cameron Boyce)—Son of Cruella DeVil
Carlos is one of the more tech-minded denizens of Auradon. "He has a polished punk look, but something he would never do before is wear a lot of shirts with collars," Saun mentions, adding that this detail added a bit of preppy style for the character, as well.