By Courtney Potter
New Cast Announced for The Proud Family: Louder and Prouder on Disney+
Fun news this week from our Disney+ pals: Several amazing actors are joining the cast of the new animated series The Proud Family: Louder and Prouder!
Billy Porter (Tony® award-winning star of FX's Pose) and Zachary Quinto (Star Trek) will voice Randall and Barry Leibowitz-Jenkins, respectively—the mixed-race adoptive parents to 14-year-old activist Maya Leibowitz-Jenkins, previously announced to be voiced by Keke Palmer. Meanwhile, EJ Johnson (Rich Kids of Beverly Hills) will voice Michael Collins, Penny's best guy friend who is a non-conforming trendsetter, serving up fierce looks at school and on the basketball court.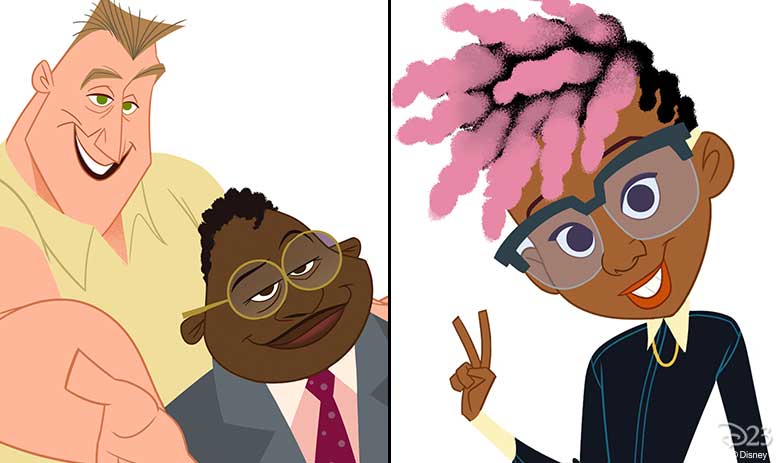 The Proud Family: Louder and Prouder will pick up the story of its central character Penny Proud and also include her madcap family: parents Oscar and Trudy; twin siblings BeBe and CeCe; and her grandmother Suga Mama (and Puff!). Of course, it would not be The Proud Family without Penny's loyal crew Dijonay Jones, LaCienega Boulevardez and Zoey Howzer, among others.
Cast members reprising their voice roles from the original series include: Kyla Pratt as Penny, Tommy Davidson as Oscar, Paula Jai Parker as Trudy, JoMarie Payton as Suga Mama, Cedric the Entertainer as Uncle Bobby, Carlos Mencia as Felix Boulevardez, Maria Canals-Barrera as Sunset Boulevardez, Alvaro Gutierrez as Papi, Karen Malina White as Dijonay Jones, Soleil Moon Frye as Zoey Howzer, and Alisa Reyes as LaCienega Boulevardez.
Look for The Proud Family: Louder and Prouder on Disney+ in 2022!
5 Fantastic Things to Watch This Weekend
We're slowly inching our way towards full-fledged summer, which means more time outside… gardening; going to the beach; lounging lazily in a backyard hammock with a cold beverage (boy, that sounds delightful). But don't leave your couch hanging! Inside the house can be fun too—especially when you consider the great stuff from around the worlds of Disney airing this very weekend. New episode of ABC's Shark Tank? Murder on the Orient Express on FXM? Tell us more!
A "Magical Surprise" for Shanghai Disney Resort's 5th Birthday
If you've been keeping up with News Briefs—or news from our Parks and Resorts around the world, in the general sense—then you know Shanghai Disney Resort has just kicked off celebrations for its big 5th birthday… and they're doing it with style! Case in point: a brand-new anthem and accompanying dance routine! Disney Ambassadors from across the globe shared in the excitement with a very special birthday message choreographed to Shanghai Disney Resort's said birthday theme song, "Magical Surprise." Check it out, courtesy the good folks at Disney Parks Blog, above.
The "Magical Surprise" anthem was specially created for this enchanting milestone, a collaborative effort between Yaron Spiwak, Senior Music Producer & Creative Director at Walt Disney Imagineering; Grammy® nominated producer Chris Sernel; songwriter and The Voice contestant Jeff Lewis; and pop singer Liu Yuning. You can even learn how to do the moves at home right here!
Stay tuned for more fun surrounding Shanghai Disney Resort's big birthday in the coming months…
Jungle Cruise Coming to Theaters and Disney+ on July 30
If you've been clamoring to see the back side of water as much as we have, then you'll be just as tickled as we are to learn that Disney's Jungle Cruise will premiering in U.S. theaters and on Disney+ (with Premier Access) on Friday, July 30. Read more about the big announcement and prepare for adventure! (Did you know we have an exclusive scoop from the set of Jungle Cruise in the summer 2021 edition of Disney twenty-three? It's true! More info here)
New Featurette for Disney's Inaugural LAUNCHPAD Short Films Collection
Earlier this week, Disney+ released "Embrace Yourself"—a new featurette for the inaugural season of Disney's LAUNCHPAD, a collection of live-action short films from a dynamic new generation of storytellers.
The goal of Disney's LAUNCHPAD is to diversify the types of stories that are being told and to give access to those who have historically not had it. Inspired by life's journey, these first six short films for Disney+ are based on the theme "Discover," and all six titles will be available to stream on Disney+ beginning Friday, May 28.
The season one short films include American Eid, written and directed by Aqsa Altaf; Dinner Is Served, directed by Hao Zheng, written by G. Wilson & Hao Zheng; Growing Fangs, written and directed by Ann Marie Pace; Let's Be Tigers, written and directed by Stefanie Abel Horowitz; The Last of the Chupacabras, written and directed by Jessica Mendez Siqueiros; and The Little Prince(ss), written and directed by Moxie Peng.
Aspiring filmmakers, listen up: Submissions for season two are being accepted now through June 11; visit launchpad.disney.com to find out more.
Dates Change for Star Wars Celebration Anaheim 2022
Mark your calendars: The dates for Star Wars Celebration Anaheim are moving up! Yes, the galactic good times are shifting dates by a few months, from August 18-21, 2022, to May 26-29, 2022.
As explained in the announcement from our pals at StarWars.com this week, current ticket holders who wish to keep their existing tickets will have their order automatically transferred to the new event dates, and they'll receive a new confirmation email in the coming months. So if fans want to keep their tickets, no further action is required; but if ticket holders wish to request a refund for their '22 ticket order, they can do so by visiting StarWarsCelebration.com. FYI: Ticket refund requests must be submitted before June 11, 2021. All ticket holders will receive an email with detailed instructions on how to submit a refund request, if they choose to do so.
Cosplayers, this means slightly less time to create all those incredible outfits you usually bring to the festivities. Plan accordingly, y'all.
Sizzle Through the Summer with Freeform
Fill your summer viewing calendar with some superb summer shenanigans courtesy Freeform, who on Monday announced its summer schedule—including season premieres of Motherland: Fort Salem (photo seen above), grown-ish, and Good Trouble. And as previously announced, the final season of the fan-favorite The Bold Type will debut on Wednesday, May 26, and end on Wednesday, June 30. All titles will be available to stream on Hulu the day after broadcast. (Honestly, we love the fact that Freeform has sorted out our summer viewing this early in advance.)
The critically acclaimed series The Bold Type premieres its fifth and final season beginning Wednesday, May 26, at 10 p.m. ET. On Motherland: Fort Salem (Tuesday, June 22, at 10 p.m. ET), Raelle (Taylor Hickson), Tally (Jessica Sutton), and Abigail (Ashley Nicole Williams) will confront higher stakes, dangerous magic, and a new threat from an ancient group of witch hunters, The Camarilla, over the course of their second season. Meanwhile, grown-ish (premiering Thursday, July 8, at 8 p.m. ET) returns for a fourth season, chronicling Zoey's (Yara Shahidi) ups and downs during senior year. And following its spring finale this past April, Good Trouble (Wednesday, July 14, at 10 p.m. ET) begins the second half of their thrilling third season.
We can't wait to see what it's store!
ICYMI: The Lion King and Aladdin Return to Broadway This Fall
As unabashed musical theater fans, it's news we've been waiting for: Disney on Broadway just announced that two of their hugely popular productions—The Lion King and Aladdin—will reopen this September! For the inside scoop on what to expect, and how you can purchase tickets, click here.