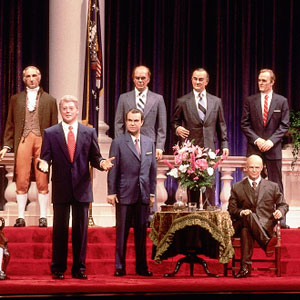 Early in his presidency, President Bill Clinton, in a speech that would be heard by millions of Americans, explained the very principles at the heart of America's value system and its quest for democracy.
"My fellow citizens, we are the heirs of the great American Revolution… and we are ready to carry our great national experiment forward into the next millennium!"
Suddenly a voice is heard: "….and… cut! That's a wrap, everybody!"
A burst of applause engulfs the White House Library, overflowing with excitement from Disney Imagineers. The President throws an arm around Imagineer Justin Segal's shoulder, cheering, "That was fun!"
Justin recounts this story of when he was a part of a team of five Imagineers visiting the White House in September 1993. The project? A significant upgrade to Walt Disney World's Hall of Presidents attraction — one which, for the first time in the show's history, would give the then-current President a speaking role.
As the nation's 42nd president stood before a microphone and video cameras — set up to film his gestures and facial nuances for Audio-Animatronics® programming — he remarked to an assistant, "Have you seen [The Hall of Presidents]? This is a great show!" President Clinton continued into the microphone, "I feel like I should sing a Disney song. Heigh ho, heigh ho…!"
The Hall of Presidents premiered at Walt Disney World on October 1, 1971, as one of the Resort's most dramatic and prestigious presentations. While it was an attraction original to Magic Kingdom Park, the show was actually conceived 15 years earlier — as a Disneyland Park attraction. What many don't realize is just how close The Hall of Presidents is to the original ideas conceived by Walt and his team of Imagineers those many years ago.
Let's to delve into the Walt Disney Archives and learn more about the evolution of this Walt Disney masterpiece.
Why don't we begin our journey on Liberty Street? No, not Walt Disney World's Liberty Square, but a never-built addition to Disneyland that would have been an extensive recreation of "a typical American street in the Revolutionary War era." Let's take ourselves back to 1957 and see what such a land might have been. So if your imagination is ready to enter the "Disneyland that never was," here we go!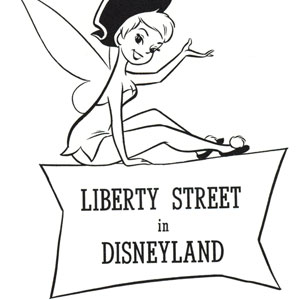 "Walkin' Right Down the Middle of Liberty Street, U.S.A. . . ."
It's 1957. Main Street, U.S.A.'s Town Square is abuzz with excitement as we wend our way toward its northeast corner. Just ahead of us, along this new, cobblestone street, is a world of old. The story is of America's heritage and its relation to "the concept of freedom of enterprise," notions that are reflected in the architecture and detail surrounding us. The Revolution-era buildings to our left house a variety of shops: Apothecary, Glassmaker, Print Shop, Insurance, Cabinet-Maker…
We soon arrive to the cornerstone of this new land: Liberty Square, whose central icon is an impressive Liberty Tree. Just beyond it we find Liberty Hall, where we enter a large foyer, surrounded by dioramas depicting famous scenes from the Revolutionary War. Here, too, is the gateway to the heart of our new land: auditoriums which feature the two tableau productions, "The Hall of The Declaration of Independence" and "The Hall of the Presidents of the United States." In the first, curtains part to unveil a life-size figure of Thomas Jefferson discussing drafts of this fundamental document with Ben Franklin and John Adams. Behind the next curtain is the actual signing of the Declaration, followed by the ringing of the Liberty Bell. ("Golly gee, that was loud!" you think to yourself, removing your tri-cornered Mouseketeer hat.)
Our next experience is The Hall of Presidents, a "mighty cavalcade of American History," as seen through the eyes of our nation's leaders. Here, lighting, staging, music, and narration combine to create a "living experience" for us. The show begins with figures of Washington and the presidents immediately succeeding him standing in silhouette. A compelling narrative recounts trying times and explores the formation of our heritage, as excerpts from famous addresses of our nation's leaders echo through the theater. The music swells as the finale reveals a spectacular view of all thirty-four presidents on stage and a rear curtain opens to reveal a Cinemascope-style motion picture screen, featuring the Nation's Capitol. "Wow. This could never happen anywhere else," you think as the genius of Walt Disney trumps our imaginations yet again. We're compelled to move on to that other new addition — Edison Square, is it? — but we'd better get back to reality…
"Plussing" the Presidents
As we know, Liberty Street wouldn't open in 1957, but work would continue on The Hall of Presidents for years to come. Walt himself assigned James Algar (director of the "True-Life Adventures" series) to perform extensive research on the United States presidents and our nation's founding documents in preparation for the true-to-history show. In a February 1959 meeting, Walt and key WED Enterprises personnel determined that the Constitution would serve as the basic story background for the Presidents show and that the attraction could also "depict growth and progress, the present and future," ideas that eventually became hallmarks of Walt Disney World's Hall of Presidents.
By this time, the show had possessed a stronger direction. Its first portion would employ Circarama technology to create a five-screen wrap-around, 180-degree film presentation, featuring enlarged paintings that would depict moments from our nation's founding. The climax would send audiences right into the middle of a violent Civil War battle. WED artist Sam McKim explained this multi-sensory moment: "Walt wanted artillery that would fire from one screen across to the enemy on a screen on the other side… And you'd see things blow up, and then you could smell cordite. It was smell-o-vision!"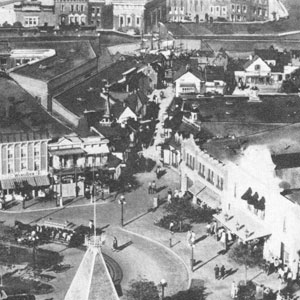 But by far, the biggest challenge facing WED Enterprises was the sheer price of the technology needed to bring 34 human figures to life. Originally, the presidents would have been little more than wax figures, but Walt's vision of having them realistically stand and speak was not yet feasible. Looking to sponsors to overcome this hurdle, WED compiled a presentation, which included a small model theater and a 32-minute slide presentation, which would dazzle potential corporate backers.
A Fair Saves the Day
Meanwhile, Walt's preparation for the 1964-65 New York World's Fair would prove a valuable opportunity for major organizations to fund the research and design of new technologies for Disney's attractions. With the hopes of incorporating the Presidents show into the Fair's menu of offerings, WED re-christened the attraction One Nation Under God and brought their mockup to New York's RCA Victor Theater in June 1961. While the World's Fair staff responded with excitement to the presentation, corporate leaders from such companies as Coca-Cola, Hallmark, and Union Carbide found the costs too prohibitive. One organization would admit that the show evoked many powerful emotions, but they were ones unrelated to the quality and identification of its products.
Something was missing from this presentation. What would better sell One Nation than a president himself? "Walt realized that he had to do one of these to sell the package," McKim explained. The goal now was to create a full-size, lifelike Audio-Animatronics® figure, something that would speak on its own and demonstrate the realism that the Disney team envisioned. Walt had already turned to animator-turned-sculptor Blaine Gibson, asking him to start creating busts of Presidents George Washington and Teddy Roosevelt. But the boss wanted our 16th president to be built first. After all, Walt had always had great admiration for Abraham Lincoln.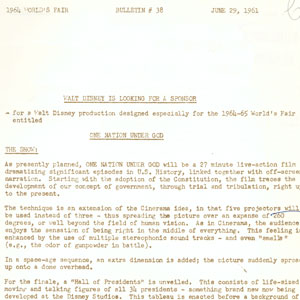 A Tribute to all Presidents, but Mostly Lincoln
Of help to Blaine was a copy of a life cast of President Lincoln's head, made in 1860 by Chicago sculptor Leonard Volk. Although Blaine used it in reference for a bust to be made of the president, he exaggerated a few facial characteristics "based on [his] understanding of characters." WED had created a figure that could rise from its chair by the summer of 1961, but the project still had extensive challenges. Walt called upon engineers Roger Broggie and Bob Gurr, demanding, "I want half the weight and twice the motions!" Bob perceived the figure as though it were an airplane (made of light-weight equipment), and designed the mechanical parts for a realistic Lincoln in only ninety days — quite a feat for such a tall, slender personage. ("Why didn't Walt want Grover Cleveland?!" Bob once asked, noting he'd have more room for the mechanical design.)
But it was the majordomo of the World's Fair himself — Robert Moses — who would champion One Nation Under God. In April 1962, Moses, while visiting the Disney Studio to look at progress on Disney's other World's Fair projects, encountered the Mr. Lincoln figure, who extended his arm to shake hands with the visitor. Enthralled at Walt's newest toy, Moses quickly became adamant that Lincoln be a part of his fair — so much so that, according to biographer Bob Thomas, he once said, "I won't open the fair without that exhibit!"
Unfortunately, time was running out, and in the months ahead, the project had to be scaled down. "Well, we couldn't get the entire Hall of Presidents together in time," said Walt, "But we might be able to finish Lincoln."
From 34 to 1
Having spent the greater part of two years attempting to court a sponsor, including a plea to Undersecretary of Commerce Franklin Roosevelt, Jr., Moses discovered a most fortuitous circumstance: the State of Illinois' legislature had established a commission for the fair, coincidentally proposing an exhibit based on their favorite native son. On a visit to the Studio lot, temporary commission chairman Fairfax Cone found himself "overwhelmed" after meeting the Lincoln figure. It was a match made in heaven! On November 19, the centennial observance of Lincoln's Gettysburg Address, Walt, Moses, commission chairman Ralph Newman, and Illinois Governor Otto Kerner gathered in Springfield to announce that Mr. Lincoln would be coming to the World's Fair.
But the announcement was met with criticism, to put it lightly. Much of the public felt that recreating this revered individual would be a disgrace. When the show premiered in the summer of 1964, however, the illusion was ultimately found to be more-than-effective, and Great Moments with Mr. Lincoln would become one of the most popular attractions at the World's Fair.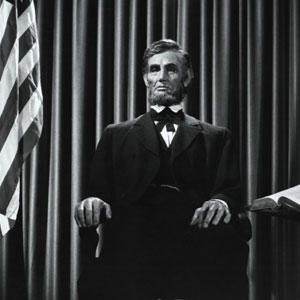 In Great Moments, an Audio-Animatronics® version of the 16th president stood and addressed the audience with the vocal talent of famed actor Royal Dano, who bore an uncanny resemblance to President Lincoln. The whole effect was so realistic, one newspaper falsely reported that Lincoln stood up and walked forward on the stage, which Imagineer Marc Davis found to be "a heckuva compliment." On July 18, 1965, the show's popularity brought a version of Great Moments to the Disneyland Opera House, where it has since been presented in various forms on and off throughout the years.
In the years that followed, WED Imagineers were able to master greater realism with advancements in Audio-Animatronics® technology, as evidenced in the still-successful Haunted Mansion and Pirates of the Caribbean attractions. Sadly, Walt would not live to see even these attractions completed. But with the planning of a "whole new Disney World" in Central Florida, it seemed about the right time to dust off an old project…