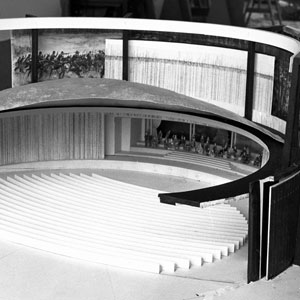 Part II of a series; click here to read Part I.
After his passing in December 1966, Walt Disney left behind an entertainment empire to a group of bewildered staff members, artists and Imagineers. It was only through their passion and commitment to their late visionary's dreams that the unprecedented Walt Disney World project could go forward. Before them was the mammoth task of master planning more than 27,000 acres of land. What would emerge from the Central Florida swamplands would be an improved Disneyland-style park that would incorporate new and exciting experiences for guests.
Incidentally, one of the most prominent new experiences required a good look back — back even a decade to plans of Walt's abandoned dream of a Hall of Presidents. But where to put it? While Magic Kingdom Park would incorporate most of Disneyland's themed lands, New Orleans Square wouldn't make the cut based on Florida's proximity to the "Big Easy." Instead, a totally new land, Liberty Square, would be unique to the park — and timely, too, as America's Bicentennial was just around the corner. The old "Liberty Street" concept was resurrected, and it served as host to what Walt and his staff considered as one of the most exciting projects they had ever undertaken.
Luckily for the Imagineers, much of the pre-planning work for The Hall of Presidents had been completed in the early '60s: They had done extensive research, written several scripts and created a detailed model theater. But even more daunting challenges were ahead for WED Enterprises — to create realistic and life-size figures of each of the presidents. They had already completed an amazing likeness of Lincoln, but could they achieve the same realism with 35 other presidents?
The Hand of the Sculptor and The Skill of the Artist
Over the fifteen year development of The Hall of Presidents, WED Imagineers referenced hundreds of paintings, thousands of photographs, 300-or-so periodicals and more than 600 books to give their prestigious vision the right attention to detail — and all this just accounted for the preliminary research! By making several trips to Washington, D.C., Williamsburg and other historical sites, writers, designers and painters sought to authenticate their work by soaking in the atmosphere of where our nation's presidents worked and lived. With the final plans for their presentation in mind, it was finally time for Imagineers to start the production process.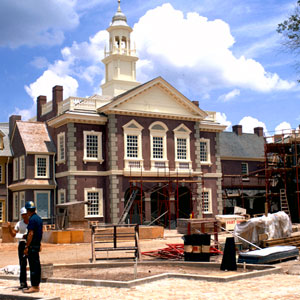 For the attraction's film portion, more than a dozen WED artists worked under the supervision of three-time Academy Award® winner John DeCuir, painting some 85 masterpieces in the styles of the periods in which the depicted actions took place. (Some of their paintings were more than 40 feet long!) Disney Legend Ub Iwerks, who you'll remember as a longtime partner of Walt's and the original animator of Mickey Mouse, was responsible for developing a new system to capture the specially made paintings onto 70mm film. This would be Ub's last project for Disney before he passed away.
As for the presidents themselves, Imagineers worked diligently to determine their proper height and weight; this information helped them to establish the presidents' body-positioning and placement onstage. For instance, James Madison, so as not to be overshadowed by those around him, would sit because he was the smallest president at 5'4" and 100 pounds!
It was up to Imagineer and Disney Legend Blaine Gibson, who so accurately sculpted President Lincoln a few years earlier, to produce the rest of the figures in exacting detail. Exhausting all resources possible, the sculptor learned as much as he could about the leaders as he sought to reflect in his craft the feeling of each president's personality. "My goal in sculpting is to render the uniqueness of an individual," Blaine once explained; improvements to the busts ceased only when he instinctively felt he had done so.
It was time for cosmetology to step in. While the busts were sent to Guatemala, where wig makers created authentic hairpieces, tailors meticulously cut, sewed and stitched period fabrics in the styles in vogue during each president's time in office — right down to the seams!
The attention to detail did not stop there. Antique furniture was studied (George Washington's chair was an exact reproduction of the one our founding father sat in during the 1787 Constitutional Convention!), and shoes, watches and proper eyeglasses were specially made. President Franklin D. Roosevelt was given a Phi Beta Kappa key to wear on his jacket, and Presidents Andrew Johnson, Hayes and McKinley even sported lapel pins from the Civil War era. When The Hall of Presidents welcomed President George W. Bush in 2001, Imagineers duplicated his inscribed Timex Indiglo watch — to a T. Although most of these details have gone unnoticed by guests, they have profoundly contributed to the presentation's integrity.
The Days of '71
On Walt Disney World's Opening Day, 1971, after years of painstaking research and exacting execution by Disney Imagineers, The Hall of Presidents officially welcomed its first guests. Heralded as a "vast and stirring tableau" by critics, the show became an instant classic. In many ways, it remained true to concepts which originally excited Walt: Five massive screens swept audiences into landmark historical periods which most challenged and affirmed the importance of the Constitution and Presidency, later to part and reveal each of our nation's leaders on stage.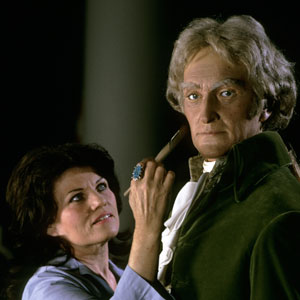 The film's first major scene placed guests right into the middle of the Constitutional Convention of 1787, an experience which Walt himself conceived as interactive: "If there's one thing I've learned about what people like, it's that they enjoy being more than just a spectator or bystander. They like to participate." The same held true during the Lincoln-Douglas debate scene. "You'll return to that hot summer of 1858," Walt once pitched. "You'll hear the hecklers in the crowd around you!" The show remained true to even these tiny details.
Those of you Disney trivia buffs might have recognized several voices used in the film. There's Paul Frees (The Haunted Mansion "Ghost Host") as George Washington, Governor Mifflin and Stephen A. Douglas. Dal McKennon, the narrator of Disneyland's Mine Train Through Nature's Wonderland), voiced Andrew Jackson. (Several pieces of the show's dialogue had actually been recorded in the early '60s in preparation for "One Nation Under God.") The whole presentation was narrated by American actor Lawrence Dobkin.
At the film's conclusion, marked with the blast-off of a Saturn V rocket, the screens parted and a red curtain revealed, in an almost chilling moment, the silhouettes of our nation's 36 presidents. As their names echoed through the theater, spotlights caught each leader's nod of acknowledgment. After the roll call concluded, President Lincoln, again voiced by Royal Dano, stood and addressed the audience. The illusion of reality was overpowering. This final speech, just like in Great Moments with Mr. Lincoln, was followed with a grand chorus of "The Battle Hymn of the Republic."
Adding to the Roll Call
With each new inauguration, Blaine Gibson was tasked to create a likeness of our nation's newest leader to incorporate into the show. Although he retired from WED in 1983, Blaine partnered with Walt Disney Imagineering time and time again to carry on the tradition. Here are some bits of trivia about his work over the past few decades:
Lyndon Johnson and Richard Nixon: By 1971, Blaine found the former to be the easiest president to sculpt, while he was most unsatisfied with the Nixon bust; the values of the latter president's dark hair and eyes heavily contrasted with that of his light-colored skin.
Jimmy Carter: Our master sculptor studied him so well during the presidential debates, that he didn't make his usual sketches before sculpting; Blaine "already had a strong mental image." He developed a particular interest in the strength of Carter's eyes.
Strongest Suit: According to Marty Sklar, when First Lady Rosalyn Carter came to see The Hall of Presidents, she remarked on her faux husband's wardrobe: "Oh my goodness. Who gave you that terrible suit?" She donated a new one.
Ronald Reagan: "There's a certain tendency for him to erupt into a smile spontaneously," Blaine observed. Studying Reagan's "inner sense of humor," he successfully captured the president's Irish twinkle.
Bill Clinton: On election night, Blaine concluded that it would be easier to sculpt the President-elect as his light-colored hair and face had similar values. "You need a monochromatic scheme because the values come together better," he explained.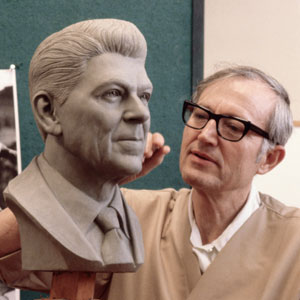 Adding a New Dimension
Walt once said that The Hall of Presidents should be a story to be "told and retold. It must be constantly put before the public." This was the exact spirit taken by Disney Imagineers in 1993, when they sought ways to update the 22-year-old program. But it was CEO Michael Eisner who came up with the most significant change. "What people want to see are the presidents," he thought. "Let's do something that features President Clinton. That will draw guests in!" For the first time in the show's history, the current president would have a speaking role.
After the White House staff reviewed a speech written by Imagineers and lyricist Tim Rice, the President personally approved the idea, also noting to the Imagineers his shoe size (13D) and inseam! Though it was a large enough challenge to fit a September recording session in with the President, an even more daunting task faced Audio-Animatronics® programmers at Walt Disney Imagineering.
"We see our current presidents on television every day, so it's harder to make them believable," explained Imagineering executive Patrick Brennan, who finds aligning the body movements with the voice to be the hardest part of animating a figure. (In a similar light, Blaine once compared sculpting contemporary presidents to painting a family portrait.) Ultimately, the Audio-Animatronics® Clinton proved amazingly lifelike. It even incorporated the President's closed-fist, thumb-up gesture — which the Imagineers first noticed while filming him.
The addition of Clinton was only part of an entire refurbishment. The film was re-cut to give greater emphasis on the issues of slavery. Disney Studio veteran Pete Renaday (voice of Country Bear Jamboree's emcee, Henry) delivered a new speech for Lincoln. Maya Angelou, who had participated in President Clinton's inauguration, provided a new narration for the show until the deep voice of actor J.D. Hall took over in 2001 — the year President George W. Bush joined the Hall. The 43rd president also delivered a speech for the show, and his recording session was reported to have lasted only about six minutes.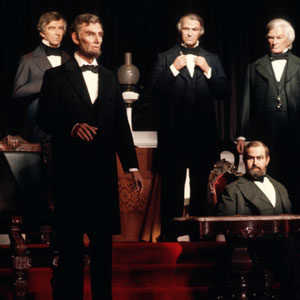 Stars and Stripes Forever
With the addition of President Barack Obama, The Hall of Presidents underwent its most significant change since the idea was first born. The film portion, now narrated by actor Morgan Freeman, holds a fresh and intense focus on the relationship between our nation's presidents and the American people. New paintings, photographs and video clips are displayed alongside brilliantly restored original artwork. For the Obama figure itself, Blaine passed on his sculpting tradition to Valerie Edwards.
For the first time ever, George Washington has a speaking role in the show, which is followed by a chorus of "America the Beautiful." Incidentally, early memos in the Archives reveal that these were original concepts by Walt and his staff that date back to the 1950s. And yet, even in the 21st century, these revisions are as fresh and dignified as ever.
Walt Disney truly believed that there is much to be gained by studying history — that the future development of his nation depended on the public's true understanding and appreciation of its past. If anything, The Hall of Presidents stands as a firm testament to Walt's forward-thinking: "You were in awe of someone who had the vision that this man had," Blaine once said. "He was so far ahead of his time than most of us." And still today, over half a century since the show's conception, it is only through the vast resources and talent of The Walt Disney Company that such a classic presentation can be re-imagined once again to rank as one of the most outstanding tributes to the American dream.
Two-part series by D23's Steven Vagnini.