By Steven Vagnini
"I get red, white, and blue at times," Walt Disney once said, expressing his deep love for America. Walt's passion for his country was made especially evident during the official dedication ceremonies for Disneyland, when, standing just a few feet away from the American flag in Town Square, he proclaimed, "Disneyland is dedicated to the ideals, the dreams, and the hard facts that have created America."
These meaningful words are immortalized on the park's dedication plaque, which is found just next to Old Glory in the heart of Main Street, U.S.A. And here, there comes a pause each day as Cast Members and guests gather to pay respect to the flag and participate in a special tribute to American military personnel for their service, dedication, and sacrifice.
To learn more about the Flag Retreat ceremony at Disneyland Park, D23 met with Disneyland Resort Security Officer John Nelson, who shared his experiences and reflections on the time-honored tradition.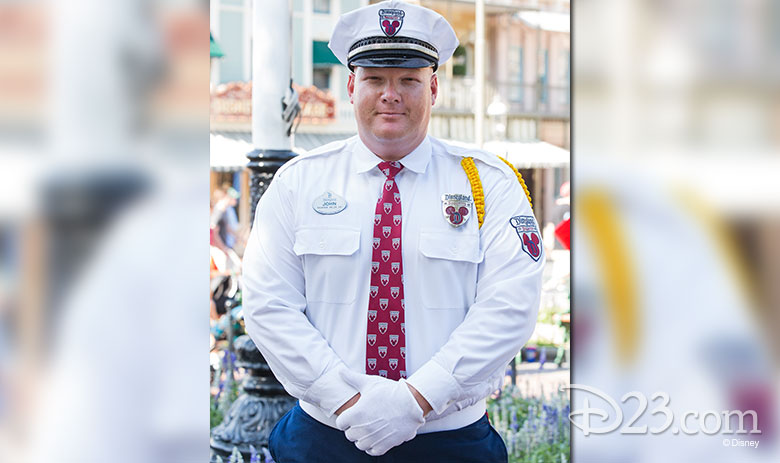 D23: Thank you for joining us, John. Can you tell us how you first participated in the Flag Retreat ceremony?
John: Thank you for having me. I was trained to participate in the Flag Retreat ceremony in 2010, when I started in my current role as a Security Officer at Disneyland Resort. Prior to that, I was an Attractions Host in Fantasyland, where I started at Matterhorn Bobsleds in 2004.
D23: Can you describe the Flag Retreat ceremony for us?
John: The Flag Retreat ceremony honors former and current military personnel from all branches, and so our main goal is to perform the ceremony with honor and dignity. We first invite members from the individual branches to come up and stand next to the outer ring of the flagpole. Then when the Color Guard arrives, we'll thank them by giving them a special salute. Then it is time for the retiring of the colors, when the American flag is lowered and folded.
Two main teams come together each day for the ceremony. The first is Security, and we lower and fold the flag. But we also partner with Entertainment for special performances by the Dapper Dans and the Disneyland Band, who perform patriotic melodies. Sometimes the [Disneyland Resort All-American] College Band even comes and plays with us. So we work together to put on an important moment for our guests to participate in.
D23: Security personnel have been responsible for the raising and lowering of the American flag in Town Square since Disneyland opened in 1955. How does it feel to be part of this observance more than 60 years later?
John: It's quite thrilling to be part of one of our oldest traditions here at Disneyland Resort. One thing people notice when they come to the park is that we're always changing; we're always making improvements and providing the best in quality entertainment. But it's very special that we're holding on to something that we started in the very beginning and hold a true value in.
D23: What are some of your most memorable experiences with our veterans?
John: About 15 minutes before the Flag Retreat ceremony starts, we will typically go out and meet with veterans and their families. And it is an honor to learn about their different paths. One of my favorite things to do is talk with veterans who served in World War II and the Korean War. My grandfather was a marine in the Korean War, and so talking with them reminds me of talking with my grandfather. It's a special connection I have with them.
And every year on Veterans Day, we hold a special Flag Retreat ceremony where we invite members of different military branches and their Color Guard, as well as all of our Cast Members who are current or former military, for a special procession down Main Street, U.S.A. It starts just south of Central Plaza, and we walk all the way down Main Street toward Town Square and gather around the Flag Pole and Fire Station for a very special ceremony dedicated to all who have given so much for us.
D23: What impact do you think the Flag Retreat ceremony has on guests who visit the Disneyland Resort?
John: A lot of our guests who are local to California may take advantage of the fact that Disneyland Resort is always here. But many of our guests come from around the world and plan in advance. For us to provide this moment is something that's truly special and memorable. When I see people come out to participate, it almost feels like how you would on the Fourth of July or Veterans Day. It's an overwhelming sense of pride. And I think our guests take that away from the Flag Retreat ceremony.
As we all know, Walt Disney was a patriot in his own right. And for all of us, it's a rejuvenating thought. Our main goal at Disneyland Resort is to carry on Walt's philosophy of providing a safe and happy environment for families to enjoy, and we can provide world-class entertainment at the same time. That's something we really take pride in. So when our guests experience the Flag Retreat ceremony, that really reaffirms the feeling that this is truly a magical place.