By Beth Deitchman
They cha cha'd their way into our hearts on the premiere episode of Dancing with the Stars: Juniors last week, and this week, Team Brandon—actress Ariana Greenblatt, dancer/gymnast Artyon Celestine, with guidance from their mentor, Dancing with the Stars pro Brandon Armstrong—are going to show us how they jive. On Sunday's episode, the celebrity kids are dancing to a song from the year they were born, and Ariana and Artyon are taking on Avril Lavigne's 2007 hit "Girlfriend."
"This is one of my favorite dances that I've done," Ariana enthuses. "Oh my gosh, the jive is so exciting and fun and all the moves have to be precise."
Ariana, who Disney fans know as Young Gamora in Marvel's Avengers: Infinity Wars and from the Disney Channel series Stuck in the Middle, is partnered with Artyon, an award-winning dancer who has been making magical moves on the dance floor since he was 8. Brandon, currently competing on the adult Dancing with the Stars with his partner, Tinashe, is having a blast mentoring the next generation, watching them gain confidence over the course of the week as they master a new dance. "Watching them grow and watching them be successful is probably the most rewarding thing for me," says Brandon.
"Definitely, literally growing," Ariana is quick to add. "I mean, when I first met Artyon I was way shorter than he is, and now I'm almost the same height!"
Ariana and Artyon have bonded in the ballroom and have become good friends. "He could be the best partner ever," says Ariana, while Artyon is enjoying another aspect of competing on Dancing with the Stars: Juniors. What does he see as the best part of being on the show? "I think just performing and showing everyone that the kids are better than the adults," he says with a smile directed at his mentor.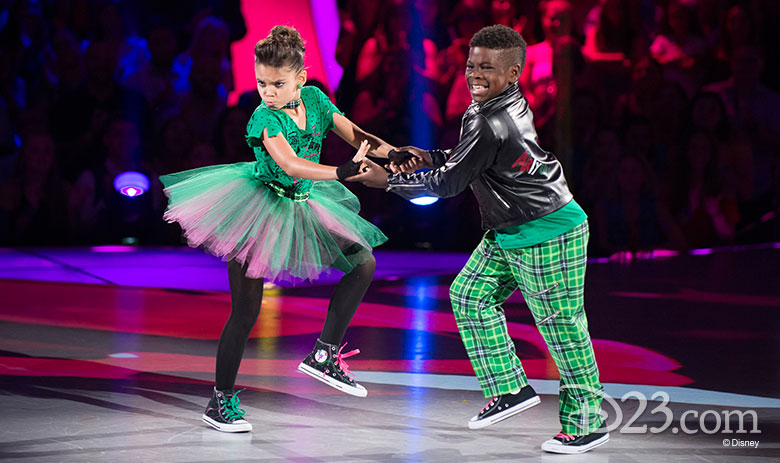 "I think people would be really shocked at how hard they work," says Brandon about Ariana, Artyon, and all of the DWTS: Juniors dancers. "They may be kids, but they put in a lot of hours and a lot of work to make these performances good." Each one- to two-minute dance takes several days to learn, along with "hours and hours of rehearsal," according to Ariana, who, as viewers saw last week, lights up the ballroom with her smile.
As the adult dancers and junior dancers alike prepare for Disney Night, we asked Ariana, Artyon, and Brandon which Disney character they would add to the team. Ariana considered Ariel and Lilo but ultimately decided Moana would be a great addition to their group. "I love Moana because she's strong," Ariana says. Though Artyon is a fan of Maui's muscles and Stitch's zaniness, he'd like to have Mickey Mouse in the house. "I love him—he's very nice," Artyon shares. As for Brandon, he'd like to mentor Mushu, the dragon from Mulan. "That's my favorite Disney character," he says.
Ariana, Artyon, and the rest of the Dancing with the Stars: Juniors cast are putting on their dancing shoes this Sunday to trip the light fantastic to songs from the year they were born. The fancy footwork begins Sunday, October 14, at 8 p.m. ET. Tune in to see which pairs get one step closer to the coveted Mirrorball trophy.