As Downtown Disney evolves into Disney Springs at the Walt Disney World Resort, we pay tribute to 40 years of the shopping, dining, and entertainment district, which originally opened March 22, 1975 as Lake Buena Vista Shopping Village.
The Shopping Village premiered as the centerpiece of Lake Buena Vista
. . . a city established in 1967, which, incidentally, wasn't originally planned for Walt Disney's "Florida Project." During an early-1960s review session for the secret land acquisition, Walt approached a map of the Central Florida area and pointed to available acreage near the I-4 and Highway 535 interchange. It was a perplexing subdivision of property that Disney legal counsel Bob Foster sought to avoid. But Walt, envisioning the area as a potential entertainment and residential district, requested the extra land.
"That comment extended for a full year a land acquisition program that until that moment was nearing completion!" Bob shared with the D23 Team. He would eventually name the city the street address of the Disney Studio in Burbank, California: Buena Vista Street.
Nearly a decade after Walt's original request, the Lake Buena Vista Shopping Village was unveiled to Walt Disney World guests. The community, situated along the peaceful shores of the natural Village Lake, featured clusters of boutique and handicraft merchandise shops, with atmosphere and activities designed to form a "harmonious whole." Among the original offerings were the Bath Parlour, Captain's Tower, Gourmet Pantry, It's a Small World After All shop, 2Rs—Read'n & Rite'n, and Posh Pets (!).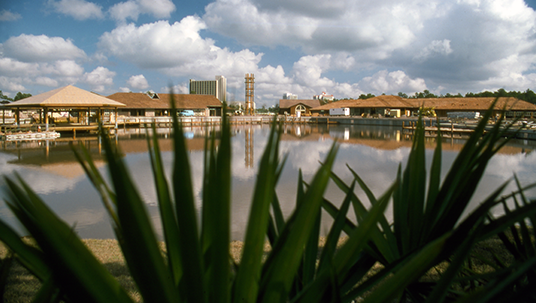 The area has been reinvented time and time again over the past 40 years. In 1977, a significant re-theming transformed the area into Walt Disney World Village, later becoming Disney Village Marketplace (1989). The area eventually evolved into Downtown Disney Marketplace (1997) as part of the expanded Downtown Disney Area. And today, the area is undergoing its biggest transformation yet as we anticipate the upcoming lakeside neighborhoods of Disney Springs.
As we celebrate the 40th anniversary of the shopping, dining, and entertainment district, let's take a fond look back at some nostalgic shots from the Walt Disney World of yesteryear.