Academy Award®-winning costume designer Jacqueline Durran talks about designing costumes befitting a fairy-tale world for Disney's new live-action Beauty and the Beast.
By Beth Deitchman
From the moment that Disney's live-action adaptation of Beauty and the Beast was announced, fans eagerly awaited glimpses of Belle, as played by Emma Watson; of Dan Stevens in the iconic role of Beast; and of the beloved household objects—including Lumière, Cogsworth, and Mrs. Potts and Chip—now brought to life with innovative motion capture and visual effects technology. But there was one object that has remained equally enchanting since 1991, and which fans clamored to see reimagined in the new film: Belle's iconic yellow dress.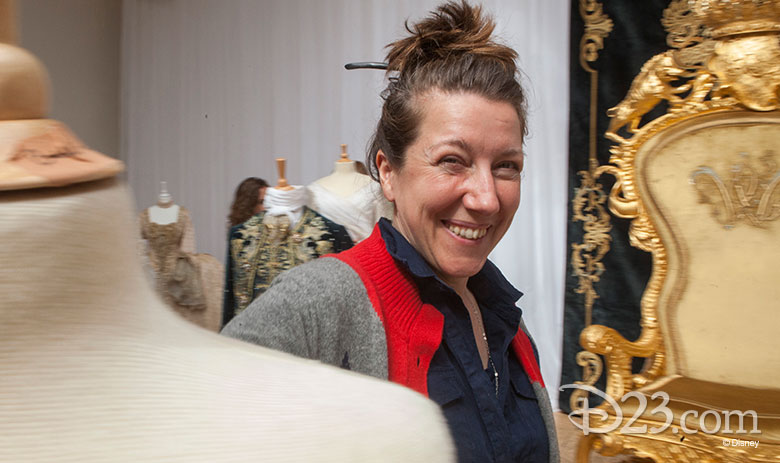 Oscar®-winner Jacqueline Durran (Anna Karenina, Atonement) designed the stunning dress Watson wears in Beauty and the Beast, as well as the wardrobe for all of the characters in the film—from the peasant villagers to, well, the wardrobe. Durran reveals that the yellow dress took more than 238 hours to make. Multiple copies were created, each sewn from several layers of feather-light yellow satin organza and stitched with 3,000 feet of thread. The top two layers feature a gold-leaf filigree with a pattern that matches the Rococo floor and is accentuated with 2,160 Swarovski crystals. It was important to Durran that this dress, like all of the garments Belle wears in the film, reference the animated film, but still feel unique. "In a sense we were reinterpreting the animation," she explains.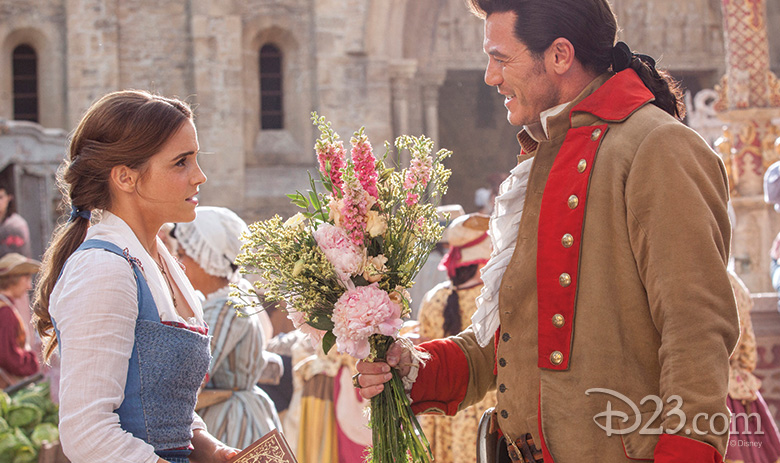 The blue dress Belle wears when we first meet her, as she bids her fellow villagers "Bonjour!," is also a nod to the 1991 animated feature, but with several new—not to mention practical—features. "We didn't want her to be a delicate princess but an active heroine, which is why her costume was designed with pockets where she could place books and things she might need and she was wearing boots, not delicate shoes, so she could run around the village," Durran shares.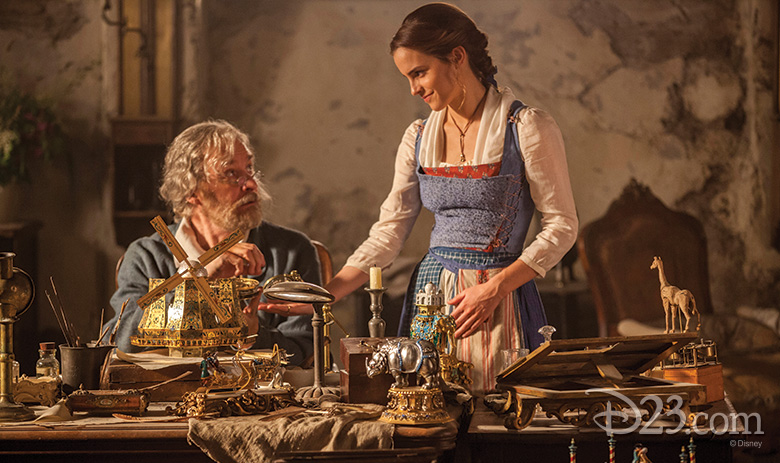 Each costume in the film is richly detailed and thoughtfully crafted, and bears witness to the months of research and craftsmanship that went into re-creating the fashions of the mid-18th century. Durran's team included embroiderers, milliners, jewelers, painters and textile artists. When it came to historical accuracy, Durran's research took her to the Los Angeles County Museum of Art, where she found a set of bright, colorful block prints that provided a fairly comprehensive look at regional costumes of 18th-century France. "[They], historically, are quite eccentric with a lot of unusual hat shapes and quirky regional details like coats with multiple skirts and dresses with aprons."
Speaking of aprons, for the dress Belle wears at the end of the film, Durran found inspiration in an original 18th-century apron she bought back when she was a student, and then was able to utilize it in a most 21st-century way: We found an artist in England who took the floral motif from that pattern and turned it into a painted design. The design was then hand painted on canvas and enlarged and printed digitally."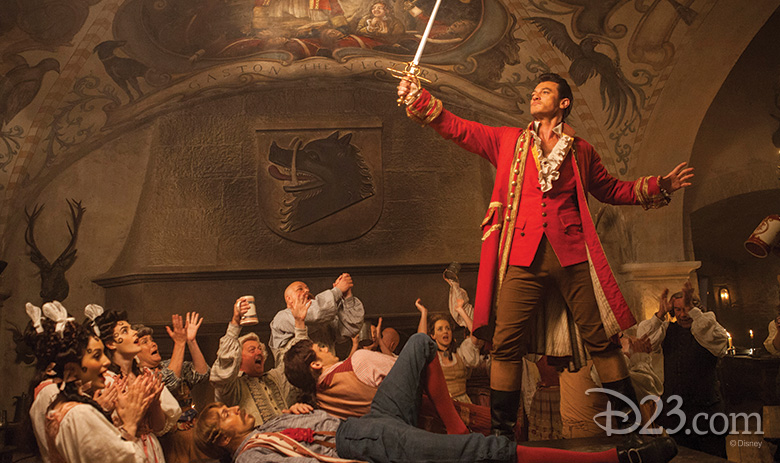 The team was meticulous about the detail they brought to their creations, but they rose to a different kind of challenge for a montage sequence that takes place midway through the film: Durran and the team set out to make costumes from entirely ethical and sustainable sources—meaning that only organic materials are used, and purchased from suppliers who pay their employees a fair wage and are considerate of the environment.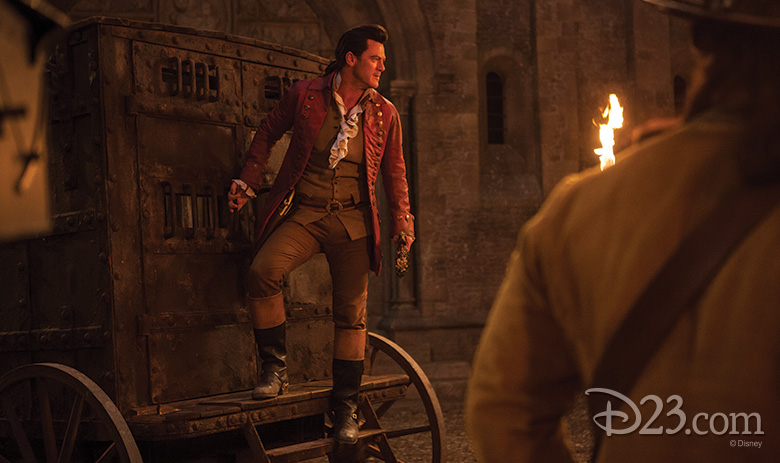 This is something that Durran and her team always try to achieve, she stresses, but, in this case, they were rigid about it. "It was a steep learning curve for all of us!" Durran tells D23. "The biggest challenge was trying to create a costume that was head-to-toe fair-trade, organic and sustainable without compromising our original design." The team worked with the consultancy Eco Age, which, Durran explains, "gave us social and environmental benchmarks by which we could define a costume as 'green' and helped approve vendor certifications and validate some of our pre-existing suppliers." The costumers used natural and low-impact dyes as well as traditional wood blocks for printing.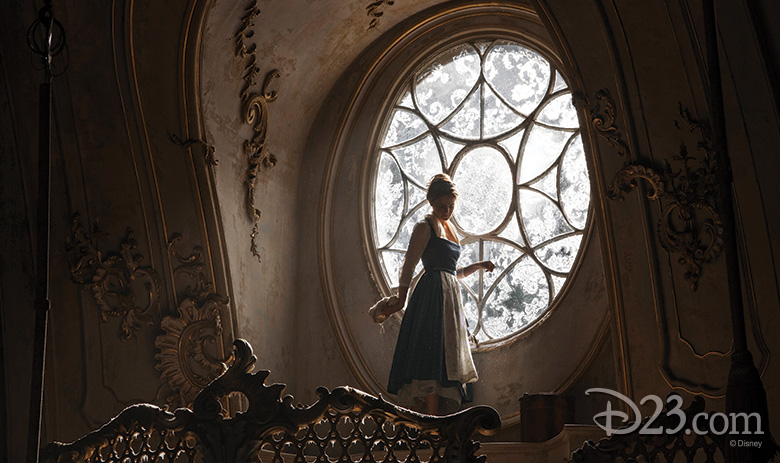 A longtime proponent of sustainable fashion herself, actress Emma Watson—who proudly wore sustainable fashion throughout the Beauty and the Beast world tour—had one additional suggestion that Durran was happy to accommodate. "Emma thought that it would be interesting to have bird motifs and references to birds in her costume as she felt that would help with her interpretation of Belle. There are feathers hidden away in parts of the costume and feathers painted on her shoes and feathers in her hair," Durran reveals.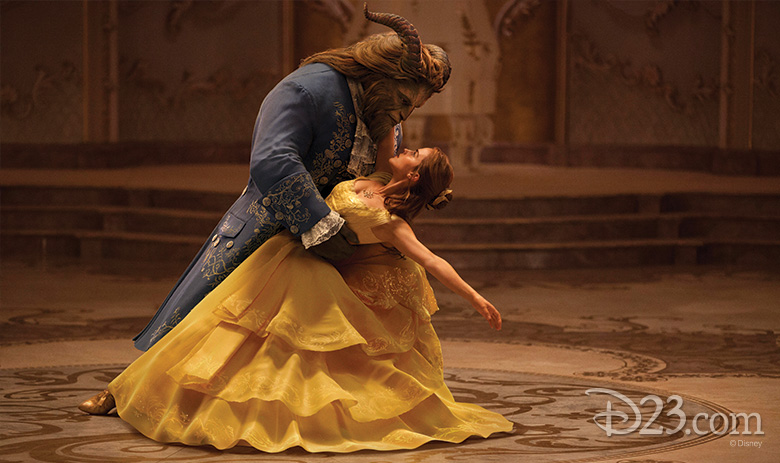 "One of the wonderful things about working with Jacqueline is that she is so incredibly collaborative," says Watson. "I was just blown away by how much input she wanted from me… she really wanted to understand how I perceived the character inside and out. It was such a special experience for me as an actress, and such a great way to build and understand a character through that process."
Producer David Hoberman also praised Durran for the imaginative and detailed creations that pay homage to the animated film with choices like cladding Gaston in red, but which also feature touches that are unique to this new adaptation—such as the leaf print on Mrs. Potts' dress at the end of the film, which mirrors the print on the teapot version of the character. "Jackie is a goddess," Hoberman says. "She had a really tough job, not only because of the sheer volume of costumes in this movie, but because of the iconic wardrobe from the animated film. She wanted to take into consideration and be somewhat faithful to the costumes worn by all the animated characters, but wanted to create something original as well, and she managed to come up with something completely beautiful and completely her own."