By Jim Fanning
As charming as a lovely girl in a frilly summer frock, as delicious as an ice cream social, as carefree as an old-fashioned sing-a-long around the player piano—that's Walt Disney's Summer Magic (1963). This lovingly crafted slice of Americana stars Disney Legend Hayley Mills in her fourth film for Walt, as the exuberant, quixotic, and effusive Nancy Carey, sweet 16 in Beulah, Maine, where she discovers new experiences, new friends, and new romance.
"'Summer Magic'… two words that go well together, because summer always means a certain kind of magic to most of us. In fact, I think almost everybody looking back remembers summer times more often than the other seasons. Well, our story is about summer and about magic too. [It's what] happened in one magical summer that changed the lives of an entire family—the Carey family."
—Walt Disney
As Walt Disney explained, "Mrs. Carey and her three children, Gilly, Nancy, and Peter, found themselves in a financial bind that could only be helped by finding a cheaper place to live than Boston. So, without mentioning it to her mother, Nancy wrote a letter to a Mr. Popham in Beulah regarding a house they had seen there while on a trip some years before. The answer was even better than Nancy had hoped for."
Thanks to Nancy's resourceful and "slightly" exaggerated missive—full of tears, entreaties, and white lies—the Careys are able to live in the quaint Yellow House belonging to the long absent Mr. Hamilton, who is traveling in China. And through the kindness of postmaster-storekeeper-constable Osh Popham (Burl Ives), who is not above stretching the truth himself. Sparkling with seven Sherman Brothers songs and glowing with heartwarming nostalgia, Summer Magic this year celebrates 50 years of flitterin' fun and feel-good family entertainment.

A Glorification: Story and Screenplay
Summer Magic is based on Mother Carey's Chickens, the 1911 novel by educator and author Kate Douglas Wiggin who also wrote Rebecca of Sunnybrook Farm. Disney obtained the rights to the book in 1955 as a potential project for some of the Mouseketeers. In 1961, the story was slated for the Walt Disney's Wonderful World of Color TV series, but Walt ultimately envisioned the delightful dramedy as a theatrical feature for his popular young star Hayley Mills. The prolific producer signed writer Sally Benson (author of the stories that inspired Meet Me in St. Louis, 1944, and the co-screenwriter of the small-town suspense Hitchcock thriller, Shadow of a Doubt, 1943) to pen the photoplay. Sally worked closely with Walt, keeping him up-to-date in between story meetings through an extensive series of memos detailing her many ideas. For example, it was Miss Benson's inspiration to telescope the events of the book into one summertime, ending with an autumn celebration.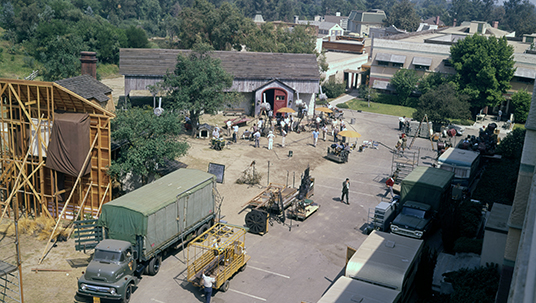 In the meantime, Walt cast Burl Ives as Osh Popham. (Nancy describes the good-heartedly deceitful postmaster as the family's Fairy Godfather.) Long known as a folksinger and balladeer, Burl had also become an acclaimed actor in such films as East of Eden (1955), Cat on a Hot Tin Roof (1958), and The Big Country (1958), for which he won a Best Supporting Actor Oscar®. Walt had in fact given Burl one of his first acting assignments in So Dear to My Heart (1948), a film not unlike Summer Magic in its nostalgic sentiment and period detail. Sally Benson had written a non-musical draft of the screenplay, but with Burl aboard, Walt asked staff composers Richard and Robert Sherman to come up with a suitable song. "As an actor, he's wonderful," said Richard Sherman. "But we knew him as a folksinger. He just had this wonderful, mellow, rich voice. So we were thrilled."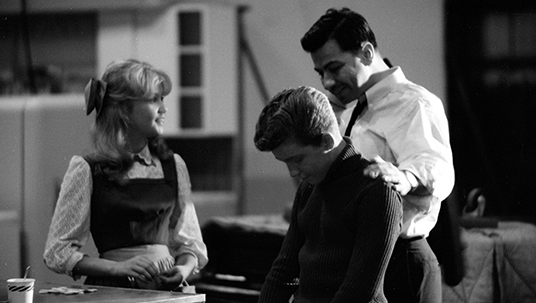 Taking Walt's idea a step or two farther, the songwriting brothers proposed a selection of songs that could enliven the screenplay. Walt liked the idea of adding more tunes, and the brothers worked closely with Sally Benson in developing the story and placing the songs. During development, the film was known as Beulah, then The Amazing Careys, before Walt came up with the perfect title for this cinematic confection. Said Robert: "We wrote a song called 'City People.' Walt called me at home one night and asked if I agreed that the words 'summer magic' scanned the same as 'city people.' I told him that it did. He replied, 'Good, then that's the name of my picture!' We changed the title of the song as well as a few salient lyrics."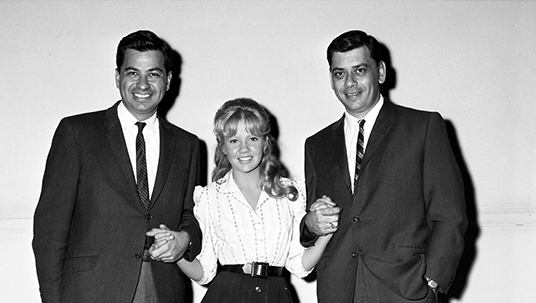 Welcome to the Disney Fun Factory: The Cast
The vivacious Hayley Mills was under a non-exclusive contract with Disney, and Walt had already starred her in a period drama (Pollyanna), a contemporary comedy (The Parent Trap) and an action-adventure-fantasy (In Search of the Castaways). The imaginative impresario saw this lighthearted musical as another varied vehicle for his versatile star. But Hayley did not think of herself as a vocalist and had been reluctant to sing the Shermans' "Let's Get Together" in The Parent Trap. Richard and Robert encouraged Hayley to "just be yourself," and her vocal performance was a sensation. When it came to singing several songs in Summer Magic, Walt explained his thinking about Hayley's musical mojo in an April 23, 1962, telegram: "We are not trying to make a singer out of Hayley; neither does the script indicate that the singing she does is of a professional type. Instead, it is only her personality we are endeavoring to put over." Indeed, Hayley's adorable, offbeat personality shines through in her Summer Magic vocal performances.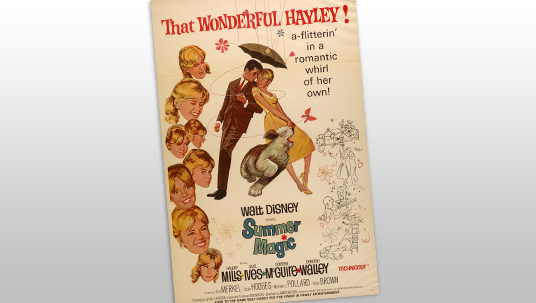 With the film now featuring original songs, teenager Eddie Hodges was cast as Nancy's musically inclined brother, Gilly. A veteran of stage (Eddie was the original Winthrop in the hit Broadway musical The Music Man, which debuted in 1957) and screen (he had co-starred and even sang a duet with Frank Sinatra in the film A Hole in the Head, 1959), Eddie was an accomplished musician. To play the gentle, wise, and preternaturally patient Mrs. Carey, Dorothy McGuire returned to the Disney fold. Walt sent the actress a special note of greeting on August 8, 1962: "Welcome back to the Disney fun factory. We're glad you're going to be with us while we conjure up a little "Summer Magic," and I'm sure the end result will be as much of a success as Old Yeller and Swiss Family [Robinson]." Dorothy enjoyed playing a mother as she had in her previous Disney films: "It suits me to a T. I love children of all ages, and the joys and sometimes little problems they present both on and off the stage. I find, of course, that being a real mother helps immeasurably in interpreting a role and developing a character. My experiences at home, with my daughter Mary and son Mark tend to give a real-life feeling to my work." Dorothy went on to play the most famous mother of all: she was Mary the mother of Jesus in George Stevens' epic The Greatest Story Ever Told (1965).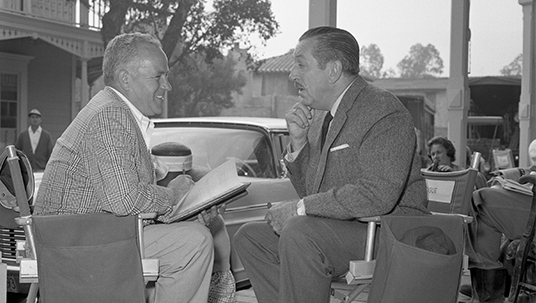 In addition to Deborah Walley as snobbish Cousin Julia and Jimmy Mathers (younger brother of Jerry Leave It to Beaver Mathers) as little Peter, the cast included Peter Brown as Tom Hamilton, the mysterious owner of the Yellow House. Off the set, Peter took Hayley to her first American baseball game—at Dodger Stadium, in dugout seats courtesy of his friend Dean Martin—and found her to have the wit, humor, and charm of a woman of 25. (Reportedly, a kiss—Hayley's highly anticipated first on-screen kiss—was planned for Nancy and Tom Hamilton but was ultimately dropped.)
Gotta Crawl, Gotta Crawl: Songs
"We worked with the Sherman Brothers on the songs," Eddie Hodges told historian Charles Tranberg. "What a delightful pair! They really supplied the musical energy of that picture, as well as the songs. The Sherman Brothers had a miraculous way of weaving a song into the very fabric of the story so that you just felt it belonged there."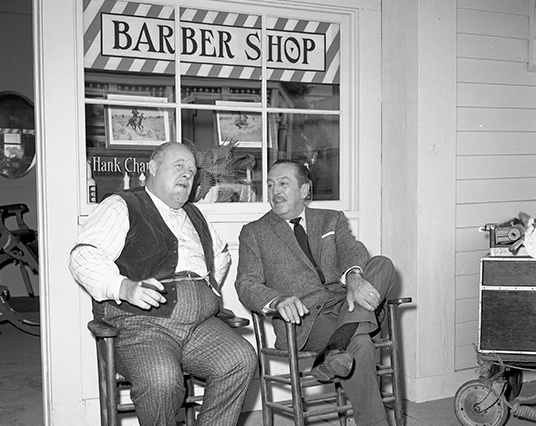 As noted, the musical nature of the film began with the casting of Burl Ives. "Occasionally we had the good fortune of knowing ahead of time that a certain performer was going to play the character," said Richard Sherman, "[as] in the case of Burl Ives in Summer Magic. We knew ahead of time that he was going to be featured, and we wrote the novelty called 'Ugly Bug Ball.'" But, added Robert, "Walt didn't want us to use the song because he didn't like the word 'ugly.' So we said, you know to the creatures in the world, a hippopotamus to another hippopotamus is not ugly. And a caterpillar is not ugly to another caterpillar." Continued Richard, "And he said, 'you know, that's not a bad idea. And if we put that into the script, then I think we can do the song.'" Burl made the "Ugly Bug Ball" song a Summer Magic highlight, as well as "On the Front Porch," another homespun song composed especially for Ives and one of the Shermans' personal favorites.
Beautiful Beulah, Maine: Filming
Principal photography began in July 1962 and concluded in October, corresponding with the time frame of the film story itself. Though the opening exterior scenes set at the Carey's city home were filmed at nearby Columbia Ranch (now the Warner Ranch) in Burbank, the exteriors of rustic Beulah were filmed on the Disney Studios backlot. The exterior of the charming Yellow House and its spacious lawn was constructed on Berm 4 while the back of the Maine manse and the barn were constructed on Berm 5 near the Animation building. Special photographic effects master Peter Ellenshaw went on a research trip not to Maine, but to the Vermont countryside, where background footage was shot, the steam engine briefly seen in the film was photographed, and Peter soaked up the bucolic atmosphere in order to paint both pre-production concept art and the matte paintings used in the film to achieve the upper stories of the Yellow House and much of Beulah and its surrounding New England beauty.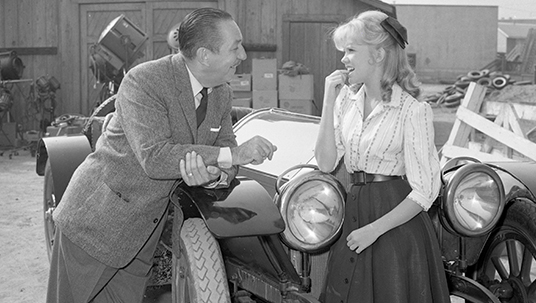 The Well Worn Welcome Mat: Release
Summer Magic was released July 7, 1963. Although there was no true soundtrack recording, an original cast LP album was issued on Disney's prestige label Vista Records. Recorded at the legendary Sunset Sound Recorders studio, the album featured new renditions of the songs by the film's performers with the exception of Marilyn Hooven, who took the place of Dorothy McGuire for the LP. The LP was produced and orchestrated by the film's vocal supervisor, Tutti Camarata, while acclaimed illustrator Neil Boyle (who would also illustrate the Great Moments with Mr. Lincoln LP) painted the album's evocative cover.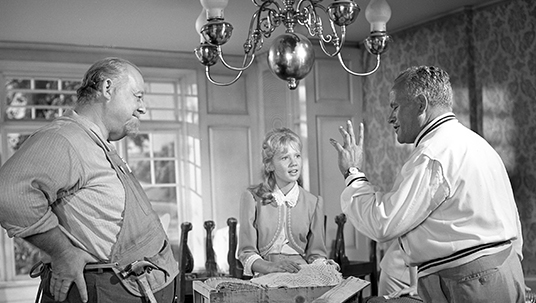 Another LP featured the Summer Magic songs as "performed" by a player piano. A tie-in with the piano-player element portrayed in the film, the album was also a nod to the growing resurgence of this nostalgic instrument's popularity in the 1960s.There was also a unique promotional tie-in with the Aeolian Piano Rolls company in which constantly playing player pianos were in the lobbies of Summer Magic theatres in such cities as New York, Cleveland, and Atlanta; in New York, according to a Buena Vista Distribution report, the player piano was "drawing big crowds right off the street."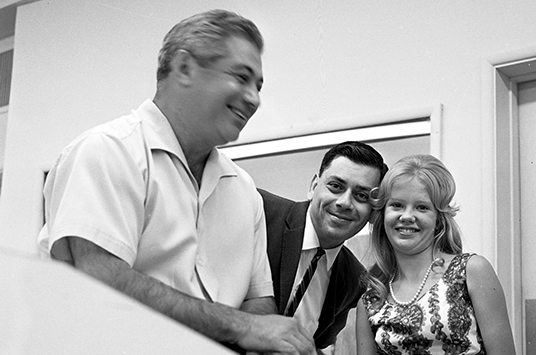 The movie's biggest draw was unquestionably "that wonderful Hayley!" At the time Summer Magic was released, Hayley was receiving more fan mail than any other motion picture star in the world—some 7,500 letters each month! Hayley's main ambition was to be "a good actress," a status she felt she had not yet achieved. "I'm like an old flannel, just soaking up any bits of information I can get. You can't learn a lifetime's work in four years."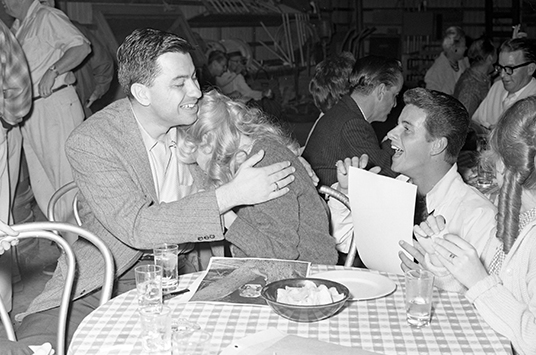 As refreshing as a glass of ice-cold lemonade on a hot August day, Summer Magic is 50 and Fabulous and still as magical as ever.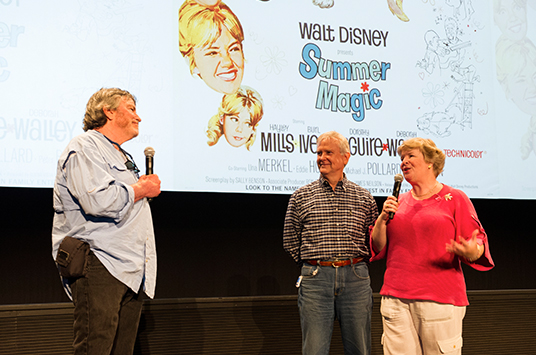 D23 Members visited The Walt Disney Studios on Saturday, June 8, 2013, for a very special 50th Anniversary Screening of Summer Magic. Joining D23 Members and their guests for this special screening were Disney artist and historian Stacia Martin, Disney historian Les Perkins, and Jimmy Mathers, who played the spunky and loveable Peter Carey in Summer Magic.