By Courtney Potter
Sneak Peek at Disney and Pixar's Turning Red
Ready for more magic from Disney and Pixar? Check out the brand-new teaser trailer for their upcoming animated film Turning Red…
Young actress Rosalie Chiang lends her voice to Mei Lee, a 13-year-old who suddenly "poofs" into a giant red panda when she gets too excited (which is, much to her chagrin, practically always). Golden Globe® winner and Grey's Anatomy vet Sandra Oh voices Mei Lee's protective, if not slightly overbearing mother, Ming, who is never far from her daughter—a very unfortunate reality for the teenager.
Directed by Pixar Animation Studios' Domee Shi, who won an Oscar® for her 2018 short film Bao, and produced by Lindsey Collins, Turning Red is slated to debut on March 11, 2022.
5 Fantastic Things to Watch This Weekend
There's a little something for everyone—from sitcom fans to music lovers of all ages—to watch from around the world of Disney this weekend. Look for a brand-new episode of Disney Channel's Gabby Duran & the Unsittables, as well as Hulu's debut of a new original series McCartney 3,2,1, starring the iconic Beatles legend himself. There's more where that came from, so click here and mark your calendars accordingly.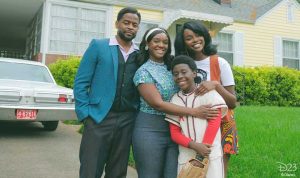 ABC Announces Fall Premiere Dates for 2021–22 Season
The good folks over at ABC just announced their fall premiere dates for new and returning series during their upcoming 2021–22 season—so start laying in all your favorite snacks (and call dibs on your favorite spot on the couch!) now.
The much anticipated new coming-of-age comedy The Wonder Years—inspired by the beloved award-winning series of the same name and narrated by Don Cheadle—is set to debut on Wednesday, September 22… the same night, new seasons of The Goldbergs, The Conners, Home Economics, and A Million Little Things will also kick off. The following Monday, September 27, sees the return of The Good Doctor.
Meanwhile, the new female powerhouse drama Queens, starring Eve, Naturi Naughton, Nadine Velazquez, and Brandy, will premiere on Tuesday, October 19, following the season premiere of The Bachelorette with Michelle Young.
Thursday nights will be filled to the brim with memorable drama, as last fall's No. 1 new series Big Sky joins Station 19 and Grey's Anatomy on Thursdays beginning September 30. Earlier that same month, Dancing with the Stars begins its incredible 30th milestone season on Monday, September 20.
Celebrity Wheel of Fortune, Supermarket Sweep, and The Rookie all return on Sunday, September 26, while AFV brings its real-people shenanigans back to ABC one week later, on Sunday, October 3. Shark Tank reopens for business a few days later—on Friday, October 8—followed by the season premiere of ABC News' 20/20.
There is so much amazing content to look forward to this fall from ABC… we cannot wait!
Check Out the Official Trailer for Behind the Attraction from Disney+
Earlier this week, Disney+ revealed the official trailer for Behind the Attraction—and if this doesn't make you want to sprint as fast as possible to the nearest Disney park, we don't know what will…
Narrated by Paget Brewster, Behind the Attraction is a 10-part series giving viewers an exclusive peek "behind the curtain" of the most beloved attractions and destinations at Disney Parks and Resorts around the world, from Jungle Cruise to it's a small world, to the Haunted Mansion and Star Wars: Galaxy's Edge. The show delves into Disney Parks' rich, amazing history using archival and never-before-seen footage and photographs to unveil how the attractions came to be—and how they've been refined over the years as new ideas surface and technology evolves.
Behind the Attraction begins streaming on Disney+ on Wednesday, July 21, with five episodes at launch—including a look at Space Mountain and The Twilight Zone Tower of Terror—with five additional episodes coming later this year. Stay tuned!
The Walt Disney Company Garners a Record Number of Emmy® Nominations
Here's some big, big news that just dropped a few days ago: The Walt Disney Company racked up a serious amount of Emmy® Award nominations for the 73rd Primetime Emmy Awards… with Disney+ leading the way, for the second year in a row, as Lucasfilm Ltd.'s The Mandalorian garnered a whopping 24 nominations. D23.com has a complete rundown on all the Emmy excitement right here.
Diary of a Future President Returns to Disney+ on August 18
Great news, Diary of a Future President fans (and if you're not one yet, you should be!): The second season of the critically acclaimed Disney+ series kicks off on Wednesday, August 18, with all 10 episodes available for binge-worthy streaming.
Continuing the origin story of Cuban American and future leader Elena Cañero-Reed as she enters the seventh grade—and recounted through excerpts from 13-year-old Elena's diary—this coming-of-age series follows Elena through the ups and downs of middle school which sets her on the path to becoming the President of the United States.
Created by showrunner Ilana Peña (Crazy Ex-Girlfriend) and loosely inspired by Peña's own adolescence, the series has been applauded for its authentic portrayal of a Latinx tween and all her friends and family. Peña makes her directorial debut with the season's ninth episode, and Gina Rodriguez—who costars as the adult Elena—directs the season premiere.
"We are so excited for season 2 and cannot wait to share this next chapter of Diary with viewers," Peña recently said. "I promise you'll laugh, I'm pretty sure you'll cry, and most of all, I hope this season is as meaningful to watch as it was for all of us to make."
Marvel Studios Gets Animated in Trailer for New Series What If…?
Disney+ recently debuted a new trailer for Marvel Studios' What If…?—an original series that reimagines famous events from films in the Marvel Cinematic Universe (MCU). Creating a multiverse of infinite possibilities, What If…? features fan-favorite characters, including Peggy Carter, T'Challa, Doctor Strange, Killmonger, and Thor.
Marvel Studios' first-ever animated series is directed by Bryan Andrews, with AC Bradley serving as head writer. Andrews and Bradley are also credited as executive producers alongside Kevin Feige and Brad Winderbaum. Featuring signature MCU action with a curious twist, Marvel Studios' What If…? will premiere on the streaming service on Wednesday, August 11. From the looks of the trailer, there is a ton of adventure—not to mention twists and turns—in store…
ICYMI: Get the Inside Scoop on Disney Junior's Mickey Mouse Funhouse
Calling all kids and kids at heart! Mickey Mouse Funhouse launches today (Friday, July 16) with Mickey the Brave!, a primetime special airing on Disney Junior at 7:30 p.m. EDT/PDT, followed by the series premiere Friday, August 20 (8 a.m. EDT/PDT), on both Disney Channel and Disney Junior. Find out what makes this series so special by taking a look at D23's recent interview with Executive Producer/Supervising Director Phil Weinstein.