By Courtney Potter
It's a Cupcake Battle for the Ages in Latest Tsum Tsum Kingdom
Tsum Tsum Kingdom, the adorable digital series that follows your favorite plush toys on everyday adventures, is back with its third episode—and this time, they're on the hunt for food! It's your typical office, and Mickey Mouse himself has found the ultimate office kitchen treasure: a leftover cupcake. But will he be able to enjoy it? Or will another Tsum Tsum tribe want the sugary treat for their very own? Find out by watching the new episode, above.
Make sure to keep your eye out for cameos from Frozen's Olaf… as well as our personal favorite, Flash the sloth from Zootopia!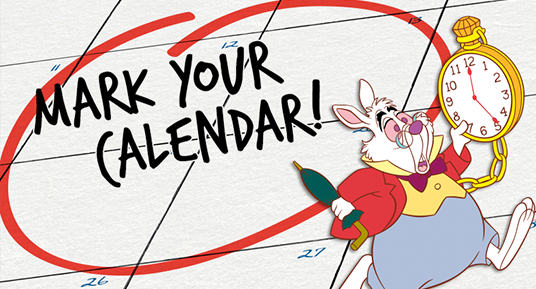 Save the Date!
Be sure to mark these upcoming Disney events on your calendar:
D23 and Walt Disney Archives


October 5


D23's Sip & Scream


October 5


D23 Behind-the-Scenes Experience: A Midnight Soirée at the Tower of Terror


October 8


D23's Age of Believing: 45 Years of Bedknobs and Broomsticks (California)


November 19–20


D23 Destination D: Amazing Adventures


July 14-16, 2017


D23 Expo 2017


Studios




September 23, 2016


Queen of Katwe opens in theaters


November 4, 2016


Doctor Strange opens in theaters


November 23, 2016


Moana opens in theaters


December 16, 2016


Rogue One: A Star Wars Story opens in theaters


March 17, 2017


Beauty and the Beast opens in theaters
Parks


September 2, 8, 11, 13, 16, 18, 20, 23, 25, 29, 30; October 2, 4, 6, 7, 10, 11, 13, 14, 16, 18, 20, 21, 23, 25, 27, 28, 30, 31




Mickey's Not-So-Scary Halloween Party at Walt Disney World Resort


September 23, 26, 28, 30
October 3, 5, 7, 10, 12, 14, 17, 19, 21, 24, 26, 29, 31


Mickey's Halloween Party at Disneyland Resort




September 2–October 29 (Friday and Saturday Nights, plus October 31)




Club Villain, special ticketed event at Disney's Hollywood Studios




September 14–November 14, 2016




Epcot International Food & Wine Festival




November 7, 8, 10, 11, 13, 15, 18, 27, 29; December 1, 2, 4, 6, 8, 9, 11, 13, 15, 16, 18, 22




Mickey's Very Merry Christmas Party at Walt Disney World Resort




Television




October 3


Milo Murphy's Law premieres on Disney XD at 8 p.m. EDT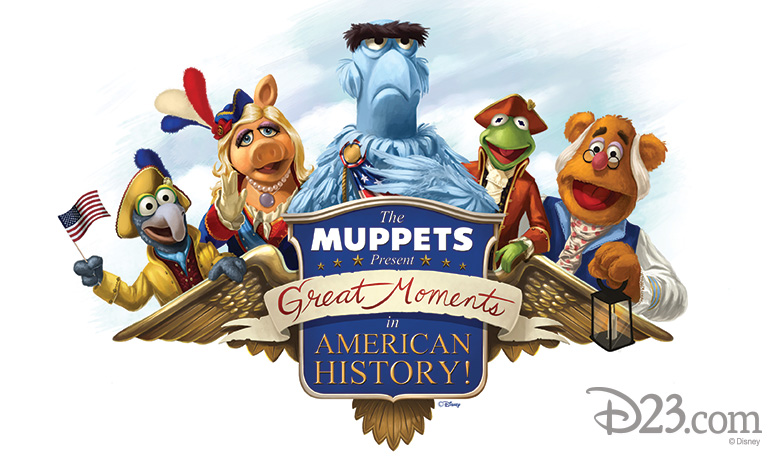 The Muppets Present… Great Moments in American History: Debuting October 2!
Attention all Muppet fans! Have we got some fabulous news for you! Should you find yourselves on a sure-to-be-delightful trip to Walt Disney World Resort this fall, you can be among the first to see the Magic Kingdom's newest show—featuring the legendary Muppets! On October 2, Kermit the Frog, Miss Piggy, Fozzie Bear, the Great Gonzo, and more will gather outside of the Hall of Presidents to debut The Muppets Present… Great Moments in American History.
Hosted by James "J.J." Jefferson, town crier of Liberty Square, and ultra-patriotic Sam the Eagle, the show will take place several times a day; sometimes you'll find J.J. and his Muppet pals recounting the signing of the Declaration of Independence (complete with a brand-new song!), and other times they'll tell the story of Paul Revere's legendary "midnight ride." But it'll always feature the Muppets' truly unique brand of humor.
As Paul Revere himself might say, "The Muppets are coming! The Muppets are coming!" So make sure to visit J.J. and his pals this fall, only at Magic Kingdom Park.
Health and Fitness Highlighted in Fun New Disney Channel Shorts
Disney Channels Worldwide is always looking for ways to inspire kids to live healthy—and they've just introduced a fun new series of shorts to bring the message home. The short-form videos aim to motivate kids into making nutritious food choices and taking part in physical activities, and they'll rotate daily on Disney Channel, Disney XD, and Disney Junior.
Highlighting favorite characters from The Lion Guard, Miles from Tomorrowland, and Star Wars Rebels, the shorts will showcase the work of up-and-coming animation talent. In addition, dancer and children's dance instructor Paige Peterson (ABC's Dancing with the Stars) consulted on a special video for Disney XD that includes a cool workout video for kids age 2 through 7. Look for other videos with simple yoga routines, as well as info about nutritious (and yummy!) treats.
Check out a few of the Disney XD spots—featuring animation from James Curran of SlimJim Studios—above, and keep an eye on the networks of Disney Channel Worldwide for more!
Training Horses for Disneyland Resort's Headless Horseman!
One of the newest treats to debut during this year's Halloween Time at Disneyland Resort is the mysterious Headless Horseman—who recently made his debut as part of Mickey's Halloween Party. The character first brought thrills and chills to Disney audiences as part of Disney's The Legend of Sleepy Hollow, and now you can see him ride right down the middle of Main Street, U.S.A.!
In this brand-new video from our friends at the Disney Parks Blog, above, we get a cool inside look at how two of Disneyland Resort's beautiful horses, Gabe and Dallas, have been practicing their moves for this season's spooky rides. Don't miss the Headless Horseman during Mickey's Halloween Party, on select nights now through Halloween.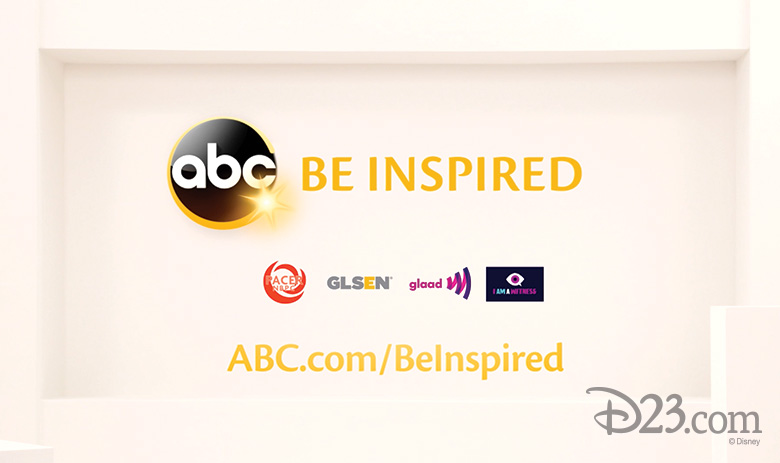 "Choose Kindness" with Help From Disney|ABC
Kindness is contagious! October is National Bullying Prevention Awareness Month—and to drive the message home, Disney|ABC will reinforce the importance of kindness through new public service announcement (PSA) campaigns, to be aired across ABC, ABC-owned TV stations, Freeform, Disney Channel, Disney XD, and Radio Disney.
Beginning Saturday, October 1, four customized "Choose Kindness" PSAs—featuring Disney|ABC favorites like Viola Davis (How to Get Away with Murder), Tracee Ellis Ross and Anthony Anderson (black-ish), Troian Bellisario (Pretty Little Liars), and Rowan Blanchard (Girl Meets World)—will begin to air, encouraging the use of kindness as a way to combat bullying. Plus, Radio Disney asked Def Jam recording artist Alessia Cara to lend her uplifting anthem, "Scars to Your Beautiful," to the "Choose Kindness" PSAs; a fifth clip, produced by Radio Disney and featuring Cara, will debut Monday, October 3, on Disney Channel.
Viewers 13 and older can participate in the campaign on social media, just by sharing how they choose kindness—and using the #ChooseKindness and #BeInspired hashtags. Want to find out more? Visit www.Disney.com/BeInspired!