By D23 Team
We are sorry to report that Ginni Mack, who brought her expert eye for color to The Walt Disney Studios' Ink & Paint Department for many years, and who served as the original model for Tinker Bell, has passed away. She was 90.
The Oklahoma-born Helen Virginia Gilliland moved to California with her family at age 10. She grew up just a few miles from the Disney studio, in Glendale, where she honed her artistic talent and excelled academically, earning the highest SAT score in her class for mechanical aptitude—higher than any of her male classmates.
Ginni came to work at The Walt Disney Studios in 1946. The 18 year old began as a painter in the Ink & Paint Department, and her keen color sense soon landed her an assignment in the Paint Lab—otherwise known as the "Rainbow Room." Ginni specialized in Mix & Match and lent her artistry to many Disney animated films of the post-war era and early 1950s.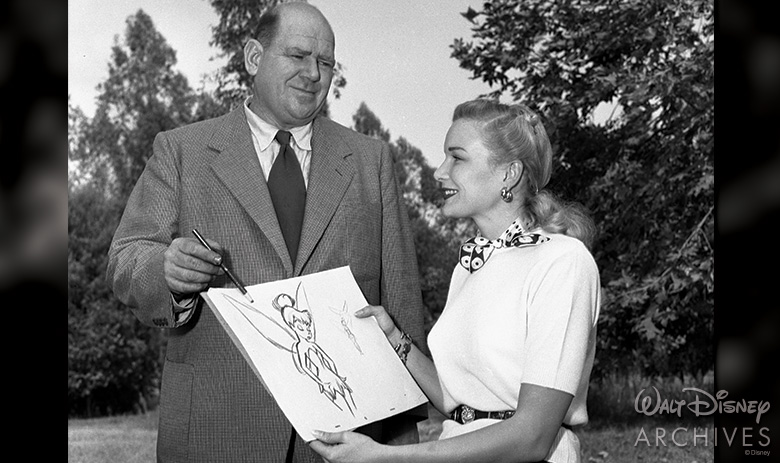 During development of the characters for the animated feature Peter Pan, legendary animator Marc Davis called upon Ginni for a special assignment: With her signature blonde bun and side-swept bangs, Ginni served as inspiration for the film's iconic pixie, Tinker Bell. She would not be officially identified as the original model for the character until many years after the production of the film.
In 1958, Ginni married Brice Mack, who also worked for the Disney studio as a background painter and story artist. After leaving Disney in 1952, Ginni worked for several other animation studios and dedicated herself to her family.
When production for Pete's Dragon got underway, Ginni joined a select group of talented Ink & Paint artists and returned to the Company in the late 1970s. As Paint Supervisor, Ginni oversaw the color and artistry of many Disney animated films of this era, and also took part in the early development and testing of CAPS, Disney's Computer Animation Production System for digital Ink & Paint. She retired in 1991.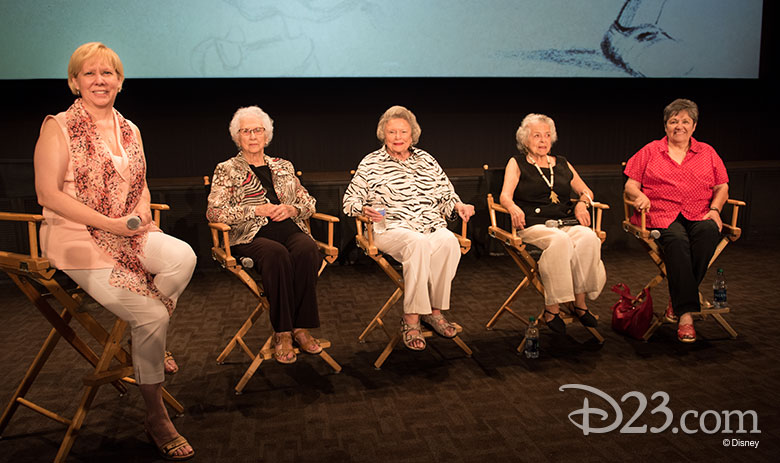 Ginni continued to be part of the Disney family; she shared fond memories of her Ink & Paint days at a wide range of events, including D23's Destination D in 2012 and The Art of Animation Featuring Pinocchio in 2015 (pictured above, center), when Ginni revealed that of all the animated classics she worked on, Cinderella—and its adorable mice—was her personal favorite.
Ginni is survived by her son, Kevin, and his wife Martha; grandsons Jonathan and Ray; stepsons Brice and Greg; and step-grandson Dan Mack.