By Courtney Potter
It's a story for the ages… a fearless young woman risks everything, out of love for both her family and for her country, to become one of the greatest warriors China has ever known. Acclaimed filmmaker Niki Caro (Whale Rider; McFarland, USA) brings this awe-inspiring tale to life in Disney's Mulan, set to debut with Premier Access on Disney+ this Friday, September 4.
Suggested by the narrative poem The Ballad of Mulan and the 1998 Disney animated hit, the film follows Hua Mulan (Yifei Liu)—the eldest daughter of an honored, though now ailing, warrior (Tzi Ma)—as she decides to take his place in the Imperial Army, now defending the country from Northern invaders. Masquerading as a man named Hua Jun, she is tested every step of the way and must harness her inner-strength and embrace her true potential. It is an epic journey that will transform her into a hero… and earn her the respect of a grateful nation and a proud father. The film boasts a celebrated international cast, including Donnie Yen as Commander Tung; Jason Scott Lee as Böri Khan; Gong Li as Xianniang; and Jet Li as the Emperor.
D23 was lucky enough to hear directly from Caro and Liu at a special screening of the film—where both women offered up some fascinating behind-the-scenes tidbits.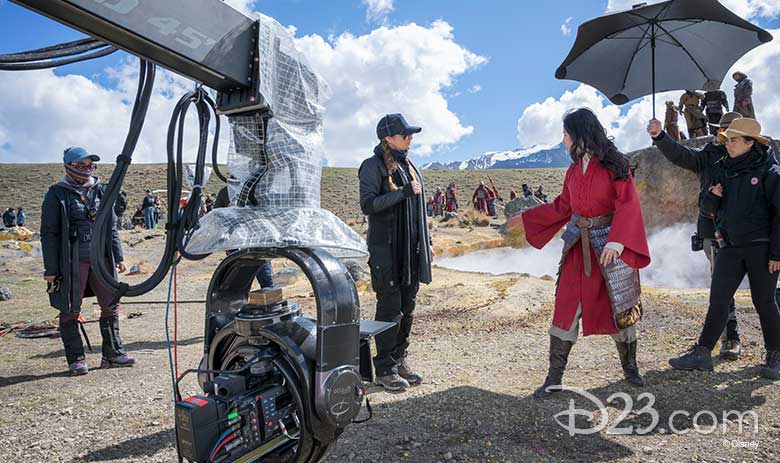 On their first encounters with Disney's animated Mulan:
"I [can't] remember how old I was when I first watched the animated version," says Liu, "but it's for sure in my memory and I loved it. I think in one of my auditions [for this film], I actually sang the song 'Reflection'." For Caro, the animated Mulan more fully resonated once she had kids of her own, several years after that version's release: "I had children—I had girls—and of course I watched it then," she admits. "I couldn't believe it, and I was so grateful for it—that in a time of princesses, here was a warrior."
Caro on what attracted her to such a high-profile project:
"Mulan herself," Caro explains, succinctly. "I love her—and I think for me it was her journey from village girl, to male soldier, to warrior and hero that felt like it spoke for all of us. It was a story that didn't in fact originate with the 1998 animation; it's been resonant and relevant for centuries, and never more so than now… The [only] intimidating thing is my responsibility to the story, to the studio, and to the audience. [But] as far as budget goes… I think with every film I've made—Whale Rider included—I had a vision that was far bigger than the budget allowed. And so this time to be able to have a budget equal to the very epic vision of my head was just really satisfying."
How Liu first learned of the opportunity:
"When I first heard [was when] my manager asked me, 'So there's Disney's Mulan. Do you want to audition for it?'," Liu says. "I had heard that so many people were auditioning. So I asked myself, if I wanted to go, what can I bring? Because I know, obviously, [that] this is a role that everyone wants to play. It's just so meaningful, as a woman [and] as a human being, to really be that brave and loving and accepting [of] her imperfectness—to become who she really wanted to be. I really asked myself a lot of questions, because I know the audition process is hard—you need to go into a room and continuously run a few scenes [that are] spread throughout different sections of the script… [On one] side, I'm super excited and nervous—but on the other side, I wanted to bring the best me. So I needed to really, you know, get through [it]—meditate, just calm myself. And then [I got to] meet Niki, this beautiful director… "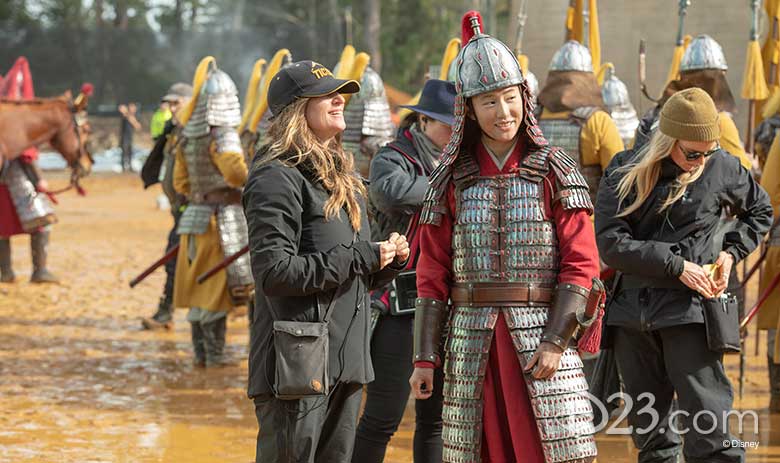 … And how Caro came to cast Liu—after seeing over a thousand actresses—in what amounts to a role of a lifetime:
"We did a worldwide search, and we did a really deep search in China," Caro says. "We found, honestly, some beautiful actresses—but when it really came down to it, we didn't feel that we had found Mulan. So we started again and we went back to China; this is a year after we'd started. We went back and we went through the list of everybody that wasn't available the first time around. Yifei was one of the people on that list. And she agreed to come audition, [to] come to Los Angeles. And she was so terrifyingly good, as an actor—but also, really strong, super strong. The audition was very demanding. So on top of her jet lag, and the [acting] audition with me, she had to go to a physical audition with a trainer—because I was determined to have a young woman in this role that could understand and commit to the physical nature of the work. And so she hadn't slept—she'd flown for 14 hours, she hadn't slept all night, it's like 5:00 the next day, and she's in the gym with a trainer who's pushing her to her limits. And she never stopped, she never asked for a break. She did everything that was asked of her. And I knew then that we'd found our Mulan—and that I'd found a partner and a collaborator, and genuinely a warrior."
On Liu's extensive, and varied, training for the film:
"For me, every movie [experience] is brand new—totally new to me," admits Liu. "I did act in some movies that had a martial arts element, but obviously I'm not a professional. I'm so glad that I had [a] long time to prepare [for this film]… [We trained] in New Zealand for three and a half months. I think [the actions are] so specific for this film that, you know, if you'd ask me [again] what kind of training I would do, I would pick the exact same things. I even learned Tai Chi movements, because for Mulan, I understand her chi as her connection of her spirit—not the ego, but the true self… I really see it as a whole journey." Adds Caro: "[Yifei] can do everything. So a lot of the times, even though she had a stunt double who was incredible, we would ask for Yifei to come in and do the stunt work—because she has amazing grace, and somehow it was just more right when she was doing the stunt work."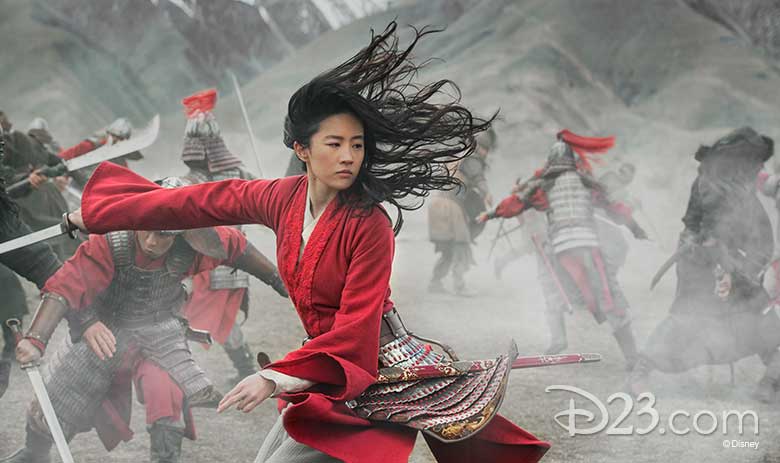 On the importance of having amazing women in front of and behind the camera:
"I think it's the only movie of this scale and genre where all the voices—all the people running it were women," explains Caro, proudly. "Me; Mandy Walker, our cinematographer; Liz Tan, the first assistant director; also our co-producer, costume designer, makeup designer… [it was] very female-led, this production. And of course, being female-led, [we were] very, very well prepared. We communicated very effectively, brought it in on time, and slightly under budget—because that's just how we roll!"
On the biggest challenges Caro and Liu faced during production:
As Liu explains, "It's always easy to ask for answers, like, 'What is your opinion about this character?' But the hardest thing about Mulan to me is how to answer… [to] put yourself in that circumstance and then to have it be organic, not like 'acting'-acting. I really want to thank Niki, for everything—she's the kindest human being that I've really ever worked with." For Caro, aside from finding her Mulan, the challenge was "how to tell a story about two armies going to war, a young woman going to war… I was really blessed that the fighting style was martial arts, [which is] inherently beautiful. But also, I think what unlocked it for me was that I figured out that I could set the battle sequence in a geothermal valley—so that the smoke and the steam could reveal and obscure violence. So it could suggest it, [and] it could also be very beautiful and very cinematic. I'm proud of that—I'm proud that the battle sequences feel visceral and robust, but never gratuitous."
Caro on the vital—and timely—message of the film:
"[Filmmaker] Jane Campion is so meaningful to me because she's the first time I saw somebody that looked like me do this work that I so desperately wanted to do," explains Caro. "And I used to think—kind of embarrassingly now—that I would somehow have to disguise myself. So the fact that I'm making a movie about this very thing, and the fact that I was able to tell the story in [this] way… the animated movie has Mulan disguised as a man to find herself—and in our version, Mulan learns that she can never be powerful unless she loses that disguise. [There's that] big moment in the movie, when you hear the iconic 'Reflections' music, when she lets her hair down and shows up in battle as a woman and is truly powerful in that moment—and in fact, goes on to save China—that's what I'm the most proud of, I think. And what is the most meaningful to me, to send that message out there."
See Disney's Mulan beginning Friday, September 4, as a Premier Access offering on Disney+!