In adapting Into the Woods for the screen, the creative team had some tough decisions to make.
How do you expand the world of the show onto film while staying true to its heart?
D23 spoke with director Rob Marshall and screenwriter James Lapine, who also wrote the musical's book, about the tough—and not-so-tough—choices they had to make.
Q: You've done musical adaptations before. How difficult is it to balance what fans of the show will know and love as a theatrical experience, while translating that into a different medium?
Rob Marshall: There were many times where I was protecting the material more than [Lapine and composer Stephen Sondheim] were. Because they know that they're creating a film, and they're looking at creating a piece that works on film, which is very different than on stage, which has a two-act structure, which you can sit for two-and-a-half hours. It's harder to do that on film. You know, film's much more literal.
But I think the most important thing is to not push it into the film world as it existed, because that never works. You wish it could work, but it doesn't. They're really two different mediums. So you have to be smart enough to know what does work, and you try things. I mean, certainly, we try different things to see what could play and what doesn't play.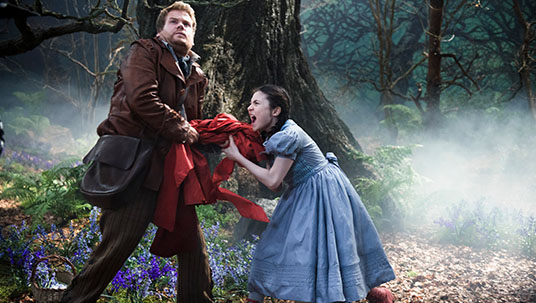 Q: Can you talk about the elimination of the Narrator/Mysterious Man character?
Marshall: Sure. Well, the narrator character is a device in the theater, so that doesn't work on film, obviously. So that went away. And we were trying to also focus the story more, giving the Baker and the Baker's Wife more of a central storyline. So we eliminated a mysterious man character, and created something a little bit more about the Baker having issues and trouble becoming a father. So that led to the elimination of the song "No More," which I know is tough for people. But I have to say, that even if the Mysterious Man was in, "No More" would have been really hard to make work on film because of the amount of ballads in the second act on stage and our third act.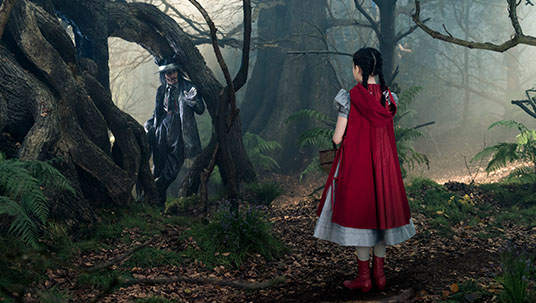 Q: How are ballads on stage different than on film?
Marshall: Ballads are very difficult to do on film. You have to earn them because it slows down the movie to a halt. And with "No One is Alone" right behind it, and then "Children Will Listen" following that, it's very difficult to have three in a row. I think we would have lost the audience, especially those who don't know this piece. Where you can accept many ballads on stage in a different way, it's very difficult to do on film. It's very aware of time and movement and the pacing of something. So that made sense, for those two reasons.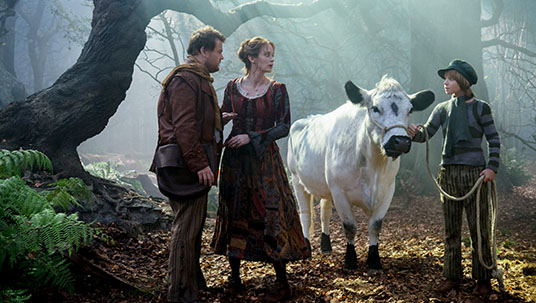 Q: You also eliminated the Act One finale "Ever After."
Marshall: A song like "Ever After," is now an instrumental in our film. It's very difficult, I find, to do group numbers on film. It can become a parody of a musical within a second, and so it's very difficult to do. So that went away.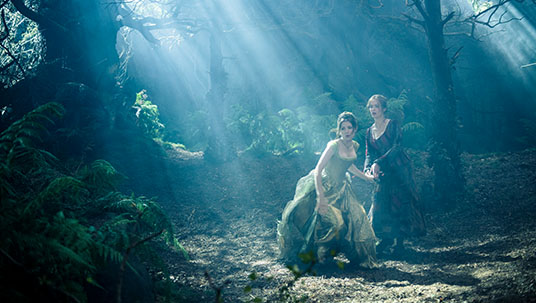 Q: In the original production, Jack and Red Riding Hood were played by slightly older actors. In the revival, they were more age-appropriate. What made you choose to go with the latter?
Marshall: Jack's never been sung up the octave. It's always been sung by someone whose voice has already changed. Our Jack sings it literally up the octave because he was 13 when he did the film. And Little Red is usually maybe at least 16 years old, if not older. And to me, the whole piece is about children and adults, and parents and children. And to not have children in the piece made no sense to me, at all. And I think James and Steve were thrilled by that. And I think it brings, you know, that dynamic into the world. So at the end of the film, you have a family that's been created with parents and children.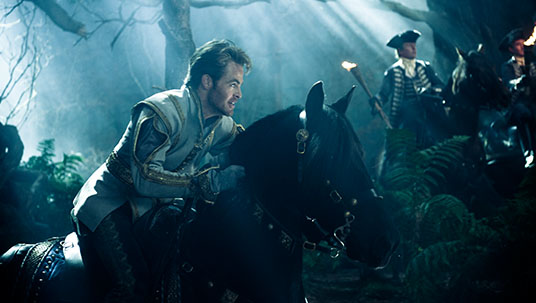 Q: In the film version, the Wolf and Cinderella's Prince are played by two separate actors, but on stage it's traditionally been played by one actor.
James Lapine: You know, it was economics basically [on stage]. It was just trying to give actors a little more to do and have a slightly smaller cast. There's nothing that suggests that it has to be the two. Of course, theoretically they're sort of related thematically. But with the costume and all, I don't think anybody really connected all that much to the Prince also playing the Wolf—unless they're looking at their program or know the show. So I have to say there wasn't a big intention to make a statement about it.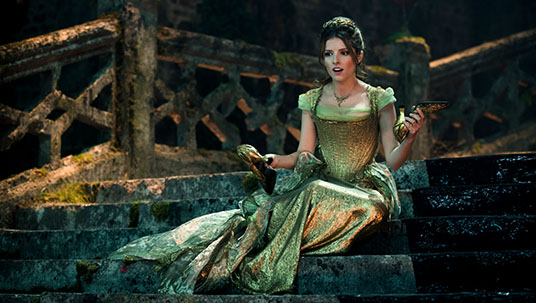 Q: That's so funny. I had always assumed it was something intentional on your part. I'm glad I had the opportunity to ask.
Lapine: [LAUGHS] Well, it's funny, you know you get caught a lot of times in these economic situations; and sometimes it's more attractive to an actor if they have a couple things to play. There were a lot of characters that came and went in the original Into the Woods. We had the Three Little Piggies. We had Rumpelstiltskin. You know, we just, for economy sake, had to start paring down. How many fairy tale characters can we have waltzing through this thing?