By Courtney Potter
Pixar Reveals Next Big-Screen Adventure: Luca
Fabulous news this week from our pals over at Pixar Animation Studios: Their next feature film is entitled Luca, and will be directed by Academy Award® nominee Enrico Casarosa (La Luna) and produced by Andrea Warren (Lava and Cars 3). Along with the announcement, Pixar shared concept art for the movie—seen above.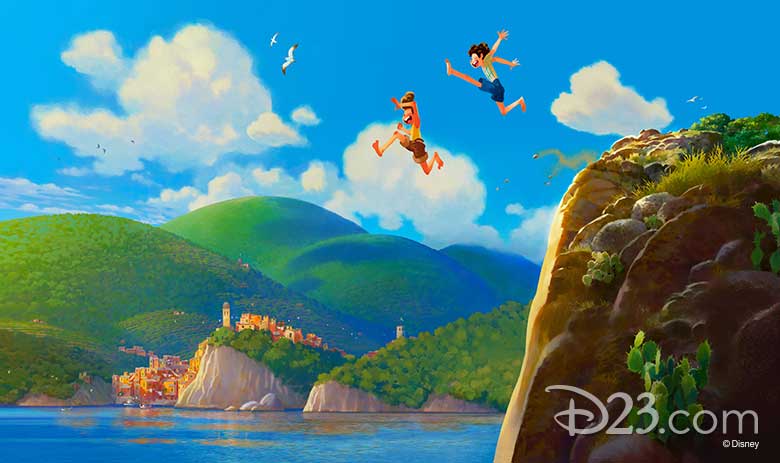 Set in an idyllic seaside town on the Italian Riviera, this brand-new animated feature is a coming-of-age story about one young boy experiencing an incredible summer filled with gelato, pasta, and endless scooter rides. Luca shares these exploits with his newfound best friend—but all the fun is threatened by a secret: he's a sea monster from another world just below the water's surface.
"This is a deeply personal story for me, not only because it's set on the Italian Riviera where I grew up, but because at the core of this film is a celebration of friendship," Casarosa recently said. "Childhood friendships often set the course of who we want to become and it is those bonds that are at the heart of our story in Luca. So, in addition to the beauty and charm of the Italian seaside, our film will feature an unforgettable summer adventure that will fundamentally change Luca."
The film is set to open in U.S. theaters on June 18, 2021… keep your eyes peeled for more information as it becomes available!
5 Fantastic Things to Watch This Weekend
Can you believe it? August starts in earnest this weekend—and to kick off the eighth month of the year, there's all manner of fabulous options for your viewing pleasure from around the worlds of Disney. Incredibles 2 makes its way to Disney+; National Geographic Documentary Films presents virtual screenings of director Ron Howard's look at the 2018 Northern California fires, Rebuilding Paradise; and so much more. Read up on what you can expect by clicking here.
Sneak Peek at Freeform's Love in the Time of Corona
Love in the Time of Corona, a new limited series from Freeform, will debut as a special four-part, two-night event beginning Saturday, August 22, at 8 p.m. ET/PT and continuing Sunday, August 23, at 8 p.m. ET/PT. And just this week, the network shared a sneak peek at the series; take a look, above.
Filmed using remote technologies and shot in the actual homes of the cast, Love in the Time of Corona will follow four interwoven stories about the hopeful search for love and connection while in quarantine, from the early days of the stay-at-home order through the events that ignited the worldwide Black Lives Matter protests. James (Leslie Odom Jr.) and Sade (Odom's real-life wife Nicolette Robinson), a married couple who have been living somewhat separate lives, are forced back under the same roof after the pandemic halts his work travel; roommates Oscar (Tommy Dorfman) and Elle (Rainey Qualley) find their mostly platonic relationship becoming complicated; Paul (Gil Bellows) and Sarah (Rya Kihlstedt) pretend to be a happy couple for the sake of their daughter Sophie (Ava Bellows), recently returned from college; and Nanda (L. Scott Caldwell)—a headstrong woman whose husband is unable to return home from his rehab facility—tries to find a way celebrate her 50th wedding anniversary.
Following their debut on Freeform, the episodes of Love in the Time of Corona will be available on Hulu the next day.
ICYMI: Disney Earns 145 2020 Primetime Emmy® Award Nominations
Perhaps the biggest news of the week came courtesy the just-announced nominations for the 2020 Emmy Awards… Series from around the worlds of Disney earned a whopping 145 nominations total, in all manner of categories. For a complete rundown—and for info on how you can watch the ceremony, hosted by Jimmy Kimmel, in September—click here.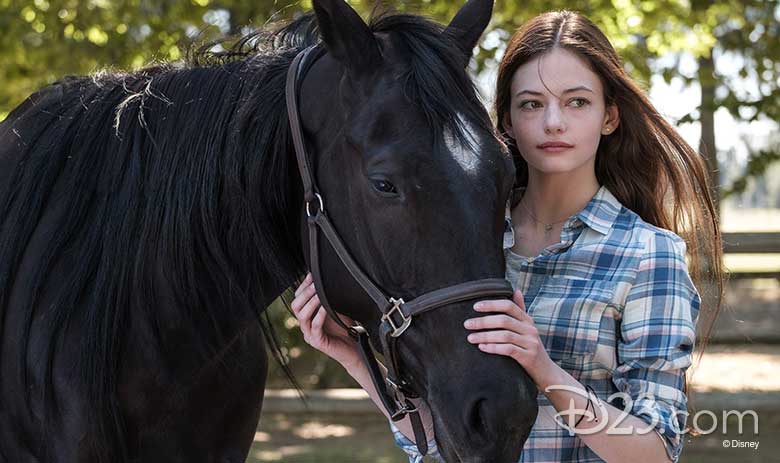 Disney+ to Debut Black Beauty Later This Year
Anna Sewell's classic 19th century novel Black Beauty will be getting a contemporary adaptation on Disney+, premiering soon on the streaming service. Black Beauty (voice of Oscar® winner Kate Winslet) is a wild mustang born free in the American west. When she is captured and taken away from family, her story intertwines with that of 17-year-old Jo Green (Mackenzie Foy), similarly grieving over the loss of her parents. The two slowly develop a bond that is built on love, respect, and mutual healing.
Directed and written by Ashley Avis, Black Beauty also stars Iain Glen as John Manly and Claire Forlani as Mrs. Winthorp. Watch for the film to debut on Disney+ later this year.
Disney's Animal Kingdom Welcomes Adorable Baby Mandrill
Looking for something cute and cuddly to warm the cockles of your heart? We've got just the thing: Recently, the animal care team at Disney's Animal Kingdom welcomed a new addition to their animal family—namely, an adorable baby mandrill monkey born on Saturday, July 25! Check out the infant, born to mother Scarlett and father Linus, in the clip above.
According to Dr. Mark Penning, Vice President, Animals, Science and Environment, Disney Parks, mom and baby are doing well and spending lots of time bonding. In fact, their bond is so close that at the baby's neonatal exam, the Animal Kingdom veterinary team wasn't able to determine if the baby is a boy or a girl just yet, because Scarlett is keeping the infant so close to her belly. Scarlett and her lil' one have already begun making short appearances in their habitat on the Kilimanjaro Safari, joining other members of their mandrill troop.
Mandrills are the largest species of monkey in the world, found in African rainforests along the equator. Unfortunately, they're also a vulnerable species—faced with a disappearing habitat due to deforestation and poaching. Thankfully, this mandrill birth is an example of how the dedicated and highly trained team of Disney animal care experts works with the Association of Zoos and Aquariums (AZA) on Species Survival Plans (SSPs), assuring responsible breeding for endangered animals.
Congrats to the happy mandrill family, and to all our pals over at Disney's Animal Kingdom!