By Jim Frye
Wow, so many awesome Comic-Con@Home panels squeezed into just a few days! With so many panels from across the worlds of Disney, it will take more than just a single weekend to take it all in. Here's a taste of what we learned, saw, and laughed at from Disney+, Disney Television Studios, ABC, Hulu, Marvel, FX, 20th Century Studios, Twentieth Century Fox Television, Freeform, Lucasfilm Publishing, and more as they participated in Comic-Con@Home July 23–26, the online virtual alternative to the annual pop culture convention that was canceled this year due to health concerns and government guidelines.
Disney+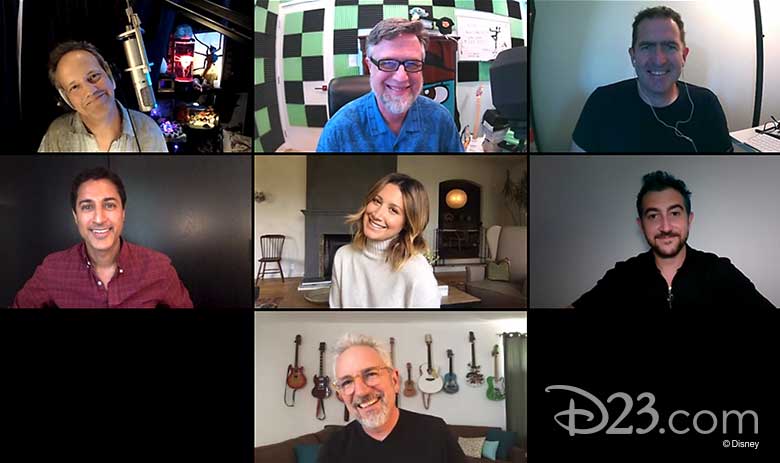 Phineas and Ferb The Movie: Candace Against the Universe
The cast and creative team of the out-of-this-world animated movie Phineas and Ferb The Movie: Candace Against the Universe, which premieres on Disney+ on Friday, August 28, participated in a virtual Comic-Con@Home panel on Saturday. Stars Ashley Tisdale (voice of Candace), Vincent Martella (voice of Phineas), Maulik Pancholy (voice of Baljeet), and Dee Bradley Baker (voice of Perry the Platypus) were joined by creators/executive producers Dan Povenmire and Jeff "Swampy" Marsh and director Bob Bowen to discuss the origins of the iconic animated series and share an exclusive sneak peek of the upcoming movie's opening song, "Such a Beautiful Day." The song is performed by Tisdale and is available here. The panel was moderated by Variety's Michael Schneider.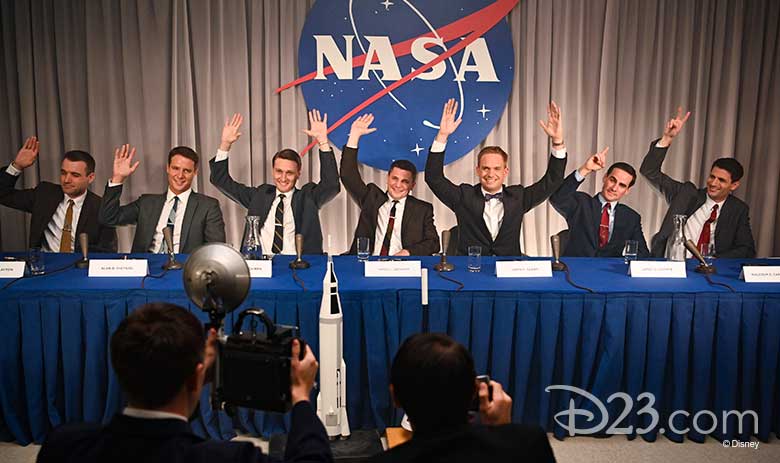 The Right Stuff
As part of its Comic-Con@Home panel for its upcoming original series The Right Stuff, Disney+ released a sneak peek from the service's first scripted series from National Geographic. Premiering this fall, The Right Stuff tells the incredible story of America's first astronauts, the Mercury Seven, during the early days of the U.S. Space Program. Moderated by former NASA Astronaut Dr. Mae Jemison, the panel featured cast members Patrick J. Adams (Major John Glenn), Jake McDorman (Lieutenant Commander Alan Shepard), Colin O'Donoghue (Captain Gordon Cooper), Michael Trotter (Gus Grissom), Aaron Staton (Wally Schirra), Micah Stock (Deke Slayton), James Lafferty (Scott Carpenter), Nora Zehetner (Annie Glenn), Shannon Lucio (Louise Shepard), Eloise Mumford (Trudy Cooper), Eric Ladin (Chris Kraft), and Patrick Fischler (Bob Gilruth); showrunner and executive producer Mark Lafferty; and executive producer Jennifer Davisson. Watch the clip here: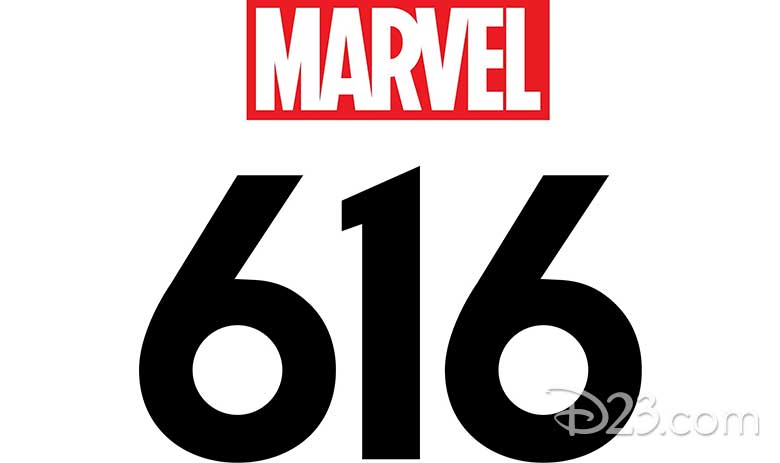 Marvel's 616
Marvel's 616, coming soon to Disney+, will take us to places in the Marvel Universe we've never gone before, providing a glimpse into some of Marvel's greatest inside stories! Whether it's exploring how Marvel comics are made, unearthing hidden gems, or celebrating cosplay culture, there's something for every kind of Marvel fan in this new series. The Marvel's 616 panel, which featured episode directors Gillian Jacobs and Paul Scheer, and executive producers Sarah Amos and Jason Sterman, along with moderator Angélique Roché, dove into the making of the anthology series. "All of our characters have their own tone and their own vibe," Amos explained during the panel. "We wanted to make sure we honored that same kind of tradition. The anthology nature of the series really made sense to us, because it allowed us to [focus on] each story and each storyteller, and then the next episode will take you on a completely different path."
Two episodes were featured in the panel—Jacobs' "Higher, Further, Faster" and Sheer's "Lost and Found"—and viewers got an inside look at diversity in the Marvel Universe and what it takes to bring a new character to life, along what might have happened to favorite forgotten characters from yesteryear. Marvel's 616 will begin streaming exclusively on Disney+ this fall.
Marvel Entertainment
Marvel's Next Big Thing
During the Marvel's Next Big Thing panel, Marvel editor-in-chief C.B. Cebulski provided a preview of some of the big storylines happening in the Marvel Universe. He introduced several Marvel editors and creators working on those projects, including Marvel executive editor Tom Brevoort and writers Al Ewing and Dan Slott, to discuss Empyre, a Fantastic Four and Avengers story that will have "major ramifications for the Fantastic Four, for the cosmos, and for the Marvel Universe," said Slott. "The entire Marvel Universe."
Then, Jordan D. White, senior editor of the X-Men books, talked with Tini Howard (Excalibur) and Gerry Duggan (Marauders, Cable) about X of Swords. Next, Marvel executive editor Nick Lowe welcomed Amazing Spider-Man writer Nick Spencer and Amazing Spider-Man artist Mark Bagley in a discussion about a new villain. "Anyone out there who's a Norman Osborn fan," explains Lowe, "you've got to pick up this book, because the stuff that happens leading up to No. 850, in No. 850 and beyond… you do not want to miss it…" Lowe also announced that classic Marvel series Werewolf by Night would be returning, but with contemporary updates. Writers Benjamin Jackendoff and Taboo of the Black Eyed Peas presented an inside look at the terrific and terrifying tale—including what's set to make it such a personal and poignant story for all readers.
Marvel's Storyboards
Viewers were given the inside scoop on Marvel's Storyboards in this conversation between Joe Quesada, EVP, Creative Director of Marvel Entertainment and Stephen Wacker, Marvel VP of Content. During the panel, Joe talked about the guests he'll have on Marvel's Storyboards in Seasons 1 and 2, and he shared some great stories about the making of the show. He also shared his own history with San Diego Comic-Con going back to his first attendance in 1989, the origin story of the Cup of Joe panel and its early beginnings as a column called "Joe Fridays." Viewers then found out how Joe was inspired by Stan's Soapbox columns (written by Disney Legend Stan Lee) and why Joe began taking questions from a live audience. He then explained how Cup of Joe led to the idea that became Marvel's Storyboards. Viewers can watch the first episode of Marvel's Storyboards featuring guest star Hugh Jackman, and episode 2 featuring Marvel's Agents of S.H.I.E.L.D.'s Natalia Cordova-Buckley this Thursday on Marvel's YouTube channel!
20th Century Studios/Marvel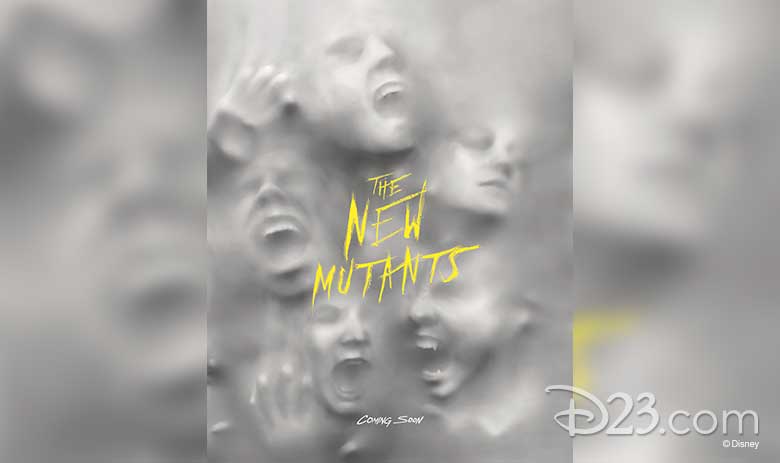 The New Mutants
20th Century Studios in association with Marvel Entertainment presented a ComicCon@Home panel featuring writer/director Josh Boone and the stars of The New Mutants, including Maisie Williams, Anya Taylor-Joy, Charlie Heaton, Alice Braga, Blu Hunt, and Henry Zaga, along with graphic artist Bill Sienkiewicz. Included in the 30-minute panel, moderated by Ira Madison III, was an exclusive look at the opening sequence of the original horror thriller. The opening sequence is available here:
Searchlight Pictures
Guillermo del Toro and Scott Cooper on Antlers and Filmmaking
Producer Guillermo del Toro and director Scott Cooper discussed their upcoming Searchlight Pictures horror film Antlers, a tale about an isolated Oregon town, a middle-school teacher (Keri Russell) and her sheriff brother (Jesse Plemons) become embroiled with her enigmatic student (Jeremy T. Thomas) whose dark secrets lead to terrifying encounters with a legendary ancestral creature who came before them. It's based on the short story "The Quiet Boy" by Nick Antosca and produced by Guillermo del Toro, David S. Goyer, and J. Miles Dale. In describing the creature, del Toro explained that producers used a mix of digital and practical effects. "We're not creating a monster, we're creating a god," del Toro said. "So the design needs to have elements that are completely unnatural, that are almost surreal or abstract." Although the film's April 2020 release was originally delayed due to coronavirus concerns, it's now scheduled to open on February 19, 2021. Moderated by Collider's editor-in-chief, Steven Weintraub, the panel revealed a brand-new featurette, which showed some frightening footage. Viewers can watch here:
Twentieth Century Fox Television
Bob's Burgers
Bob's Burgers creator and executive producer Loren Bouchard was joined by voice cast members H. Jon Benjamin (voice of Bob Belcher), John Roberts (voice of Linda Belcher), Kristen Schaal (voice of Louise Belcher), Eugene Mirman (voice of Gene Belcher), Dan Mintz (voice of Tina Belcher), and Larry Murphy (voice of Teddy, Gretchen, and more), as well as producers Nora Smith and Janelle Momary. The upcoming season 11, which returns September 27, will include the 200th episode of the series, called "Bob Belcher and the Terrible, Horrible, No Good, Very Bad Kids." Bouchard also reassured viewers that the Bob's Burgers movie is still in the works and currently scheduled for an April 9, 2021, premiere.
Duncanville
The star-studded cast of Duncanville, including Amy Poehler (voice of Duncan and Annie), Ty Burrell (voice of Jack), Rashida Jones (voice of Mia Abara), and Wiz Khalifa (voice of Mr. Mitch), sat down with the show's co-creators Julie and Mike Scully to discuss season 1 and what's coming up in season 2. Asked if they would reference the COVID-19 pandemic in season 2, Julie and Mike Scully said they would avoid the topic because they want to give viewers a break from current events. Duncanville season 2 returns in Spring 2021 on Fox.
FX/FXX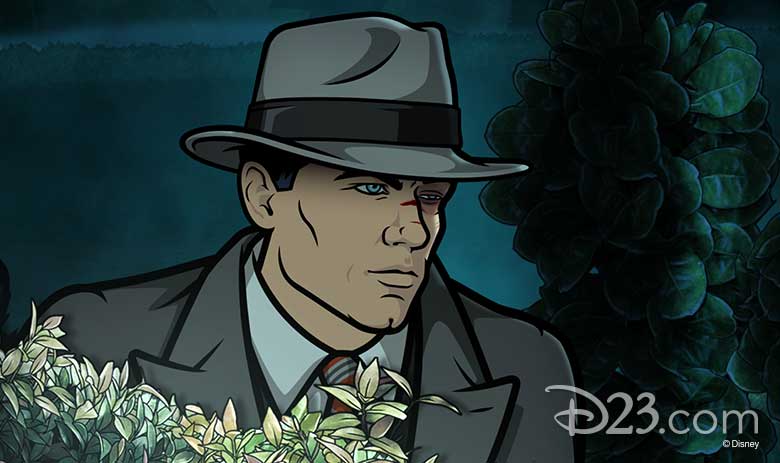 Archer
Archer (voiced by H. Jon Benjamin) is finally waking up from his three-season-long coma, although the others on his team may not be ready for his return. The 11th season will premiere with two back-to-back episodes on Wednesday, September 16, at 10 p.m. ET/PT. The first trailer for Archer season 11, which premiered during the show's Comic-Con@Home panel on Friday, is available here: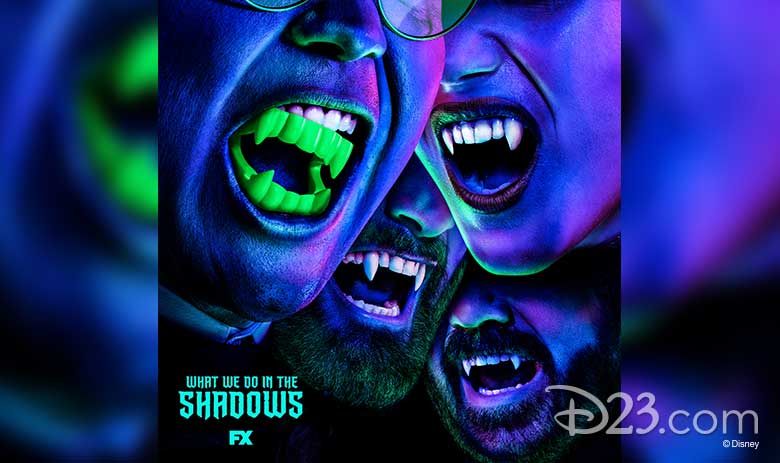 What We Do in the Shadows
What We Do in the Shadows cast members Matt Berry, Natasia Demetriou, Kayvan Novak, Mark Proksch, and Harvey Guillén joined executive producers Stefani Robinson and Paul Simms for a hilarious panel discussion hosted by special guest Haley Joel Osment. They discussed the challenges of completing season 2 while quarantined, which vampire is the most powerful, and their collective excitement about having Luke Skywalker himself, actor Mark Hamill, guest star as Jim the Vampire. According to Robinson, Berry was particularly "giggly" during his scene with Hamill, especially when Hamill picked up a pool cue and held it in a familiar lightsaber fashion. "You have to understand what that was like," said Berry. "I stood in front of Luke Skywalker and he held something like that [he imitates holding a light saber] right in front of me. It doesn't matter how cool you think you are, or how in character you are—you're not. You're 7 years old with Luke Skywalker in front of you. It was pretty special." A third season of What We Do in the Shadows has been greenlit. Additionally, the series has been nominated for 8 Emmy Awards, including Outstanding Comedy Series.
Hulu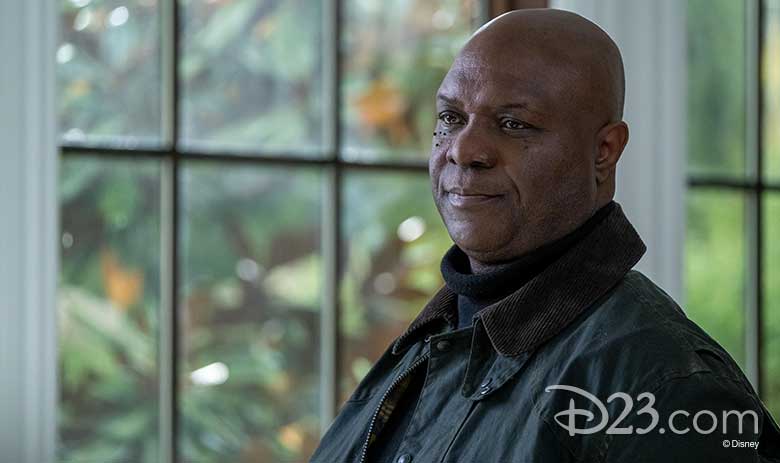 Helstrom
During San Diego Comic-Con@Home Friday, Hulu released the first trailer for its Marvel TV drama, Helstrom. Creator Paul Zbyszewski was joined on the panel alongside cast members Tom Austen, Sydney Lemmon, Elizabeth Marvel, Robert Wisdom, Ariana Guerra, June Carryl, and Alain Uy to discuss the show, which will launch with all episodes on October 16. Helstrom is co-produced by Marvel Television and ABC Signature Studios, part of Disney Television Studios. Watch the trailer here:
Solar Opposites
Rick and Morty co-creator Justin Roiland and writer Mike McMahan joined executive producer Josh Bycel, as well as cast members Thomas Middleditch (voice of Terry), Sean Giambrone (voice of Yumyulack), and Mary Mack (voice of Jesse), to talk about the first season and share an exclusive clip from Solar Opposites season 2. You can check it out here:
Lucasfilm Publishing
Lucasfilm Publishing: Stories From a Galaxy Far, Far Away
During the Lucasfilm Publishing Comic-Con@Home panel, Star Wars authors gathered to share news on upcoming titles and stories, book reveals, and insights into their craft. Hosted by Kristin Baver (host of This Week! in Star Wars and The Stars Show Book Club) together with Lucasfilm Publishing's senior editor Robert Simpson, the panel included special guests Justina Ireland (The High Republic: A Test of Courage), Preeti Chhibber (A Jedi, You Will Be), George Mann (Myths & Fables, Dark Legends), Rebecca Roanhorse (The Clone Wars: Stories of Light & Dark), Alex Segura (Poe Dameron: Free Fall), Tom Angleberger (From a Certain Point of View), Timothy Zahn (Thrawn Ascendancy: Chaos Rising), Greg Pak (Marvel's Darth Vader), and Alyssa Wong (Marvel's Doctor Aphra). A few things learned from the panel: Shadows of Vader's Castle is a 30-page one-shot from IDW written by Cavan Scott that will be hitting comic book stores in October. And speaking of IDW, they're about to re-launch Star Wars Adventures, an illustrated comic series for all ages. The Art of Galaxy's Edge by Amy Ratcliffe will explore the details that went into creating Star Wars: Galaxy's Edge. A new Clone Wars anthology will take us inside the mind of Darth Maul. And in the next Thrawn trilogy, Timothy Zahn is getting to build the Chiss Ascendancy from the ground up. To see all the exciting announcements from the panel, watch the full panel discussion. You can also check back for more publishing news on StarWars.com as well as bi-weekly book discussions on The Star Wars Show Book Club!
ABC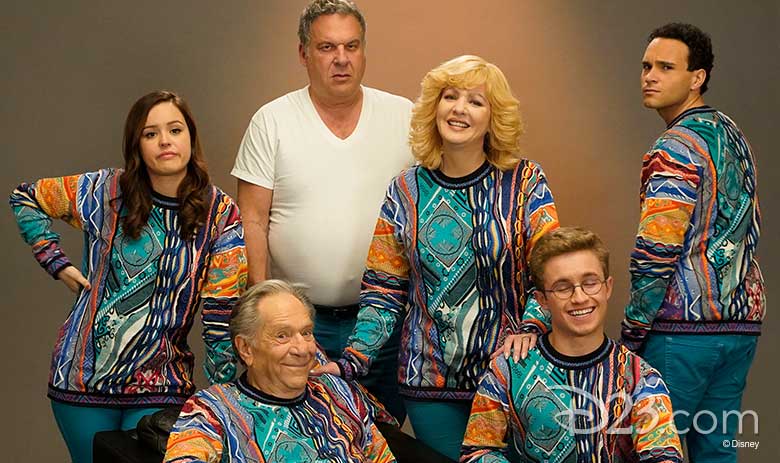 The Goldbergs
ABC's The Goldbergs, created by Adam F. Goldberg and based on his life growing up in Jenkintown, Pennsylvania in the 1980s, celebrated seven years during its Comic-Con@Home panel and gave a glimpse of what fans can expect in season 8. The panel featured Sean Giambrone (Adam), Wendi McLendon-Covey (mom Beverly), Troy Gentile (brother Barry), Hayley Orrantia (sister Erica), George Segal (Pops), and Sam Lerner (Erica's boyfriend Geoff Schwartz), as well as executive producer Doug Robinson. According to the panelists, the season 7 finale episode was cut because of the pandemic, but it will be included in the upcoming season. Also, continuing a show tradition, the season premiere episode pays homage to the classic 1980 film Airplane! and will air this fall.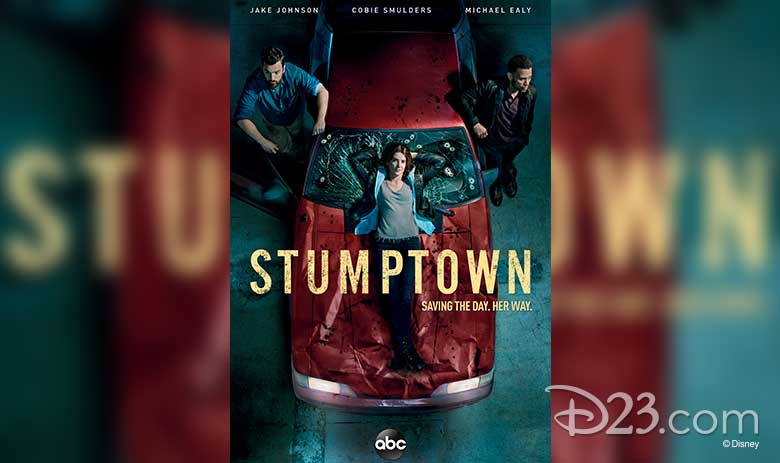 Stumptown
Stumptown made their triumphant return to Comic-Con where stars Cobie Smulders, Jake Johnson, and Michael Ealy along with executive producers Jason Richman, Monica Owusu-Breen, David Bernad, Ruben Fleischer, and graphic novel author Greg Rucka discussed the past season and celebrated the upcoming season with a preview of what's to come. During the discussion, it was promised that cliffhangers from season one would be answered, including revealing Dex's mother as well what new job Detective Miles Hoffman would now be undertaking since leaving the police force.
The panel discussion was moderated by TV Guide Magazine's Jim Halterman and he welcomed the newest addition to the show, executive producer Monica Owusu-Breen.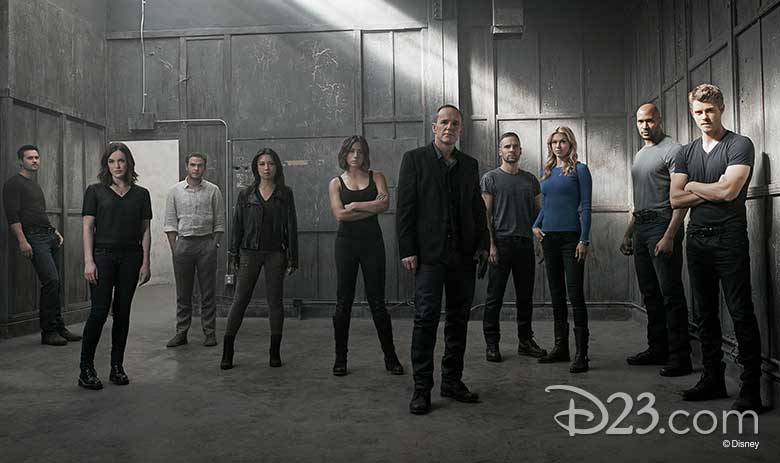 Marvel's Agents of S.H.I.E.L.D.
Cast and creators for Marvel's Agents of S.H.I.E.L.D. gathered virtually for their final Comic-Con panel for a different kind of discussion. Showrunner Jeffrey Bell was joined by actors Elizabeth Henstridge (Agent Jemma Simmons) and Joel Stoffer (Enoch); writers James Oliver, Sharla Oliver, and Craig Titley; and scientists Dr. Virginia De Sa, Dr. Anila Kanchan Madiraju, Melissa Miller, and Dr. Troy Sandberg to talk about how the series uses science. The scientific consensus? Agents of S.H.I.E.L.D. did a decent job of involving science, but of course, it's all in good fun and not meant to be factual. "I always tell people that most scientists are really specialized," said Miller. "So, on a lot of shows it doesn't seem realistic necessarily that one person or one small team could do everything."
Madiraju joked, "I definitely have no problem with biochemists being portrayed as awesome people who can live on alien planets, survive, and then save the world." Marvel's Agents of S.H.I.E.L.D. finishes its seven-season run on ABC this year.
A Conversation with Nathan Fillion
Nathan Fillion has been a mainstay at San Diego Comic-Con for years, dating back to 2002 when he was a guest on a panel about the series Firefly, a Western sci-fi show on Fox. Moderated by Alexi Hawley, the showrunner on Fillion's current ABC series The Rookie, Fillion's Comic-Con@Home panel was a retrospective about his career, detailing his work on The Rookie, Firefly, and his previous ABC series, Castle. He gave special praise to the two series that he said were closest to his heart—Firefly and The Rookie. "Firefly has been my favorite job I've ever had until The Rookie," he said.