By Courtney Potter
It's a docuseries event five decades in the making… Starting November 25, Disney+ will debut the brand-new, highly anticipated three-part series The Beatles: Get Back.
Directed by three-time Oscar®-winning filmmaker Peter Jackson (The Lord of the Rings trilogy), The Beatles: Get Back takes audiences back in time to the iconic band's intimate recording sessions during a pivotal moment in music history. The docuseries showcases the warmth, camaraderie, and creative genius that defined the legacy of the Fab Four, compiled from more than 60 hours of unseen footage shot in January 1969 (by Let It Be documentarian Michael Lindsay-Hogg) and more than 150 hours of unheard audio—all of which have been restored especially for this series. Incredibly, Jackson is the only person in 50 years to have been given access to these private Apple Corps Ltd. film archives.
The Beatles: Get Back is the story of John Lennon, Paul McCartney, George Harrison, and Ringo Starr as they plan their first live show in more than two years, capturing the writing and rehearsing of 14 new songs (known as the "Get Back" sessions) originally intended for release on an accompanying live album. The docuseries features, for the first time in its entirety, The Beatles' last live performance as a group—the historic rooftop concert on London's Savile Row—as well as other classics featured on the band's final two albums, Abbey Road and Let It Be.
Earlier this week, D23 attended a virtual press conference for The Beatles: Get Back—at which Jackson recalled some memorable moments from the process of bringing this incredible footage of the lads from Liverpool to light…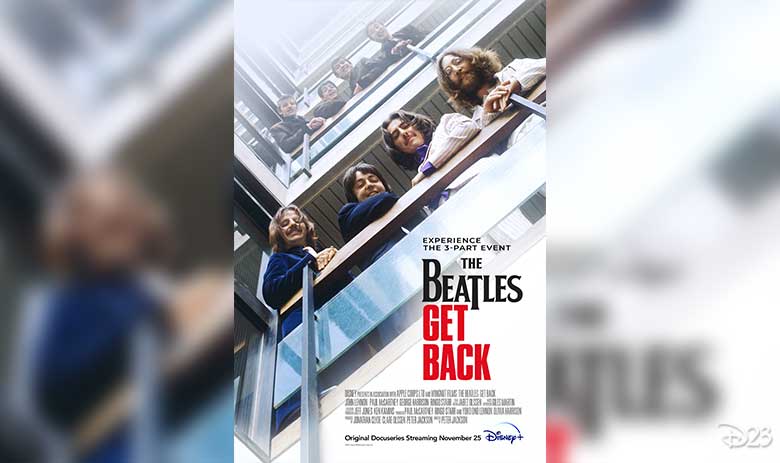 On how he got involved with the project in the first place:
"I went to London to get some footage from the Imperial War Museum, for my World War I documentary They Shall Not Grow Old, and [while I was there] had a meeting with Apple Corps," explained Jackson. "I was asked to come not to 'meet a Beatle,' but to meet [Apple Corps CEO] Jeff Jones and [Apple Corps director of production] Jonathan Clyde—and all they wanted to talk to me about was virtual reality (VR) and augmented reality (AR). They must've read an interview with me where I said that I was interested in that. So they wanted to pick my brain because they were planning on a Beatles exhibition; it was [potentially] going to have some sort of VR and AR… But during that meeting—I didn't want to act like a 'fan,' but one of the things I'd always wondered about over the last 40 years is, what happened to all the unused footage from Let It Be [the documentary]? I was always curious about that. I knew that Michael Lindsay-Hogg had shot a lot of stuff that didn't get used. I had no idea if it survived, I had no idea how much there was—and no books really talked about it."
"And so I asked my 'fan' question," the filmmaker continued. "I said, 'Oh, by the way, when Let It Be was shot in 1969—are there any outtakes? Have you guys got anything that they didn't use?' I was trying not to act like a fan. And they said, 'Yeah, there's about 60 hours of film and 150 hours of audio. We've got all that.' And I'm thinking, 'Oh my god, how do I get to see that? What tricks do I have to play?' And then they said, 'Actually, it's strange you mentioned that, because we're thinking we might have a look because we haven't seen [the footage] either. We were wondering whether there is another documentary that we could make, just using the outtakes.' And I said, 'Have you got a filmmaker involved with that? Cuz you're gonna need a filmmaker.' And they said no, so I said, 'Well, I've got a little bit of spare time at the moment—I've got a spare few years. If you're interested, just please think of me.' And they were! So I arrived at this meeting to talk about VR and I left with Get Back. I was in the right place at the right time."
On what worried him, initially, about revisiting what was previously thought to be a contentious period in the band's life:
"As any Beatles fan knows—and I've been reading all the books [about them] for 40 years—the Get Back sessions are notorious," the director explained. "Authors write accounts of those sessions. Obviously they weren't there, [yet] they still write accounts describing them as 'miserable.' 'The most miserable time'; 'The Beatles were breaking up'; 'they were squabbling and there were cameras filming the arguments'; 'they couldn't bear to be in each other's company'… and so obviously, that was what I was expecting to see [in this footage]."
"Now I did say to [Apple Corps], 'Look, if this is as miserable as what it's supposed to be, I'm not going to want to make a movie, but I need to see [the footage first]," he continued. "There's no way I was going to take advantage of bunch of miserable Beatles footage and try to make a happy film…So I sat there—I was there for a week; I went there every single day, all day long, sitting in a room by myself, just me and a TV. They just left me alone, and I watched [the footage]. And I was laughing, and I thought it was unbelievable—I can't believe I'm seeing Paul compose 'Get Back'! This is incredible… The guys were so funny, and it was so great; it was not what I had in my head for 30, 40 years… Suddenly, after 50 years, everyone goes 'Oh, it's not actually what we all thought it was.'"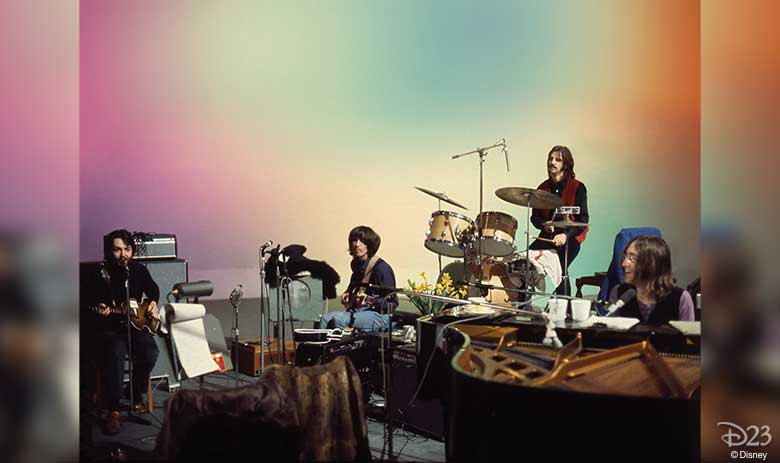 On what Billy Preston, known colloquially as "the fifth Beatle," brought to the Get Back sessions:
"Watching [the series], I literally looked forward to Billy arriving—because I just love Billy," said Jackson. "I love him. He's such a gentle, beautiful soul. And he is so talented. I mean, I'm not a musician, but when he sits there and plays and he just hits these solos straight away—[and you think] 'Don't you have to practice? Are you getting this right on the first go?' And he is! What an incredible player. I love Billy, and they love Billy. His reputation for making them all 'behave themselves' is sort of askew… [As the legend goes]—even Billy Preston himself thought [this] is what happened—George Harrison went to a Ray Charles concert [and saw Billy there] and said to him, 'You've got to come to help us out here and make everyone behave.' That didn't happen; that Ray Charles concert was the year before! Billy's in London [in January '69] to do a couple of TV shows just by himself, and he drops by [the studio at Savile Row], and John Lennon grabs him—he still has his coat on—and John says, 'Hey buddy, we need a keyboard player'… He doesn't even have the chance to get his coat off! And he's there doing the solo for 'Don't Let Me Down,' and he just rocks it. And the minute he plays, you can feel the energy in the room lift. So I don't agree with the long-told account that Billy Preston 'made everyone behave themselves.' What Billy Preston did is, he gets them all highly excited. Certainly, his presence provides an energy, and there's a renewed excitement they get for this project. It's real, and you feel it. It's fantastic."
On some of the technical wizardry you can expect to see and (especially) hear:
"[Restoring] the film part of it was something we had, in various ways, done before," admitted the filmmaker. "We did They Shall Not Grow Old just before [The Beatles: Get Back] with 100-year-old World War I footage, which is pretty pasty-looking stuff. And we tried to make that look as modern and nice as we could. In doing that, we developed a whole lot of software and code. So when it came time to put the 16-millimeter negative of the Get Back sessions through our pipeline, we had done it before."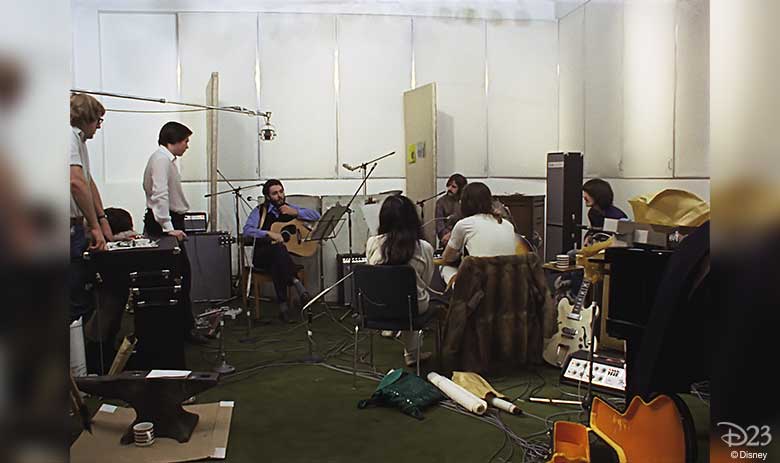 "But the audio was the big breakthrough. I don't know if you've ever heard 'bootleg' recordings of the Get Back sessions, but they're interminable—you'd be trying to listen to conversations and there'd be twanging guitars, and you'd get annoyed because you half-hear the conversation… and that's what we got; we got these Nagra [mono reel-to-reel audio] tapes that the film crew were recording on… So what we ultimately did, here in New Zealand at Park Road Post Production—we've got these very clever people [who] developed an artificial intelligence machine-learning program where we can take this mono tape, digitize it, put it in the computer, and teach the computer what a guitar sounds like; teach the computer what a human voice sounds like; teach it what a drum sounds like… so we developed this technology that allows us to 'de'-mix [and] split all the audio components of these mono tracks. Musically, that allowed us to actually balance these songs—especially in the first half [of the series], at Twickenham Studios. But the other thing it did was… we were able to get rid of all the guitars [and other sounds] and we are revealing 50-year-old conversations that they'd deliberately drowned out, that no one's ever heard before… By revealing all these conversations—these clear, clean conversations—we were able to have The Beatles tell their own story through these 22 days [of the Get Back sessions]."
On the unique feel of this sure-to-be-memorable event:
"I was thinking about this the other day," Jackson recalled. "We screened the entire thing in a [movie theater], just to look at it, and at the end of it I was thinking it almost feels like a [narrative] drama. It almost feels like Disney+ decided to 'dramatize' the famous Get Backsessions; they've got someone to write the script, they're gonna have a modern film shot—because it looks modern—and they're gonna show what happened in these sessions. Except, they haven't got four actors playing The Beatles; through some magical time-travel thing, they've got the 1969 Beatles playing themselves… The 'actors' are The Beatles playing themselves. It's pretty cool."
The Beatles: Get Back, a Disney+ Original docuseries, will debut exclusively on Disney+ November 25, 26, and 27.