By Max Lark
Longtime Disney fan Matthew Morrison, who played the role of Will Schuester on the Emmy® and Golden Globe®-winning series Glee and most recently appeared on FX's American Horror Story: 1984, has teamed up with Disney Music Group to release a marvelous album of Disney classics, called Disney Dreamin' with Matthew Morrison, out now.
Morrison, who has recorded albums with an impressive guest list of artists, including Sting, Sir Elton John, and Smokey Robinson, says that "his goal was to deliver an album that reconnects us all to the magic of youth. Every note, every word I sang was for my son, Revel James."
D23 caught up with Morrison recently to talk about the new record and what makes Disney songs so special and timeless.
D23: What makes a great Disney song?
Matthew Morrison (MM): I think it's the visual aspect along with the amazing music tied together. The songs are told in such a beautiful visual way. You get so invested in them and really connect them to a specific moment. They work on so many levels. It's the heart and emotion in them that make them so special.
D23: There are so many timeless Disney songs; was it hard to come up with the 10 songs on the album?
MM: That was the hardest part of the process for me. Disney gave me access to the complete catalogue. And I wanted to do some older stuff from my childhood; so I have a mashup of "Zip-A-Dee-Doo-Dah" and "Bare Necessities," and another song I love, "When You Wish Upon a Star." But I also wanted to do some classic songs from the Disney animation renaissance era, including Aladdin, Beauty and the Beast, Pocahontas, and Hercules; so I added some songs from that era that I absolutely love, that were really a part of my childhood—"Go the Distance" is a big one [and the first single].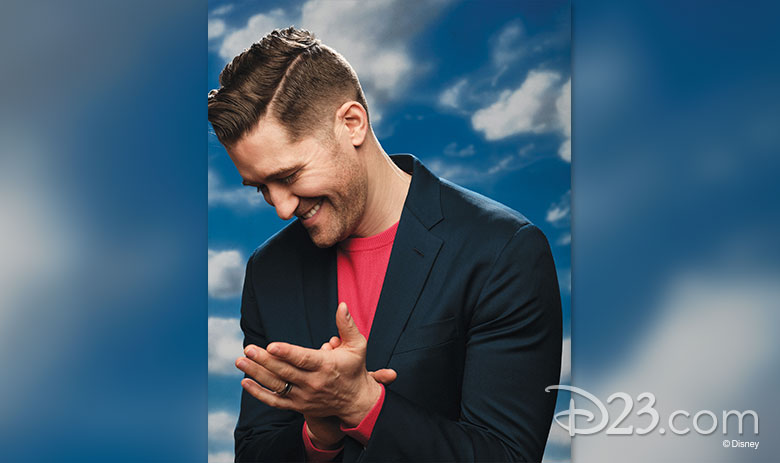 D23: How would you describe the music on your album.
MM: Eclectic. It was absolutely the most fun I ever had making an album. And I say that because I've done a pop album, an album of standards, and those are all linear and you kind of have to stay in that lane. But with Disney, you can go anywhere. The voices you make, the characterizations you make… each song is totally different from the next. And for me as an artist to play in that world and just explore and have fun and be so wild with it… it was the most fun I ever had in my entire life in a recording studio. The possibilities were endless.
D23: Why did you want to make an album of Disney music at this point in your career?
MM: Disney music is timeless. It's been around forever. Our grandparents knew it, our parents know it, we know it, our children, our grandchildren… there is something so special about that. I feel like in the world today, where everything is so transactional—you listen to something, and then you're on to the next right away—I wanted to partner with Disney, so I could make music and put my stamp on it, but that people will come back to and re-listen to for years to come. For me as an artist I wanted to share that experience with Disney—a company synonymous with timeless music.
D23: What are some of your favorite songs on the album?
MM: "You'll Be In My heart" is definitely one. It's a song that really makes you think of Phil Collins when you hear it. But my goal was to make it sound fresh and different. It's the sentiment of that song that really touches me now that I'm a father. Love has a whole new meaning for me now. Lyrics like "I will protect you from all around you, I will be here, don't you cry." I sob when I sing that song sometimes. It's just so beautifully written. It's definitely one of my favorites. I also like "A Whole New World." It's usually done in 4/4 time, but I put it in a completely different time signature. So it sounds different. I also got to do it with my friend Shoshana Bean, who is an incredible recording artist [also appeared in Broadway productions Hairspray, Wicked, and Waitress]. It's the ultimate romantic Disney song—and one I've wanted to do for a very long time. And to actually get to do it with a great friend of mine and put it on my album was very special.
D23: When did you become a huge Disney fan?
MM: I first really got into Disney during my high school years. Some buddies of mine and I had Annual Passes and we would go to Disneyland. We called ourselves "The Lost Boys"! We totally bought into that Disney message of freedom of imagination, and we got to run around and be free and wild. But at the same time it was so innocent and such clean fun. Disney for me is something that stands for core values and having a great time—and just pure imagination.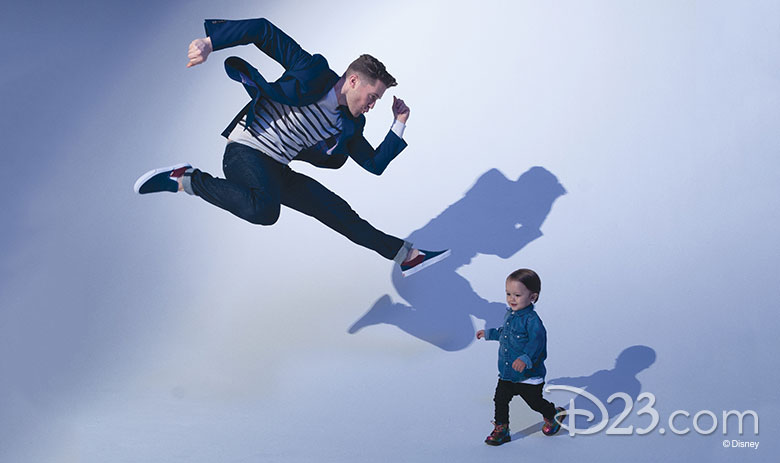 D23: How does your son like the record?
MM: Well, I broke the album down to five and five—five lullabies and five, like, dance parties. I sing my son to sleep every night, and we wake up every morning with a dance party. That was the vibe I wanted to put on the album. There is something for everyone on this album, and in particular my son! When we wake up and have our dance parties, he wants to hear the drums, the bass, and just really get into the rhythm and groove of the song. "A Friend Like Me" from Aladdin is one he really gets into. He has a one-arm fist pump he does when he dances. It's hilarious. You can visualize it, right?
D23: Were there a lot of songs you wanted to record but just didn't have the room for them?
MM: So many. I hope I get to do another record of Disney songs. And a third one! They are so much fun to sing and there's so much more to sing.
D23: How do you hope audiences will react to the album?
MM: For me the big takeaway is I hope it connects people to their families. These are songs that are so special, and hearing them in a different light, with a new take, you can open up your own imagination and create your own worlds to these songs… to get invested in a new way—and maybe sing along to them with someone special.