By Zach Johnson
From Searchlight Pictures and the visionary mind of Academy Award® nominee Wes Anderson, The French Dispatch brings to life a collection of stories from the final issue of an American magazine published in a fictional 20th-century French city. A love letter to journalists, the anthology film stars some of Anderson's frequent collaborators (Adrien Brody, Frances McDormand, Bill Murray, Tilda Swinton, Owen Wilson) as well as a new roster of A-listers (Timothée Chalamet, Elisabeth Moss, Benicio del Toro, Jeffrey Wright).
Swinton describes the film as such: "It's Wes' French love letter to internationalism, culture and the blessed art of independent journalism." Expounding upon that, Anderson says, "I remember reading an interview with Tom Stoppard in which someone asked him where one of his plays came from, and he said that it's always two different beginnings of an idea for something that he puts together—and that becomes the next play. That's exactly what happens to me every single time." This film is "actually three things," Anderson says: a collection of short stories ("something I've always wanted to do"); a tribute to The New Yorker and "the kind of writer" it is famous for publishing; and an ode to "French cinema."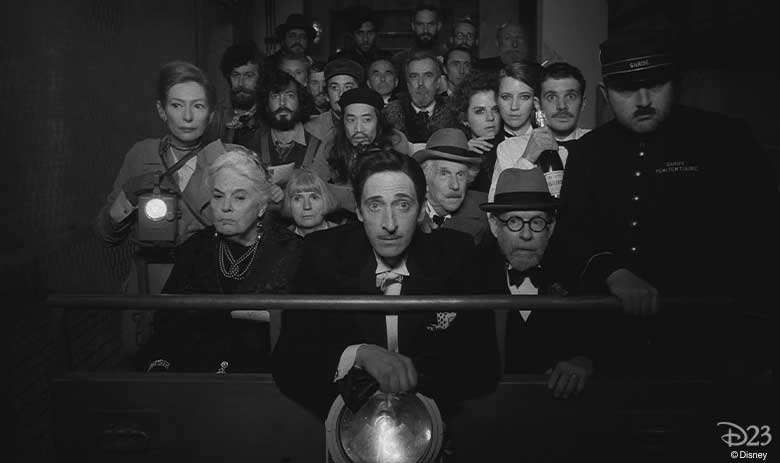 The New Yorker has been a touchstone for Anderson for years. "When I was in 10th grade, my home room in Houston was in the library, and across from me were these wooden racks of magazines," he recalls. "There was one with illustration on the cover, and I started looking at it. I became a regular reader of The New Yorker in my home room waiting for school to begin. I started reading the back issues and picking up the names of the writers that appeared over and over again. So, I got really hooked." Anderson's passion for reading The New Yorker continued into adulthood, according to Wilson. "When we were rooming together in college, he was reading The New Yorkerall the time, which was quite unusual," the actor says. "I can't remember if he had a subscription—that might have been out of reach financially—but he was deep into it. What a thoughtful gift to all those writers."
Similar to his infatuation with The New Yorker, Anderson's love affair with French cinema began when he was young. "French cinema begins when cinema begins, with the Lumière brothers and Georges Méliès," he explains. "I love the directors of the '30s: Julien Duvivier, Marcel Pagnol's Marseille stories, the films of Jean Grémillon—which I came to more recently—and then Jacques Tati, Jean-Pierre Melville, and the New Wave filmmakers: Truffaut, Louis Malle, Godard. And maybe at the center of it all is Jean Renoir." For the past several years, Anderson has been based in France. The French Dispatch is a both an homage to his adopted country, as well as an artistic reflection from an outsider looking in.
After opening in select theaters last week, it is playing everywhere starting today. The French Dispatch is set after the death of the magazine's beloved editor, Arthur Howitzer, Jr. (Murray). The staff of The French Dispatchconvenes in the French city of Ennui-sur-Blasé to write his obituary, where memories of Arthur inspire the creation of four unique stories.
First up is a travelogue of the seediest sections of the city itself, written by Herbsaint Sazerac (Wilson), aka The Cycling Reporter. Next up is "The Concrete Masterpiece," written by J.K.L. Berensen (Swinton). The work of criminally insane painter Moses Rosenthaler (del Toro, and Tony Revolori as a young man) is discovered, ruthlessly promoted and sold for increasingly astronomical prices by art dealer Julian Cadazio (Brody) and his uncles (Bob Balaban and Henry Winkler). His eagerly anticipated, years-in-the-making masterpiece—inspired by Simone (Léa Seydoux), his prison guard and muse—is unveiled with great fanfare to an impatient art world, which includes renowned Kansas art collector and likely buyer Upshur "Maw" Clampette (Lois Smith). The next story is "Revisions to a Manifesto," written by Lucinda Krementz (McDormand). It's a firsthand account of the grievances and the passions that drive the city's romantically disenchanted youth go to war with their adult masters and initiate a tumultuous general strike that leads to the shutdown of France. Krementz's hero and heroine are the star-crossed leaders of the movement, Zeffirelli (Chalamet) and Juliette (Lyna Khoudri). Finally, in "The Private Dining Room of the Police Commissioner," Roebuck Wright (Wright) profiles the legendary chef Nescaffier (Stephen Park), who serves at the pleasure of Ennui-sur-Blasé's Commissaire (Mathieu Amalric). It unexpectedly explodes into a nail-biting, ticking-clock suspense story when a group of thugs, led by "The Chauffeur" (Edward Norton), kidnap the Commissaire's son and crime-solving protégé, Gigi (Winsen Ait Hellal), and threaten to kill him unless the local crime syndicate's recently arrested accountant (Willem Dafoe) is released from jail.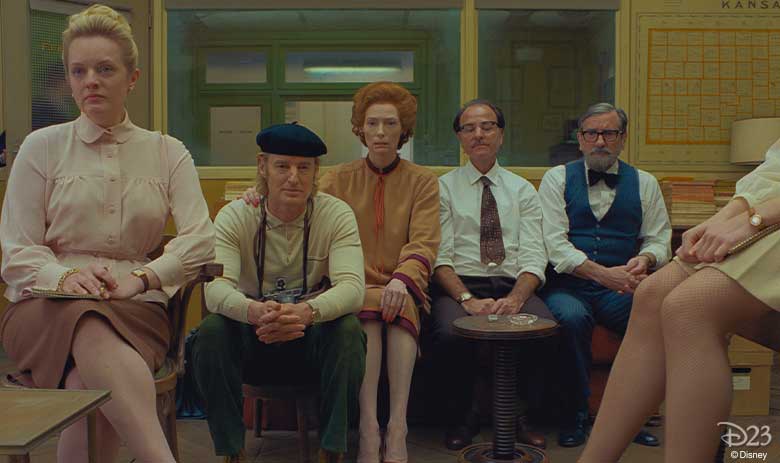 "In this film, the relationship to the written word is occurring at many different levels," explains Anderson. "There's what you're seeing on the screen, there are the subtitles, there's the texture of the magazine and there's the value of the relationship to writers and to a kind of writing that people feel is being lost now. The hero of each story is a writer."
The French Dispatch marks Anderson's 10th feature film, and with it, he continues to push the boundaries of storytelling. "At a certain point, I just decided I'm going to do whatever I want, and that if I wanted to do a sequence that's black and white widescreen hand-held, then that's what we were going to do," says Anderson. "'Can we do this part as just a cartoon?' 'Yeah, we can, so I think we will.' When I first started doing movies, it was always: 'Can we do this?' I feel like I don't even bother to say that anymore. But, of course, it all has to gel and come together, and that's why it's important to have such a great team, led by Adam Stockhausen, Milena Canonero, Bob Yeoman, Sanjay Sami, and Alexandre Desplat."