By Craig Tomashoff
With their return to the big screen in Ralph Breaks the Internet, video game tough guy Ralph and his pal Vanellope von Schweetz seem to be boldly going where pretty much everyone has gone before—the World Wide Web. However, their online odyssey in this sequel to the hit 2012 film Wreck-It Ralph will actually lead them into territory that neither they nor audiences could have anticipated.
"While Ralph Breaks the Internet will make people laugh, I think some of the emotional struggles that Ralph and Vanellope go through in this movie are pretty intense and complicated," explains Phil Johnston, who co-directed and co-wrote the follow-up film. "We're exploring the reality of all relationships, which come with ups and downs. Friendships are tested from time to time, and Ralph and Vanellope have to navigate the complexity of theirs—while attempting to navigate the vast and often intimidating Internet."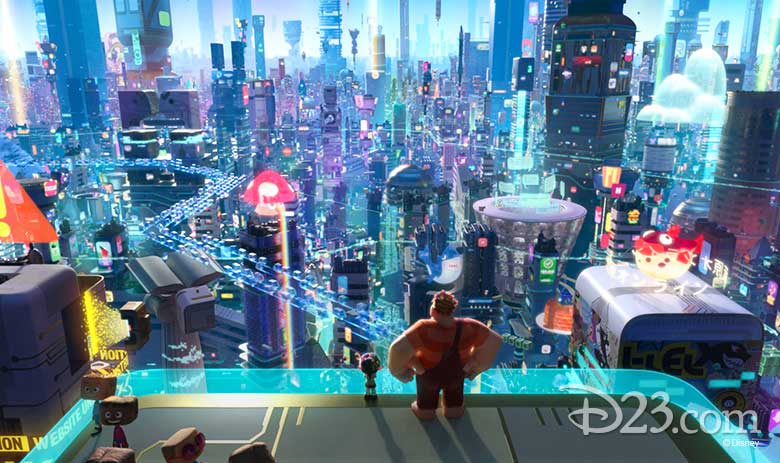 That larger-than-life nature of cyberspace might be a bit scary, but it was also precisely why the film's creative team never considered using any other setting for their story. Says producer Clark Spencer, "Nothing else was even pitched. Going into the ultra-modern world of the Internet was not only a nice contrast to the first film's nod to the arcade, it offered unlimited possibilities. We could actually personify retail sites, social media and search engines—we could give people a look inside their computers when they go online."
Still, this new story begins in a very low-tech place, namely Litwak's Family Fun Center and Arcade, where Ralph and Vanellope (once again voiced by John C. Reilly and Sarah Silverman) first met. However, when the steering wheel on Vanellope's game breaks, Ralph learns a replacement might exist in a mysterious new place called eBay. It isn't long before the pair wind up inside the Internet to find it, and find themselves in the process.
"When her game breaks, Vanellope is left wondering, 'If I don't have my game, who am I?'" says head of story Josie Trinidad. "Her quest to get the steering wheel to save her game is what motivates her to venture to the Internet. She has no idea what she's about to experience."
The digital world may be strange territory for Vanellope, but the way it looks in Ralph Breaks the Internet will make moviegoers feel right at home. The filmmakers opted to create some fictional websites within their make-believe online universe, like the viral video generator BuzzTube, but "we wanted it to be familiar and relatable too," explains co-writer and co-director Rich Moore. "So we incorporated places like eBay, which is a big part of the story since it's where Ralph and Vanellope go to buy the replacement wheel part for her game. We have cameos from Amazon, Instagram, and Snapchat, among others, and even some international sites, which adds the kind of legitimacy that we wanted."
Also populating this digital landscape are two particular types of characters—"Net Users" and "Netizens." The former are the humans who go online to shop or play games or post pictures of their dinner. The latter are the computerized creations who actually get all that work done, including the Taraji P. Henson-voiced Yesss.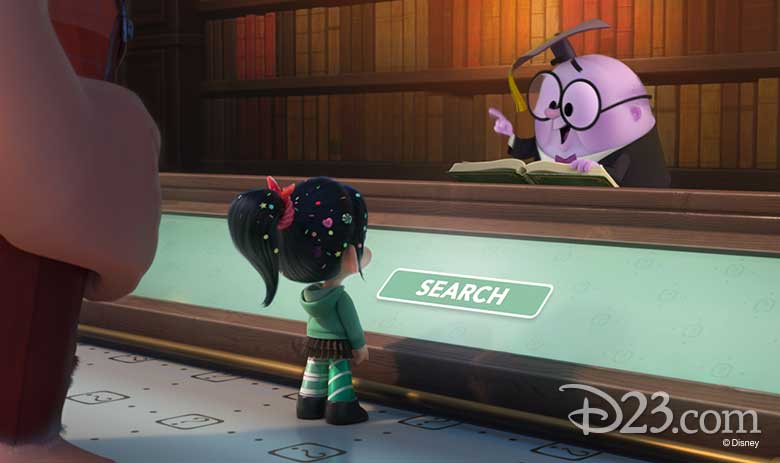 She is the hippest of the hip in the movie's version of the Internet, working as the head algorithm and heart and soul of the trend-making site BuzzTube and the Netizen who helps Ralph and Vanellope adjust to their new surroundings. Yesss "personifies the ever-advancing nature of the Internet," according to co-director and co-writer Rich Moore. "And she's really funny, too."
In addition to new characters like Yesss and the walking, talking search engine named KnowsMore (voiced by Alan Tudyk), there are also a few very familiar faces that cross paths with Vanellope. While wandering the film's wide web world, Disney's newest and most unconventional princess has a chance encounter with several of her more traditional princess peers, from Cinderella and Snow White to Anna and Elsa. Creating the scene was tricky—"We knew we'd have to find a balance between making fun of and celebrating these iconic characters," says Spencer—and the writers actually kept it a secret until their first screening of the film for the studio brass because they weren't sure if it would fly.
Continues Spencer, "Everyone looked at me and said, 'Do you think we could do it?' I said, 'There's only one thing to do. Write it. Board it. Put it in the screening and one of two things is going to happen: the whole world will laugh and think it's brilliant and then it's in the movie, or they won't find it as funny as we do—but we'll have to put our best foot forward.' We just wanted to let people experience it in a screening as it was envisioned by the story team."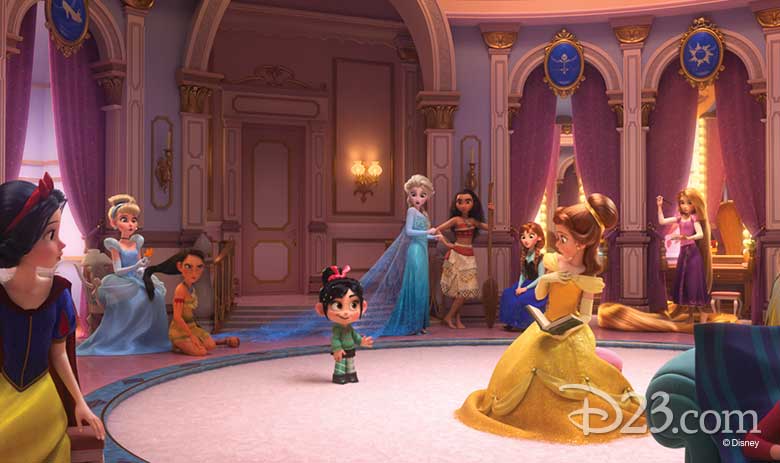 That screening was such a success, the producers were actually able to convince the actresses who voiced the princesses to bring their characters to life again. "We were able to get just about everyone who's still with us to reprise their roles," says Johnston. "As each actress came in to record her lines, we invited her to sit with the animators and talk about her character."
As much fun as the moment with the princesses is, though, it's more than just a throwaway gag. The scene is also a critical piece of Vanellope's "coming-of-age journey," according to Johnston, and "integral to the completion of her arc in the film." Vanellope and Ralph may have slipped into cyberspace for Ralph Breaks the Internet but what sets the film apart from Wreck-It Ralph is not so much where the characters are but who they become.
"The first movie ends with the idea that these two misfits are kindred spirits—they have the same sense of humor," says Trinidad, adding that this time around, "We don't want to just give the audience more of that friendship—we have to see that relationship grow."