Primetime Emmy® Awards: ABC's Big Wins!
History was made at the 67th Primetime Emmy® Awards, held on Sunday, September 20, at the Microsoft Theater in Los Angeles: Viola Davis was named Outstanding Lead Actress in a Drama Series for her work on ABC's hit series How to Get Away with Murder—making her the first African American actress ever to take home this award! As if that weren't cool enough, Regina King was honored in the category of Outstanding Supporting Actress in a Limited Series or a Movie for her role on ABC's American Crime. Viola and Regina's wins, coupled with Uzo Aduba's award for HBO's Orange is the New Black, ties a record set in 1991 for most acting Emmys awarded to black women in a single year. Kudos!
Other Disney and ABC Emmy wins (by category) included:
Outstanding Structured Reality Program
Shark Tank
Outstanding Choreography
Dancing With the Stars: Derek Hough, Julianne Hough,Tessandra Chavez
Outstanding Sound Mixing for a Comedy or Drama Series (half-hour) and Animation
Modern Family
Outstanding Technical Direction, Camerawork, Video Control for a Limited Series, Movie or a Special
The Oscars
Outstanding Individual Achievement in Animation
Gravity Falls, Alonso Ramirez Ramos, Storyboard Artist, "Not What He Seems" (Disney XD)
Huge congratulations to all!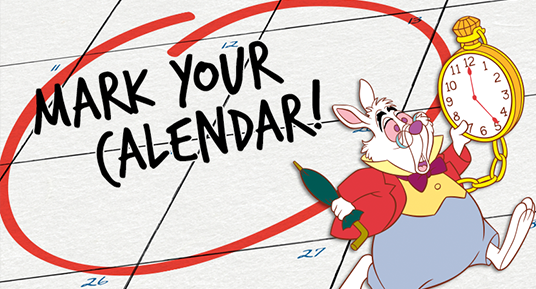 Save the Date!
Be sure to mark these upcoming Disney events on your calendar:
D23 and Walt Disney Archives


Fall 2015


D23 Member VIP Nights at The Lion King


September 26


The Art of Disney—Featuring 75 Years of Pinocchio


October 3


D23's Sip & Stroll


October 9


Lunch with a Disney Legend: Kathryn Beaumont


October 25


Haunted Gingerbread House Building Workshop


November 6


VIP Studio Experience with Disney Legend Andreas Deja


November 7


D23 Day at the Walt Disney Studios and Archives


November 14


Pinocchio: 75 Years of a Disney Classic


November 14


Mickey's of Glendale Orlando Shopping Event


December 13


Holiday Gingerbread House Building Workshop


Studios




November 25


The Good Dinosaur opens in theaters.


December 18


Star Wars: The Force Awakens opens in theaters.


January 29


The Finest Hours opens in theaters.


March 4


Zootopia opens in theaters.


April 15


The Jungle Book opens in theaters.

Parks


September 15, 18, 20, 22, 25, 27; October 1, 2, 4, 6, 8, 9, 12, 13, 15, 16, 18, 20, 22, 23, 25, 27, 29, 31; and November 1


Mickey's Not-So-Scary Halloween Party at Magic Kingdom Park


September 25, 28, 30; October 2, 5, 7, 9, 12, 14, 16, 19, 22, 23, 25, 27, 29, 31


Mickey's Halloween Party 2015 at Disneyland


September 25-November 16




Epcot International Food & Wine Festival




November 8, 10, 12, 13, 15, 17, 19, 20, 29; and December 1, 3, 4, 6, 8, 10, 11, 13, 15, 17, 18


Mickey's Very Merry Christmas Party at Magic Kingdom Park


Television




September 26


Marvel's Guardians of the Galaxy premieres at 9:30 p.m. ET/PT on Disney XD.


November 30


It's Your 50th Christmas, Charlie Brown airs at 9 p.m. ET/PT on ABC.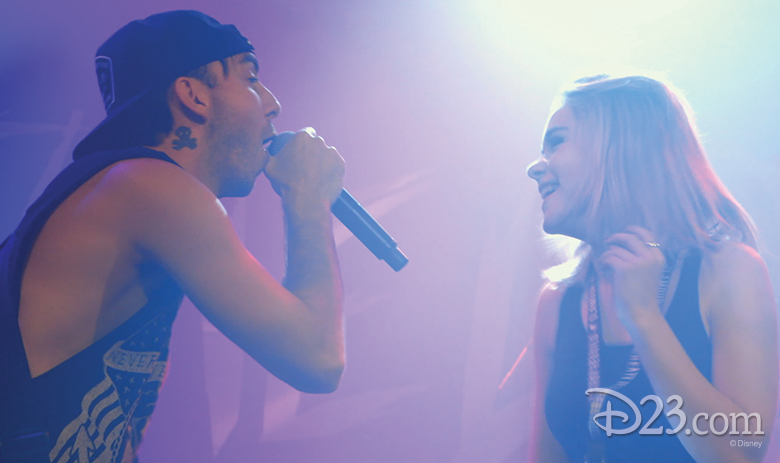 Fan Girl Rocks Its Way Onto ABC Family
We're big Meg Ryan fans (can you say Sleepless in Seattle?!), so we were thrilled to hear she's costarring in ABC Family's newest TV movie event! The Golden Globe®-nominated actress plays Mary Farrow, whose sarcastic teenage daughter Telulah (Mad Men's Kiernan Shipka) is obsessed with only two things in life: the pop-punk band All Time Low, and filmmaking. Unfortunately, Mary's newfound (and, according to her daughter, irrational) love of social media initially distracts Telulah from coming up with an amazing final-film project for school.
But as it turns out, Mary's new social media savvy has an unexpected perk—she reconnects with an old acquaintance that happens to have a big connection to All Time Low! Telulah's whole life changes in just one night, as she goes after exactly what she wants… and learns a little about life, family, and herself in the process.
Also starring Kara Hayward (Moonrise Kingdom), Scott Adsit (Big Hero 6), and newcomer Joshua Boone—and featuring appearances (and music) by All Time Low—Fan Girl premieres on ABC Family on Saturday, October 3, at 9 p.m. ET/PT.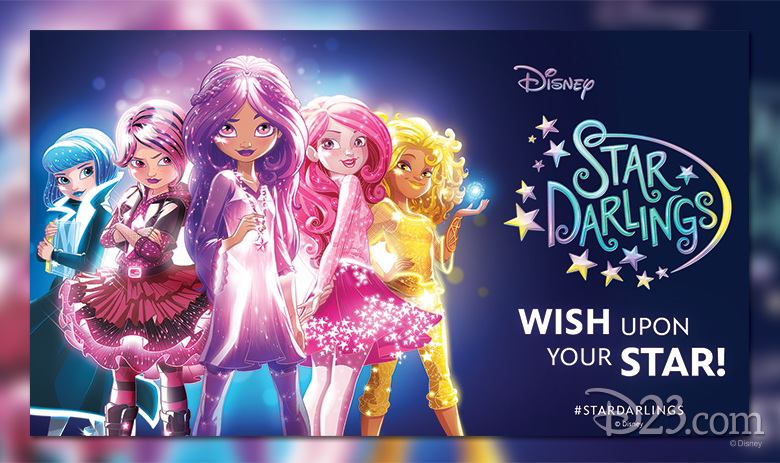 Disney Publishing Worldwide Introduces "Star Darlings"
As Cinderella once sang, "If you keep on believing, the dream that you wish will come true." Well, Disney Publishing Worldwide aims to bring that message to tween girls like never before with the debut of their newest "multiplatform" property—"Star Darlings." Initially conceived by designer Shana Muldoon Zappa, along with her husband, New York Times bestselling author Ahmet Zappa (Because I'm Your Dad), "Star Darlings" features 12 unique girls who encourage tweens to celebrate their individuality, make positive choices, and show that they can make any wish a reality!
The story begins on Starland, the brightest star in the sky. Twelve girls from the prestigious Starling Academy are chosen to be the first student Starlings to venture to Earth; determined to succeed, the girls show courage and ingenuity—and have a ton of fun—as they guide others on Earth to discover happiness and fulfillment…
"Star Darlings" recently launched with two novels, available everywhere books and eBooks are sold, and all-new content and products will be released through November—including an accompanying storytelling and lifestyle app; music from Walt Disney Records; the first shorts in an animated series on YouTube; and even a fashion dolls line created in collaboration with JAKKS Pacific and available at Justice stores nationwide.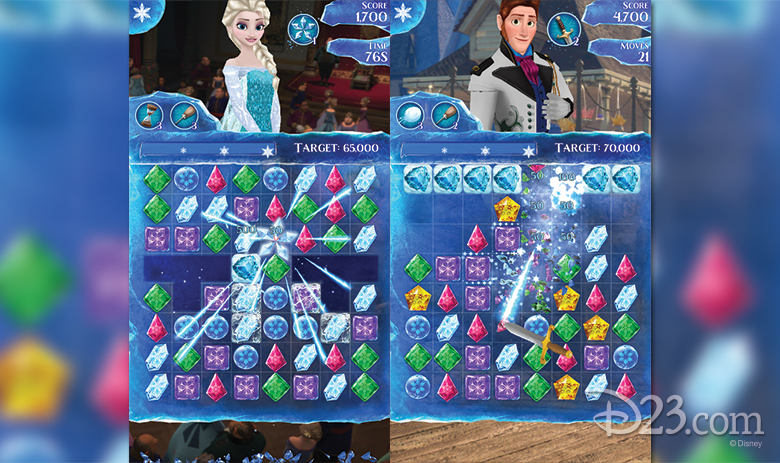 "Frozen Free Fall" Freezes Over Big Milestone!
"Frozen Free Fall," Disney's frosty-cool puzzle game for all manner of platforms, just celebrated its whopping 100 millionth download! Since its release, fans have spent over 62 billion minutes (yes, billion with a "b") playing the game… that's more time than people have watched the movie in theatres. Amazing, right?
On average, about 4.2 billion ice crystals are cleared per minute—and 25 billion levels have been played around the world. The special Elsa "Power Up" has been used more than 162 million times, and Olaf has spent 1.6 billion minutes in the game's "summer" levels. It would take over 26,000 actual Nordic summers to catch up to him!
Don't know what on snowy Earth we're talking about? Then download "Frozen Free Fall" post haste! See all the ways the app can be downloaded, and played, here.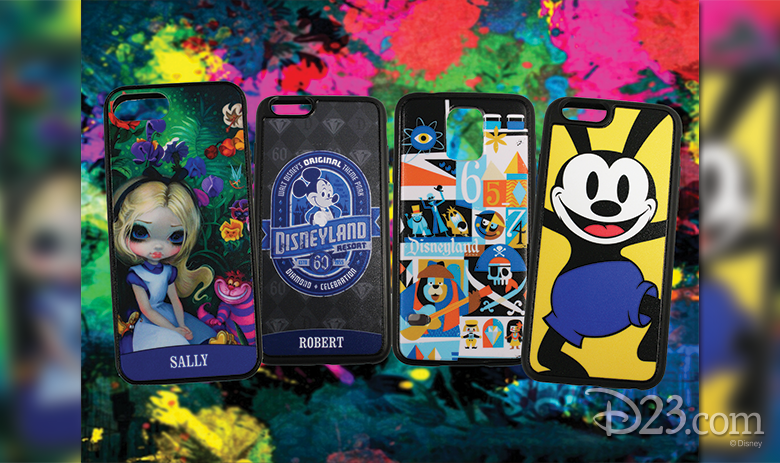 Phone Cases Get Personal with D-Tech on Demand at Disneyland Resort
Up until recently, you could only get your Disney smartphone accessory case personalized at Walt Disney World—but West Coast fans, your time has come! D-Tech on Demand just debuted at D Street in Disneyland Resort's Downtown Disney District.
The location will introduce over 10 new designs, including art inspired by the Disneyland Resort Diamond Celebration and selections from WonderGround Gallery artists including Jasmine Becket-Griffith and Jerrod Maruyama. D Street at Downtown Disney District offers cases compatible with iPhones 4 through 6+, as well as a host of Samsung (Android) phones. From start to finish, the whole personalization process only takes around 10-15 minutes… so the next time you're down at the Disneyland Resort, check 'em out! Your phone will thank you.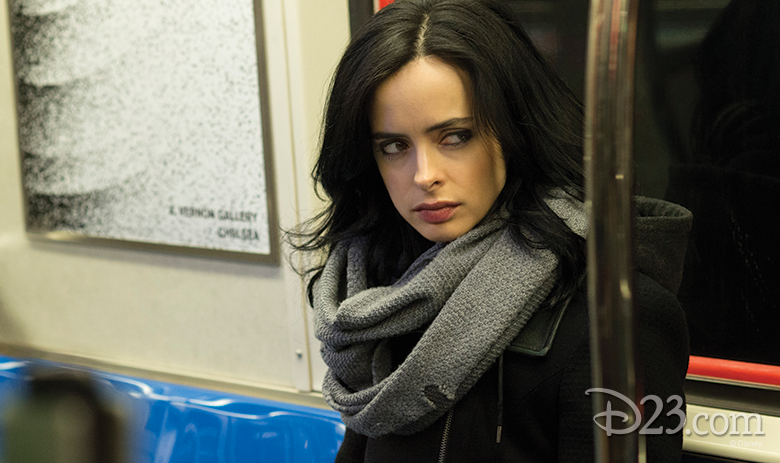 First Look at Marvel's Jessica Jones
By now, we hope you've marked your calendar for the hotly anticipated new Netflix series Marvel's Jessica Jones. (We certainly have!) Fans clamoring for a sneak peek, ahead of the show's November debut, will be thrilled to know that our friends at Marvel.com have the first five images from the series.
See Krysten Ritter (Breaking Bad) in action! Marvel (get it?) at David Tennant's decidedly non-Doctor Who fashion sense! Speculate on just what Carrie-Anne Moss (The Matrix) has to do Jessica's detective career! We'll find out more when all 13 episodes of Season 1 come to Netflix on November 20.