If you've ever woken up to a winter wonderland outside your bedroom window or were awestruck by an ice sculptor's creation, then you'll understand how Walt Disney Animation Studio's Mike Giaimo, art director for Disney's upcoming film Frozen, felt when he headed to Canada and Norway to gather inspirational references for the film.
"I started looking at research and travel books and placed sticky notes on things that interested me . And then when I started looking back at all my notes from the Scandinavian book,
I realized that about 80 percent were all on things and locations from Norway." — Mike Giaimo
Mike put together a list of things that inspired him from his research trips to share with Disney fans. And in doing so, he reveals some of the moods and themes of Frozen's breathtaking landscapes and our newest Disney characters.
Disney Animators "Let it Go" for Frozen ►
Here are the highlights of his notes from his research trip to Canada and the Scandinavian countries in Northern Europe:
Translucent Ice Hotels
"The experience of the ice hotels from our research trips influenced the look of the ice palace created by Elsa (voiced by Idina Menzel from Broadway's Wicked). Quebec, Canada has a famous ice hotel that they build it every year. Various artists design different rooms and create all sorts of ice effects. There are etchings in the ice and ice-block columns, and beds, chairs, and tables made of ice. And its really, really beautiful to see. When you walk into a structure that is made entirely of ice and packed snow, it is truly transporting. There is something elusive and ethereal about it because the icy surface from floor up the walls to the ceiling makes you feel like you are on a cloud or in some kind of Never Land in a way. We were very inspired by that and wanted to bring that into the ice palace. Also, these hotels are very different in the day and night because of the way they light them inside and out. It's very dramatic the way the colors saturate on the icy surfaces."
Rugged Mountain Men
"Our character Kristoff (voiced by Glee's Jonathan Groff) is a mountain man. He's a rugged individualist and a kind of a loner. He's his own man and the guy who feels he doesn't need anyone in his life… Sven can get a long just fine—thank you very much. He is an ice harvester. And in cold regions where we visited there are people just like farmers who harvest ice from frozen lakes. They cut it out and place it on long flatbeds and put it in storage. And that's how our film actually opens—we see the ice harvesters at work and we meet, at that time, a very young Kristoff and Sven. He's about six years old and he's learning the trade from the adult ice harvesters. We see a baby Sven with him, too, who's trying to tow his own block of ice with the big guys. Kristoff is such a loner that he is reluctant when Anna (voiced by Kristen Bell from Forgetting Sarah Marshall) asks him to help her navigate the mountain terrain to find her sister. But he knows the area better than anybody else, so he agrees."
Reindeer (also known as Caribou in Canada)
"Sven the reindeer is a great character in the film; it's hard to take your eyes off of him. He is Kristoff's reindeer and we created him to be like a big, lovable Labrador dog. But he can also get his mojo on when he needs to and be serious. He is just the kind of Disney character that you'll want to take home with you."
Snow… and Snowmen
"Everyone already loves Olaf our snowman in Frozen. He's just a runaway hit. He's the snowman that longs for summer so its very funny."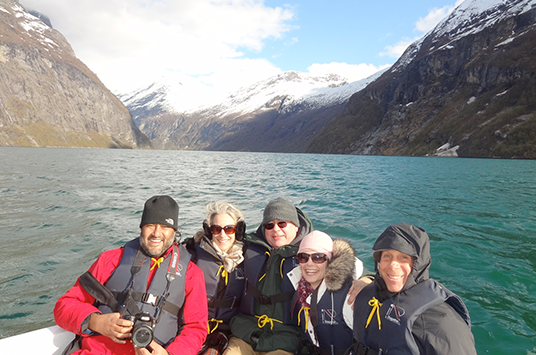 The Entire Country of Norway
"Scandinavia is really picturesque and a lot of the illustrative versions of Hans Christian Anderson's The Snow Queen reflect a Scandinavian influence—some were Russian, but mostly Scandinavian. I started looking at research and travel books and placed sticky notes on things that interested me. You get more specific as you hone in on what visually interests you and where the story is going. So I thought it would be really great to set our kingdom, Arendelle, on a fjord. I thought we could get a lot of mileage out of that visually. And then when I started looking back at all my notes from the Scandinavian book, I realized that about 80 percent were all on things and locations from Norway. So I decided Norway was it. It not only had the fjords I wanted, but it also had some great culture and detailing. I knew this was the place."
Rosemaling
"Norway's decorative art, called rosemaling, is all over this film. It's their rustic folk art and you find it on clothing, boxes, furniture, architecture—its everywhere. You can find it on things great and small."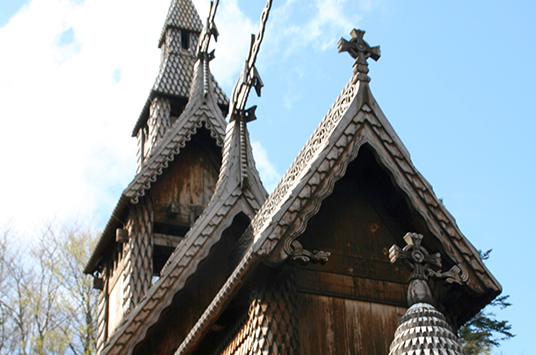 Sami People of Norway
"We were influenced by a Sami couple who ran a reindeer farm. The Sami are similar to our Native Americans in the U.S. They are indigenous; they've lived in Norway for thousands of years. Their cultural roots run really deep. They influenced our creation of Kristoff. His outfit is Sami influenced. We learned about how they raise reindeer. "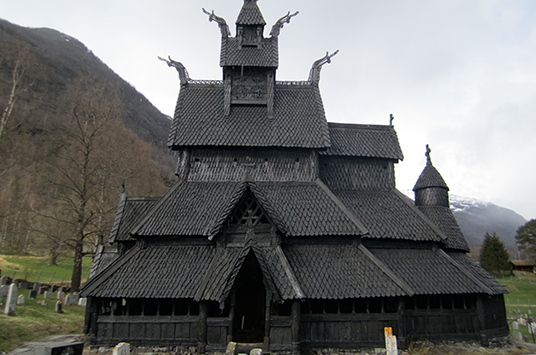 And Last But Certainly Not Least, Castles
"We went into a castle in Oslo where we saw this hand-painted, decorative pattern on the dining room walls, which was so inspirational. Little did we know that those walls we saw in Oslo would influence the whole look of this palace—it's really a stunning look. For the interior of our castle we created this red wallpaper that is in just about every room. When you see the characters against this wall covering it is really stunning."