By Courtney Potter
National Geographic and Disney+ Want You to Meet the Chimps
Let's face it: Chimpanzees are unbelievably adorable—and if you're anything like us, you appreciate any and all opportunities to see them in action (safely and with an eye towards their survival, of course). To that end, color us excited for the latest National Geographic series coming soon to Disney+…
The six-part series Meet the Chimps takes viewers into the secret life of one of the largest and most unique wildlife sanctuaries in the world: Chimp Haven. The 200-acre refuge is tucked deep in the forested heart of Louisiana and is home to more than 300 chimpanzees. Narrated by actress Jane Lynch, Meet the Chimps tracks the ups and downs of an extraordinary group of chimps that are given a second chance at life by a staff whose dedication, compassion, and commitment knows no bounds.
Through a seamless blend of natural history and observational-documentary filmmaking, Meet the Chimps puts the chimps front and center. The series gives us TV-streaming humans exclusive access to everything happening at Chimp Haven, including food squabbles, alliances, romances, "bromances," tears, tantrums, high jinks, and heartbreaks! Honestly, we can't wait! Look for all six episodes to start streaming on Disney+ beginning Friday, October 16.
5 Fantastic Things to Watch This Weekend
Time is ticking, ticking, ticking towards Halloween—so if you haven't started on your homemade costume yet, this is probably the weekend to do so. Need something to watch during all that sewing and hot-gluing? Look no further than our handy-dandy rundown of must-watch goodies, including new episodes of Disney+'s Magic of Disney's Animal Kingdom and Disney Channel's Disney Fam Jam. For more on what the weekend has in store, click here.
Official Trailer for Free Guy is Chock Full o' Hilarious Action
What if you woke up one morning to realize… everything you thought was true about your day-to-day life, well, wasn't? Such is the premise behind 20th Century Studios' Free Guy, set to debut later this year. Check out the film's awfully fun new trailer (if you haven't already), above.
In this ridiculously epic adventure-comedy, a bank teller named Guy (Ryan Reynolds) discovers he's actually a background player in an open-world video game—and so doing, decides to become the hero of his own story—one he rewrites himself. Now in a world where there are no limits, he's determined to be the guy who saves his world his way, before it is too late.
Directed by Shawn Levy (Night at the Museum, Stranger Things), Free Guy also stars Emmy® winner Jodie Comer, Joe Keery, Lil Rel Howery, Utkarsh Ambudkar, and Taika Waititi. Look for it beginning December 11!
But wait, there's more: Wanna hear about the film from Ryan Reynolds directly? (He's a total hoot, so who wouldn't?) See what he told D23.com about his experiences making Free Guy by clicking here.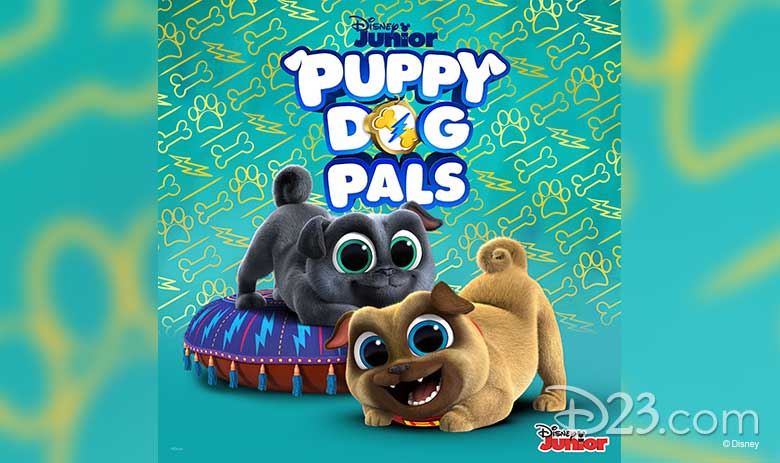 Puppy Dog Pals to Return for Fifth Season—Plus Season 4 Debut News!
Great news for fans of Puppy Dog Pals: Disney Junior has just ordered a fifth season of the super-cute animated series! Plus, we now know when season 4 of the series will kick off—Friday, October 23, at 9 a.m. PT on Disney Channel and DisneyNOW.
The hit series centers on fun-loving pug puppy brothers Bingo (voice of Elisha "EJ" Williams) and Rolly (voice of Gracen Newton), whose thrill-seeking appetites take them on exhilarating adventures in their neighborhood and around the globe. Whether helping their owner Bob (voice of series creator/consulting producer Harland Williams), exploring with their adorable pals, or overseeing their own Puppy Playcare center, the pugs' motto is that life is more exciting with your best friend by your side!
Mark those calendars, y'all.
ICYMI: High School Musical: The Musical: The Holiday Special Coming Soon
We've been waiting with bated breath to find out when we'd next see our faves from East High back on Disney+… and just this week, we got great news: The streaming service is set to debut High School Musical: The Musical: The Holiday Special, on Friday, December 11! Read up on how you'll be able to deck the halls (proverbially speaking, natch) with series regulars Olivia Rodrigo, Joshua Bassett, Matt Cornett, and more in the all-new 45-minute special event by clicking right here.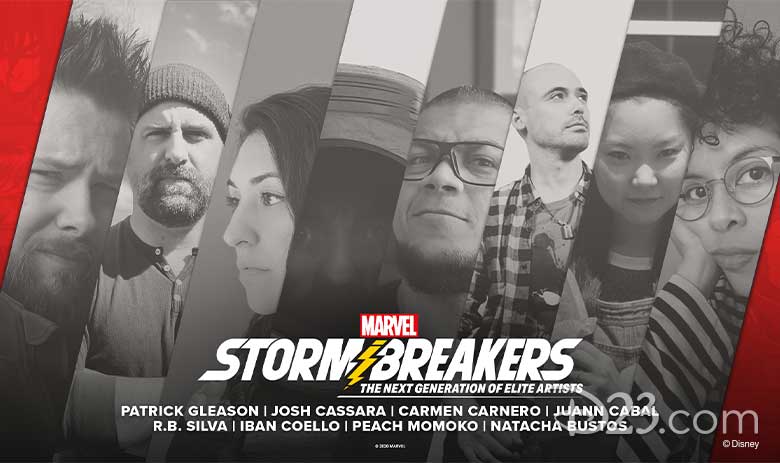 Marvel Comics Announces Marvel's Stormbreakers Artist Program
Earlier this week, Marvel Comics announced the debut of Marvel's Stormbreakers, its latest talent distinction program designed to spotlight the next generation of elite artists in the industry. The inaugural class includes Josh Cassara (X-Force), Pat Gleason (Amazing Spider-Man), Peach Momoko (known for her best-selling covers), Natacha Bustos (Moon Girl and Devil Dinosaur), Iban Coello (Venom), Carmen Carnero (Hellions), Juann Cabal (Guardians of the Galaxy), and R.B. Silva (Fantastic Four, Powers of X). The 2020 Class of Marvel's Stormbreakers, revealed by Marvel's editor-in-chief C.B. Cebulski and executive vice president and creative director Joe Quesada, is the next evolution of Marvel's Young Guns program—and features talent from around the world who pushing artistic limits in every single story they tell. Not surprisingly, as a group, they're already responsible for leading some of Marvel's most popular titles and shepherding Marvel's incredible tapestry of storytelling.
Over the next two years, fans can expect to see these eight artists more and more often within the world of Marvel Comics, as they share their creative visions within the pages of Marvel's biggest titles and storylines. Congrats to all involved!