ABC's Holiday Lineup Makes Staying Home for the Holidays More Festive
So many big announcements were made this week. Toy Story 4—it's happening! So is Strange Magic! Star Wars: Episode VII—it has a name! Alas, we're going to have to wait until 2017 to see the next chapter of Woody, Buzz, and the gang's adventures and it's almost a year until the Force—officially—awakens. (Read more about this news below!) But in the meantime, there's a new issue of Disney twenty-three coming to your mailbox in just a few weeks and ABC announced their Thanksgiving, Christmas, and New Year's special programming for the holiday season. Here are just a few of the highlights that we'll be staying in to watch:
One of our newer favorite holiday traditions, Disney Prep & Landing airs Friday, November 28, at 8 p.m. Wayne and Lanny, the beloved elves from the Walt Disney Animation Studios' special, are also front and center in the sequel, Prep & Landing 2: Naughty vs. Nice, which airs immediately following, at 8:30.
To tide us over until Toy Story 4, Pixar Animation Studios is premiering a second new TV special, Toy Story That Time Forgot, Tuesday, December 2 at 8 p.m. You can learn more about this special and the new toys in town in the Winter 2014 issue of Disney twenty-three.
Looking for decorating inspiration—times ten? The Great Christmas Light Fight returns to ABC for its second season on Monday, December 8, at 8 p.m. There are six one-hour episodes, culminating with the season finale Monday, December 22.
On Tuesday, December 16, at 9 p.m., America's Funniest Home Videos Christmas Spectacular will be celebrating the holidays from the Happiest Place on Earth, Disneyland Resort.
After our presents are opened, we're going to spend Christmas morning (December 25) watching the Disney Parks Frozen Christmas Celebration (10 a.m.–12 p.m.), now in its 31st year. Besides all of our favorite Disney characters, we'll be tuning in for Santa Claus, the top musical guests, and some extra-special Frozen fun.
And, of course, Disney fans will welcome in 2015 with Dick Clark's Primetime New Year's Rockin' Eve with Ryan Seacrest on December 31. There'll be more than 38 performances and five-and-a-half hours of music—including Taylor Swift!
Be sure to check your local listings—and D23.com—for more holiday highlights that you won't want to miss.
---

Save the Date!
Be sure to mark these upcoming Disney events on your calendar:
D23 and Walt Disney Archives




November 11


The Hunchback of Notre Dame VIP Experience


November 15


An Afternoon Under the Sea: Celebrating 25 Years of The Little Mermaid


November 22-23


Destination D: Attraction Rewind at Disney's Contemporary Resort in Walt Disney World


Fall 2014-2015


D23 Member Nights at Newsies—On Tour


Through January 4, 2015


Treasures of the Walt Disney Archives, presented by D23: The Official Disney Fan Club at the Museum of Science and Industry, Chicago


August 14-16, 2015


D23 Expo 2015 returns to Anaheim, California
Television


December 1–25




ABC Family's "25 Days of Christmas"




December 2


Toy Story That Time Forgot premieres on ABC at 8 p.m. ET


January 6


Marvel'sAgent Carter premieres on ABC at 9 p.m. ET
Parks


November 7, 10, 13, 14, 16, 20, 21, and 30; and December 2, 4, 5, 7, 9, 11, 12, 14, 16, 18, and 19


Mickey's Very Merry Christmas Parties at Magic Kingdom Park


Studios




December 25


Into the Woods opens in theaters.


February 20, 2015


MacFarland, USA opens in theaters.


March 13, 2015


Cinderella opens in theaters.


May 22, 2015


Tomorrowland opens in theaters.


June 19, 2015


Inside Out opens in theaters (along with the short Lava).
---

Announcing Strange Magic from Lucasfilm, Ltd.
It looks like 2015 is going to be a great year for animation fans right out of the gate! It was just announced that Strange Magic, a new animated film from Lucasfilm Ltd., will be released by Touchstone Pictures on January 23, 2015. The film is described as "a madcap fairy tale musical inspired by A Midsummer Night's Dream. Popular songs from the past six decades help tell the tale of a colorful cast of goblins, elves, fairies, and imps, and their hilarious misadventures sparked by the battle over a powerful potion." The story is by George Lucas (A "little" saga called Star Wars. We'll leave it at that.), the screenplay is by David Berenbaum (Elf), Irene Mecchi (Brave, The Lion King), and Gary Rydstrom, and the film is directed by Rydstrom (Toy Story Toons: Hawaiian Vacation, Lifted). The talented voice cast includes Alan Cumming, Evan Rachel Wood, Kristin Chenoweth, and Maya Rudolph, to name just a few. That will make for a happy new year, indeed!
---

The Toys Are Back!
There's nothing like a favorite toy—or a whole group of them. We couldn't be more excited about last week's announcement that Toy Story 4 will be coming to theaters June 16, 2017. Visit D23.com to read the whole story.
---

The Force Awakens
We learned two things this week about Star Wars: Episode VII. Principal photography has been completed. And the film's official title is The Force Awakens. The film opens in theaters December 18, 2015—which means that we have just a little more than a year to ponder that name and try to figure out how the characters and story we know and love might play into the characters and story we're dying to learn more about!
---
We Can't Wait To Go Into the Woods
Into the Woods has been a must-see for us since long before we began working on the cover story for Disney twenty-three's Winter 2014 issue. More information ►
But the latest trailer for the film, from Walt Disney Studios, features Meryl Streep singing, Stephen Sondheim's breathtaking score, and the amazing cast—which includes Anna Kendrick, Chris Pine, Emily Blunt, James Corden, and Johnny Depp as The Wolf—who are also spotlighted in a series of character posters Disney unveiled last week. Into the Woods opens on December 25, Christmas Day, and is a present we're so eager to unwrap.
---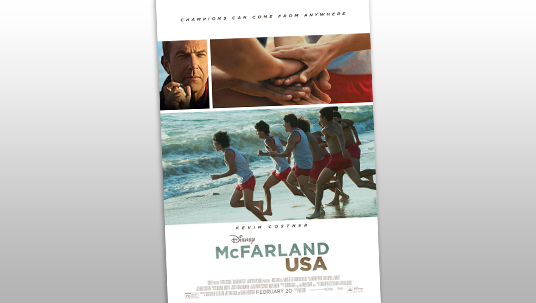 See a Poster for McFarland, USA
Continuing its tradition of sports-themed movies that both entertain and inspire, Walt Disney Studios has released a poster for McFarland, USA, starring Kevin Costner as Coach Jim White, a newcomer to the economically challenged California town's predominantly Latino high school. He and his novice runner students ultimately bond to build not only a championship cross-country team, but an enduring legacy as well. The film, based on the 1987 true story, opens February 20, 2015.
---
Premiere Date Set for Marvel's Agent Carter—Plus, Watch a Sneak Peek of the Show
We finally have a date that we can mark on our calendars for the debut of the new series Marvel's Agent Carter. The show will premiere on ABC Tuesday, January 6, at 9 p.m. ET, and when its eight-episode run concludes, Marvel's Agents of S.H.I.E.L.D. will return to the time slot, beginning Tuesday, March 3, for the second half of its sophomore season. And if, like us, you're having a hard time waiting for January, enjoy the above clip, which gives you a first look at the original Jarvis and the return of Tony's dad, Howard Stark.
---

See Hiro and Baymax on the Big Screen and See Them at Disney Parks
Big Hero 6 is now playing at a theater near you, and its loveable heroes are now greeting guests at a Disney Park near you, as well. Meet Baymax and Hiro inside The Magic of Disney Animation attraction at Walt Disney World's Hollywood Studios, and if you're headed to Disneyland, be sure to catch the duo in Tomorrowland, near the Starcade and Magic Eye Theater.
---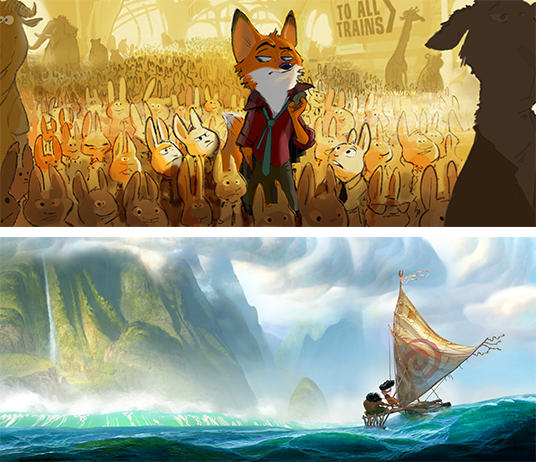 Save the Dates for Zootopia and Moana
Disney fans have a lot of important dates to save, and now there are two more: Walt Disney Animation Studios has announced release dates for two upcoming films. Zootopia is slated to hit theaters March 4, 2016, and the recently announced Moana is scheduled to open later that year, on November 23, 2016. And of course, D23.com will try to help the time go by more quickly with coming attractions and updates as they're announced.
---

Disney Animators' Collection Unveils New Sets and Updated Doll Designs
The award-winning Animators' Collection from Disney Store brings together your favorite characters from your favorite Walt Disney Animation Studios' films, created under the guidance of some of Disney's most renowned animators, like Glen Keane (lead animator for Aladdin and Beast from Beauty and the Beast), Mark Henn (who animated Tiana in The Princess and the Frog), and Bill Schwab (character design supervisor for Frozen). The dolls are perfect for collecting or playing—or both! Each princess now comes with a plush friend—and you can purchase a Rapunzel Doll Gift Set with both Pascal and Maximus. Visit DisneyStore.com to check out the entire collection.
---
Watch Walt Disney World's Main Street, U.S.A. Get Merrier
If you're like us, you love the magical transformation Main Street, U.S.A. undergoes every holiday season. And if you're like us, you've always wanted to see what's involved in the process—which seems to take place overnight. And thanks to the Disney Parks Blog, we now know that it does take place overnight—in the wee hours of the morning. Enjoy the video above, which provides a behind-the-scenes look at how Walt Disney World's Holiday Services department works through the night to install holiday décor that's in the spirit and accommodates the sizeable floats from Disney Festival of Fantasy Parade, which makes its way down Main Street, U.S.A. daily.
---

Reserved and Stand-by Viewing coming to Fantasmic! at Disneyland Park
The Fantasmic! viewing experience is about to get more… fantastic. Beginning December 12, guests at Disneyland Park will need a Fantasmic! FASTPASS to access the show's reserved viewing space—much in the way they do for World of Color at Disney California Adventure. FASTPASS distribution will be available along Big Thunder Trail in Frontierland, on a first-come, first-served basis until one hour prior to show time or while supplies last. The passes will indicate show time, suggested return time, and assigned viewing session. Limited stand-by viewing will still be available in a non-ticketed area. And making the experience even more convenient, guests may also opt to take advantage of several Fantasmic! dining experiences that include a FASTPASS. Check the Disney Parks Blog to see all of your delicious dining options.