Sanderson Sisters Put a Spell on Magic Kingdom Park This Halloween
Mickey's Not-So-Scary Halloween Party is returning to Magic Kingdom Park at Walt Disney World on select nights from September 15 until November 1—and this year, the exclusive event will be "witchier" than ever before! That's because the infamous Sanderson Sisters, stars of the Disney cult favorite Hocus Pocus, will take part in an all-new show on the Castle Forecourt Stage. In "Hocus Pocus Villain Spelltacular," the mischievous sisters return to the mortal world for one night during the Halloween season. With only a few hours to "run amuck," the trio decides to use their magic to throw the best, most evil Halloween party this side of the graveyard! With help from all manner of Disney villains, Winifred, Mary, and Sarah gather together sinister shadows, nefarious nightmares, and the power of their frightful friends to conjure the ultimate "Hocus Pocus Party Potion" and cast a spell on everyone in the Magic Kingdom Park.
Mickey's Not-So-Scary Halloween Party is a separately ticketed event, and it's appropriate for all ages. See ya there, ghouls and goblins!
---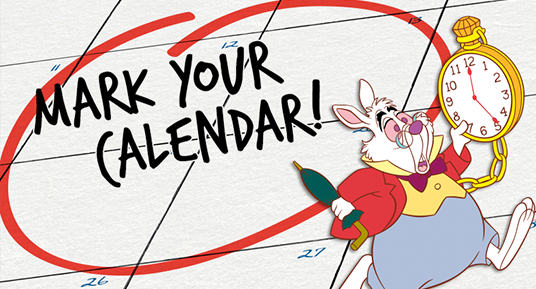 Save the Date!
Be sure to mark these upcoming Disney events on your calendar:
D23 and Walt Disney Archives


June 6


Mickey's of Glendale Orlando Shopping Event


June 6


Let's Get Together with The Parent Trap in Florida


June 20


D23 Day at The Walt Disney Studios and Archives


August 14-16


D23 Expo 2015 returns to Anaheim, California


Fall 2015


D23 Member VIP Nights at The Lion King


Studios




June 19


Inside Out opens in theaters (along with the short Lava).


July 17


Ant Man opens in theaters.


November 25


The Good Dinosaur opens in theaters.


December 18


Star Wars: The Force Awakens opens in theaters.
Parks


May 15–June 14


Star Wars Weekends Returns to Disney's Hollywood Studios.


September 15, 18, 20, 22, 25, 27; October 1, 2, 4, 6, 8, 9, 12, 13, 15, 16, 18, 20, 22, 23, 25, 27, 29, 31; and November 1

Mickey's Not-So-Scary Halloween Party at Magic Kingdom Park


November 8, 10, 12, 13, 15, 17, 19, 20, 29; and December 1, 3, 4, 6, 8, 10, 11, 13, 15, 17, 18


Mickey's Very Merry Christmas Party at Magic Kingdom Park


Television




June 9


73-hour-long Phineas and Ferb marathon kicks off at 8 p.m. ET/PT on Disney XD


June 12


Phineas and Ferb, "Last Day of Summer" premieres at 9 p.m. ET/PT on Disney XD
The Good Dinosaur Teaser Trailer Asks… What If?
Sure, we all know that a gigantic meteor smacked into Earth a couple billion years ago, sending dinosaurs large and small into extinction. But what if that meteor missed the planet entirely? It's a totally intriguing question, and it's the idea behind the upcoming Disney•Pixar film The Good Dinosaur, set to roar into theaters on Thanksgiving. This brand-new teaser trailer introduces us (albeit briefly) to Arlo, a cute green Apatosaurus who makes an unlikely human friend before setting out on a series of life-changing adventures. Color us intrigued!
---
Calling Tech-Savvy Girls: Win a Trip to the Ant-Man Red Carpet Premiere!
Are you a young lady between the ages of 14 and 18? And are you passionate about science and technology? Then Disney and Marvel Studios have an awesomely cool contest for you! The "Marvel's Ant-Man Micro-Tech Challenge" invites girls to design and build a DIY project using at least one readily available micro-technology component. The projects can be practical, artistic, or just plain fun! Applicants are then asked to send in a short video demonstrating the project and explaining how it'll inspire other girls to pursue their interest in STEM (science, technology, engineering, and math) education. Five winners will be flown to Hollywood for the star-studded red-carpet premiere of Ant-Man—plus, they'll get to attend an amazing "Evolution of Technology" workshop at the Disneyland Resort, and get a special tour of The Walt Disney Studios in Burbank!
Entries are being accepted NOW through June 11, 2015. For more info, check out www.Ant-ManChallenge.com.
---
"Disneyland Day" Declared at California's State Capitol
Just one week after the launch of Disneyland Resort's 60th anniversary Diamond Celebration, Mickey Mouse himself arrived in Sacramento to help the California State Senate and Assembly proclaim Monday, June 1, 2015, as "Disneyland Day"! To mark the joyous occasion, the "Happiest Balloon on Earth" floated gracefully above the State Capitol lawn.
Disneyland Resort's visit to Sacramento went beyond the Capitol and into the community with a visit to UC Davis Medical Center—where Mickey and Disney Ambassador Allie Kawamoto spent time with some young patients. But the adventures didn't end there; more than 500 volunteers from Disney, KaBOOM!, and the city of West Sacramento spent the day building Disney's largest KaBOOM! playground ever. And following the build, Disneyland Resort made surprise donations totaling $10,000 to the area's Club West Teen Center and Yolo County Children's Alliance. Kudos to all involved!
---
Join the (Book) Force with Star Wars Reads Day in October
There's nothing quite like a book to take you to a galaxy far, far away. On October 10, 2015, bookstores, libraries, and retailers all over the globe will honor the written word with the fourth annual installment of Star Wars Reads Day—a celebration filled with signings, parties, and so much more! This year's event is expected to break all kinds of records, as fans gear up for the release of Star Wars: The Force Awakens in December. Participants are set to include publishers like Disney-Lucasfilm Press, Marvel, Chronicle, Scholastic, Studio Fun, Phoenix International Publishing, and many others. Keep a sharp droid-like eye on StarWars.com for more info on Star Wars Reads Day as it becomes available.
---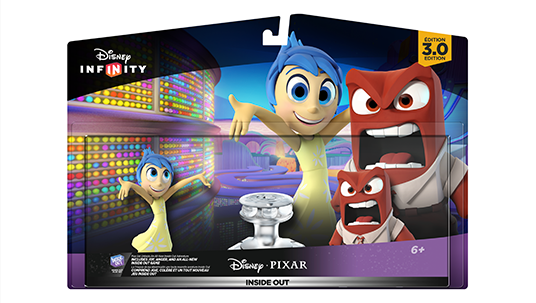 Emotion-Filled Fun with New Disney Infinity 3.0 Edition Play Set
Joy, Fear, Anger, Disgust, Sadness—we all feel them from time to time. But what if you could play with them instead? Luckily, Disney•Pixar's Inside Out Play Set, a whimsical puzzle-solving action game available this fall for Disney Infinity 3.0 Edition, gives you the chance!
Based on Disney•Pixar's anticipated film Inside Out (coming to theaters June 19), the Play Set takes place in Riley's mind after she inadvertently catches a glimpse of a scary movie as she is falling asleep. Her adventurous Emotions rally together to calm the turmoil that has overtaken Imagination Land as a result. The single-player or two-player co-op game (with three unique game modes) asks players to help Riley's Emotions journey through Imagination Land and return them to the "Long Term" before Riley awakens. Look for the Play Set in stores soon!
---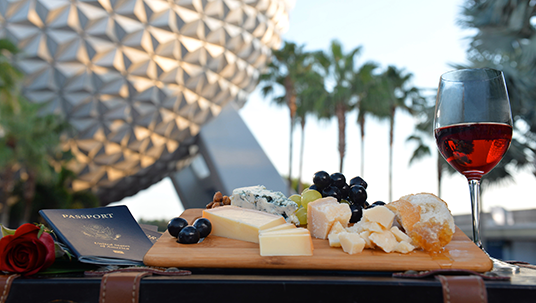 "Eat to the Beat" at Epcot International Food & Wine Festival
Delicious food, delectable wine, delightful tunes . . . all available amongst amazing rides, shows, and attractions. The 20th annual Epcot International Food & Wine Festival is only a few months away (kicking off September 25); it's a veritable bacchanal of exclusive eats and treats from around the world, and it's one of Walt Disney World's most popular events each year. A festival highlight is the "Eat to the Beat" Concert Series, where the hottest acts from all kinds of musical genres take the stage every weekend. This year, the festival is stoked to feature new acts like '80s divas Tiffany and Chaka Khan, as well as '90s rockers Everclear. They'll be joining returning performers like Rick Springfield, Sugar Ray, Christopher Cross, Jo Dee Messina, and Big Bad Voodoo Daddy. Prepare your palates and get those dancin' shoes ready, y'all!
---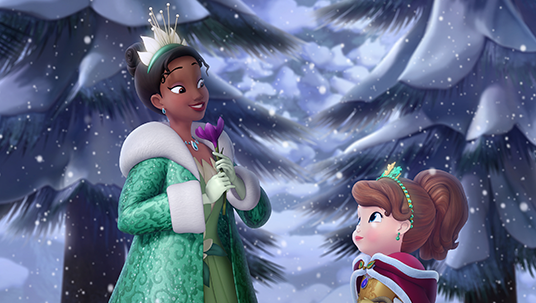 Soar Into Summer with New Episodes of Disney Junior Favorites
Great news for little ones, and their sure-to-be-grateful parents: New episodes of several Disney Junior favorites will premiere every weekday for seven consecutive weeks starting on Monday, June 29! It's all part of Disney Channel and Disney Junior's "Soaring Over Summer" event—and it'll feature the Season Three premieres of Sofia the First and the Peabody Award-winning series Doc McStuffins, as well as new episodes of Miles from Tomorrowland and Henry Hugglemonster. And that's not all: Jake and the Never Land Pirates joins the fun with the premiere of a special 44-minute episode called "The Great Never Sea Contest," which kicks off big Season Four shenanigans for Jake and the crew. Keep an eye (and ear) out for huge guest stars including Broadway's Audra McDonald, legendary actor Malcolm McDowell, and Doctor Who alum David Tennant.
---
Another Look Inside Out
The countdown is on 'til Disney•Pixar's latest, Inside Out, hits theaters. This new clip, featuring a look into Riley's memories, makes us even more excited (one of our favorite Emotions, by the by) for the movie's release in just a few weeks!
The film, directed by Oscar© winner Pete Docter (Up), follows Riley as she's uprooted from her Midwestern life when her father starts a new job in San Francisco. Guided by her Emotions—Joy (Amy Poehler), Fear (Bill Hader), Anger (Lewis Black), Disgust (Mindy Kaling), and Sadness (Phyllis Smith)—Riley struggles to adjust to her new city, new house, and new school.