Ride Into the World of Frozen at Epcot in 2016
Wanna spend some quality time in the kingdom of Arendelle with Elsa, Anna, Kristof, and Olaf the snowman?
Epcot's new attraction, Frozen Ever After, will be an adventure fit for the entire family, where guests will feel like they've stepped right into the magical world of the film! Replacing the Norway Pavilion's Maelstrom, Frozen Ever After will transport riders to the "Winter in Summer Celebration," where Queen Elsa embraces her magical powers and creates a wintery summer's day for the entire kingdom. Guests will also visit Elsa's Ice Palace, as well the icy North Mountain, and they'll meet all their favorite characters along the way.
The Pavilion's exterior will be also expanded with many unique Norwegian architectural features, and the interior design of the "Royal Sommerhus" will reflect the cultural arts and crafts of Norway—providing a unique new setting for guests to meet and greet Elsa and Anna, live and in person! What more could a Frozen fan want?!
Look for Frozen Ever After to debut at Epcot in 2016.
---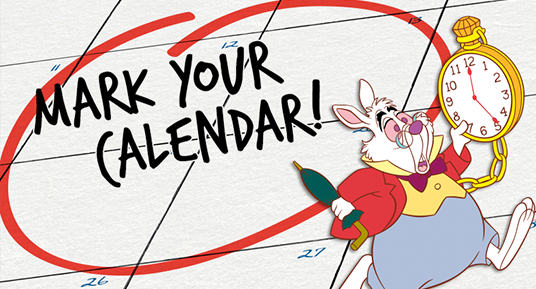 Save the Date!
Be sure to mark these upcoming Disney events on your calendar:
D23 and Walt Disney Archives


June 20


D23 Day at The Walt Disney Studios and Archives


July 18


D23 Celebrates Disneyland, U.S.A.


August 14-16


D23 Expo 2015 returns to Anaheim, California


Fall 2015


D23 Member VIP Nights at The Lion King


Studios




June 19


Inside Out opens in theaters (along with the short Lava).


July 17


The Good Dinosaur opens in theaters.


November 25


Ant Man opens in theaters.


December 18


Star Wars: The Force Awakens opens in theaters.
Parks


May 15–June 14


Star Wars Weekends Returns to Disney's Hollywood Studios.


September 15, 18, 20, 22, 25, 27; October 1, 2, 4, 6, 8, 9, 12, 13, 15, 16, 18, 20, 22, 23, 25, 27, 29, 31; and November 1

Mickey's Not-So-Scary Halloween Party at Magic Kingdom Park


November 8, 10, 12, 13, 15, 17, 19, 20, 29; and December 1, 3, 4, 6, 8, 10, 11, 13, 15, 17, 18


Mickey's Very Merry Christmas Party at Magic Kingdom Park


Television




June 9


73-hour-long Phineas and Ferb marathon kicks off at 8 p.m. ET/PT on Disney XD


June 12


Phineas and Ferb, "Last Day of Summer" premieres at 9 p.m. ET/PT on Disney XD
New Ant-Man Trailer: Heroes Don't Get Any Bigger!
We've marked our calendars and are anxiously awaiting the newest member of the Marvel family, Ant-Man's arrival on the big screen! July 17 seems so far away, right? Thankfully, Marvel is whetting our collective appetite once more with a brand-new trailer…
Ant-Man stars Paul Rudd (This is 40, Anchorman) as Scott Lang—a master thief who's forced to embrace his inner hero and help his mentor, Dr. Hank Pym (Michael Douglas), protect the secret behind his spectacular Ant-Man suit from a new generation of world-changing threats.
---
Climb Disneyland's Reimagined Matterhorn with this Behind-the-Scenes Look
Brrr! Feel that chill in the air? It's coming off of the updated (and very awesome) Matterhorn Bobsleds at Disneyland Park—an attraction that reopened just in time for the kick-off of Disneyland's Diamond Celebration. Check out this video from Walt Disney Imagineering for a look at how the scary, hairy new Abominable Snowman was created… and find out how the designers tipped their hard hats to the attraction's past.
---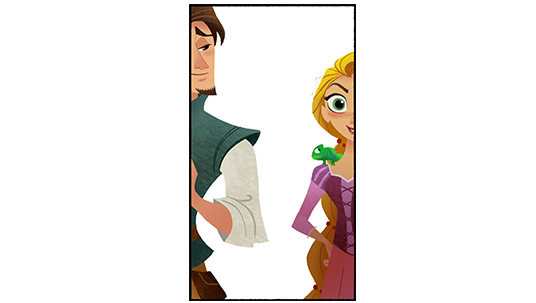 See the Light with Tangled Animated Series
Rapunzel and Flynn and Maximus, oh my! Disney Channel recently revealed plans for a Tangled animated series to debut in 2017… and D23 has the whole thing covered! We're particularly excited that the film's stars, Mandy Moore and Zachary Levi, will be back—as well as composers Alan Menken and Glenn Slater.
The new series takes place between the events of the Walt Disney Animation Studios feature film and the beginning of the 2012 short, Tangled Ever After, as Rapunzel acquaints herself with her parents, her kingdom, and the people of Corona.
---
Join Riley for a Slice of Pizza in New Inside Out Clip
Oh man—the anticipation is building like whoa for Inside Out's theatrical premiere on June 19. We seriously cannot wait to meet Riley and all her emotions: Joy, Anger, Disgust, Fear, and Sadness… especially after seeing everyone in action in this brand-new clip. Seems that Riley's dad is called away from family fun to go into work, so it's up to Joy to remedy the situation. Will a slice of pizza do the trick?
---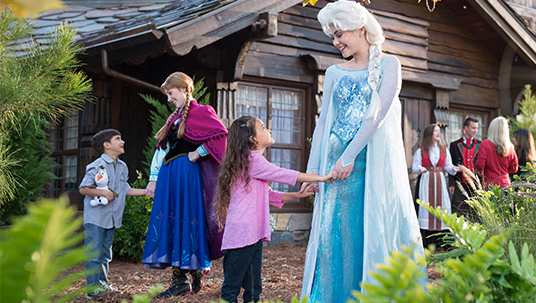 Disney Cruise Lines Set Sail Through the Land of Frozen
The first-ever Disney Cruise through the beautiful Norwegian fjords just set sail from Copenhagen; it's a magical journey through the land that inspired Frozen—and of course Arendelle's most famous siblings, Anna and Elsa, will be on hand for all the fun! Several more Norwegian jaunts are planned for the Disney Magic through June and into next year.
If you're more of a land-lubber, fret not: You can fjord along with the Disney Magic as the ship's cruise director, Brent Davies, offers up some fantastic, up-to-the-minute first-person accounts at the Disney Parks Blog.
---
Cross the Bridge of Spies with Tom Hanks and Steven Spielberg
"In the shadow of war, one man showed the world what we stand for." Bridge of Spies, the latest film from famed director Steven Spielberg, stars Oscar® winner Tom Hanks as James Donovan—a real-life Brooklyn lawyer thrust onto the international stage when he's asked to negotiate the release of a captured American pilot during the height of the Cold War. This DreamWorks drama is being released by Disney's Touchstone Pictures, and also stars Mark Rylance, Amy Ryan, and Alan Alda.
Check out the chilling new trailer for Bridge of Spies, above… and mark your calendars for its October release.
---
Relive Your Favorite Disney Animation Short Films… on Blu-ray!
Walt Disney Animation Studios has been making hilarious, heart-warming, and award-winning animated shorts for years; we seriously still laugh out loud imagining Goofy's antics in How to Hook Up Your Home Theater. For the first time ever, WDAS is releasing an amazing new collection of beloved short films (including the never-before-released Frozen Fever, and the Oscar®-nominated Lorenzo) on Blu-ray, DVD, and Digital HD this August—and we seriously couldn't be more excited!
The Short Films Collection also includes the 2012 groundbreaking Mickey Mouse cartoon, Get A Horse!, as well as Oscar winners Paperman and Feast. The collection also features all-new extras, including introductions and interviews with the Disney Animation filmmakers themselves. Get a sneak peek at the fun with this new trailer!
---

Get Small with Ant-Man Sneak Peek at Disney California Adventure
Great news, Marvel fans! This summer, the Bug's Life Theater at Disney California Adventure will host a special sneak peek of the new action-adventure Ant-Man, starring Paul Rudd, Evangeline Lilly, and Michael Douglas! For a limited time starting June 19, this special preview will give audiences an advance look at scenes from the film, presented in 3-D (cool!) with special in-theater effects that can only be experienced at Disney Parks. And don't miss the opportunity to check out an Ant-Man suit from the actual film, also on display at Bug's Life Theater.
---

Experience the Star Wars Saga Like Never Before!
If you're anything like us, you're shivering with anticipation over the release of Star Wars: The Force Awakens this December. Disney-Lucasfilm Press knows we need something to keep us occupied 'til then, so they've decided to revise the saga for a whole new generation… of readers! In a new book series, fans can experience the original trilogy in an entirely different way, with Star Wars: A New Hope—The Princess, The Scoundrel, and The Farm Boy by Alexandra Bracken; Star Wars: The Empire Strikes Back—So You Want to Be a Jedi by Adam Gidwitz; and Star Wars: Return of the Jedi—Beware the Power of the Dark Side! by Tom Angleberger.
These are more than just retellings of the three original Star Wars movies—they're true to the films while also offering a fresh take and a chance to get inside the characters' heads. Look for the Star Wars book trilogy on shelves September 22.