By Courtney Potter
Avatar: The Way of Water: Coming to Theaters This December
Debuting exclusively in theaters ahead of Marvel Studios' Doctor Strange in the Multiverse of Madness—and now linked below, for a first or 31st viewing—is the brand-new teaser trailer for 20th Century Studios' Avatar: The Way of Water. James Cameron's first follow-up to Avatar, the highest-grossing film of all time, will open in theaters on Friday, December 16, 2022.
Set more than a decade after the events of the first film, Avatar: The Way of Water begins to tell the story of the Sully family (Jake, Neytiri, and their children)—the trouble that follows them; the lengths they go to keep each other safe; the battles they fight to stay alive; and the tragedies they endure. Directed and produced by Cameron, and produced by Jon Landau, the film stars Zoe Saldana (Neytiri), Sam Worthington (Jake Sully), Sigourney Weaver (Dr. Grace Augustine), Stephen Lang (Colonel Miles Quaritch), Cliff Curtis (Tonowari), Joel David Moore (Norm Spellman), CCH Pounder (Mo'at), Edie Falco (General Ardmore), Jemaine Clement (Dr. Ian Garvin), and Kate Winslet (Ronal).
Need a refresher in all things Pandora before the new film flies into theaters? You're in luck: The studio will re-release Avatar on U.S. screens on Friday, September 23. Mark those calendars!
5 Fantastic Things to Watch This Weekend Presented by State Farm®
Submitted for your viewing pleasure: It's the end of an era, as Disney Channel's Amphibia airs its series finale. Plus, look for the network premiere of Underwater starring Kristen Stewart; the return of The Wonderful World of Disney to ABC; the premiere of Hulu's Conversations with Friends (for mature audiences only, so keep the kidlets away); and much more.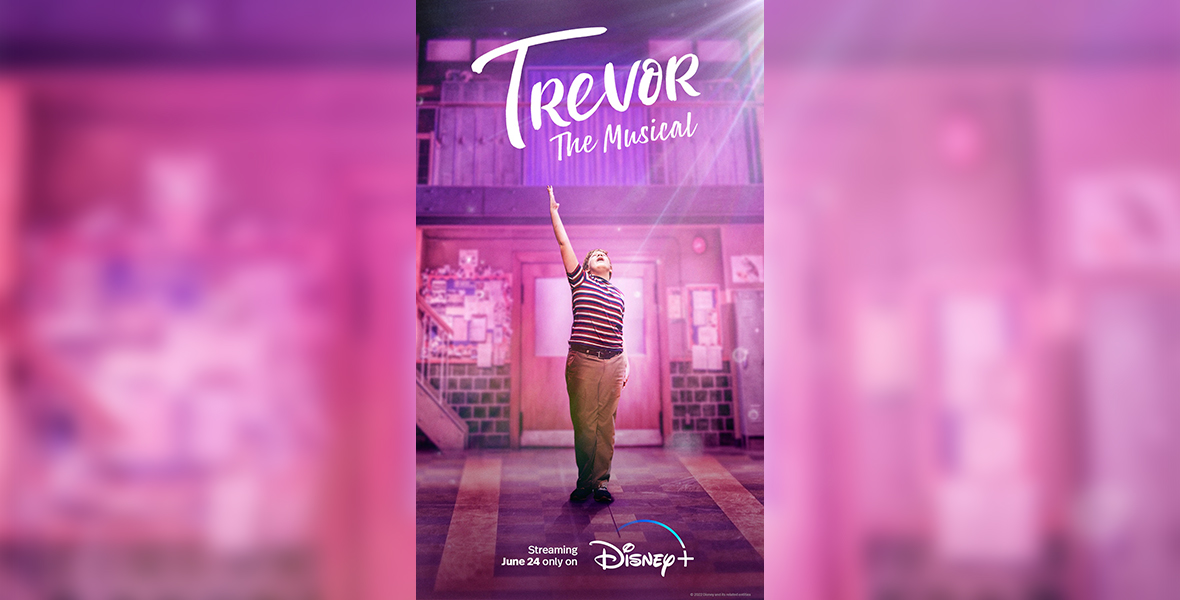 Off-Broadway Hit Trevor: The Musical Coming to Disney+ June 24 
Earlier this week, Disney+ announced the sure-to-be-memorable filmed version of the Off-Broadway stage production Trevor: The Musical will debut on Friday, June 24, exclusively on the streaming service.
Trevor: The Musical follows a charming 13-year-old on a turbulent journey of self-discovery. After an embarrassing incident at school, Trevor must summon the courage to forge his own path. The musical is based on the 1995 Academy Award®–winning short film Trevor, which ultimately inspired the nonprofit organization The Trevor Project—the world's largest suicide prevention and mental health organization for LGBTQ (lesbian, gay, bisexual, transgender, queer, and questioning) young people.
Thirteen-year-old Holden William Hagelberger from Sugarland, Texas, was cast in the role of Trevor in Trevor: The Musical following a national virtual casting call with over 1,300 submissions. The 19-member company of Trevor: The Musical also features Mark Aguirre, Aaron Alcaraz, Ava Briglia, Sammy Dell, Tyler Joseph Gay, Ellie Kim, Colin Konstanty, Brigg Liberman, Diego Lucano, Alyssa Emily Marvin, Isabel Medina, Echo Deva Picone, Dan Rosales, Aryan Simhadri, Yasmeen Sulieman, Sally Wilfert, Aeriel Williams, and Jarrod Zimmerman.
Directed for the stage by Marc Bruni and for film by Robin Mishkin Abrams, with choreography by Josh Prince, Trevor: The Musical features book and lyrics by Dan Collins and music by Julianne Wick Davis.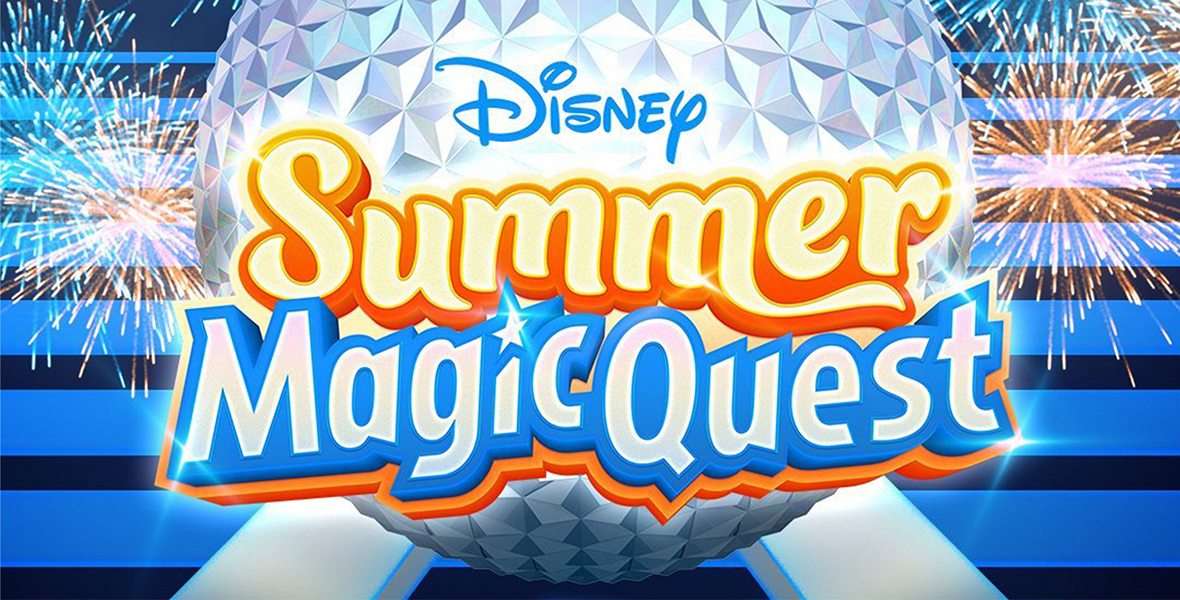 Disney's Summer Magic Quest Special Premieres June 26
It's back! Disney's Summer Magic Quest, the third installment of Disney's uber-popular Magic Quest specials, is set to debut on Sunday, June 26, at 7:00 p.m. EDT/PDT on Disney Channel (and streaming on Disney+ later this summer). The special follows ZOMBIES 3 stars Meg Donnelly, Pearce Joza, Kylee Russell, and Matt Cornett as they compete in a playful "battle royal" featuring all-new, all-monumental challenges. This time 'round, the quest will take place after dark inside EPCOT at Walt Disney World Resort—as part of The World's Most Magical Celebration, honoring the 50th anniversary of the resort.
Beloved actress and comedian, and friend of D23, Yvette Nicole Brown (Disney+'s Big Shot)—who also hosted last December's Disney's Holiday Magic Quest—will return to host as the stars battle it out in a series of exciting new challenges and obstacles through a variety of iconic and immersive EPCOT attractions.
Expect to see surprise moments and special guests as the two teams run against the countdown clock to complete their quest before sunrise! A donation to the Special Olympics in support of their mission to empower athletes with different abilities will be made in honor of the winning team. Ready, set… go!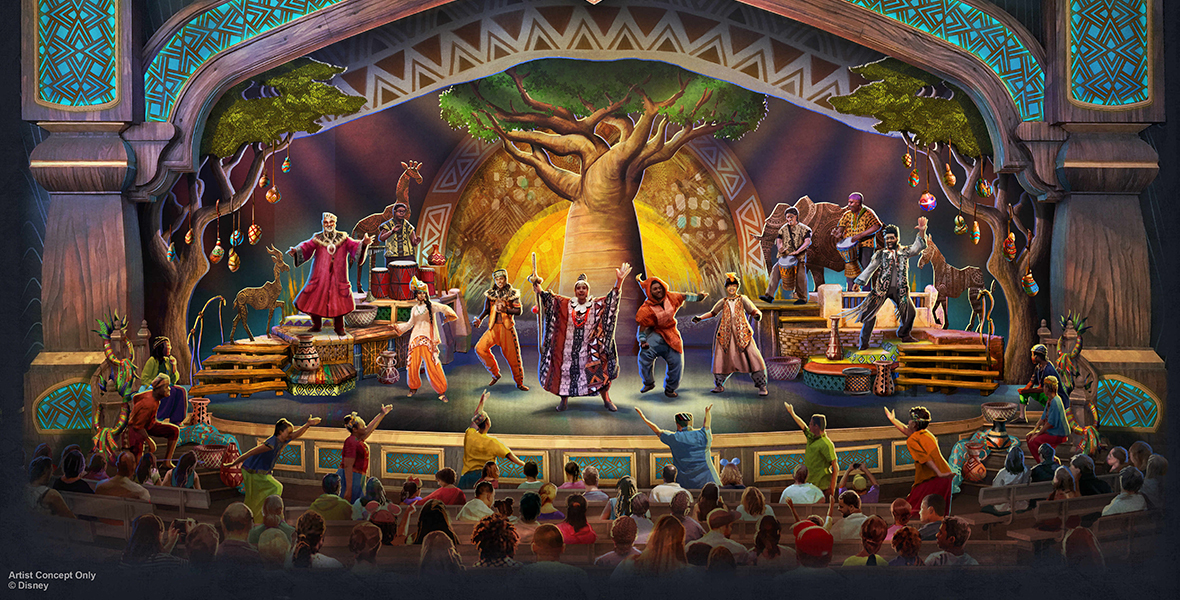 Tale of the Lion King Returns to Disneyland Resort as Part of Celebrate Soulfully
There's a lot to look forward to at Disneyland Resort this summer… Case in point? The continuation of Celebrate Soulfully—rich Disney Parks experiences that honor Black heritage and culture. And throughout the month of June, guests can expect to delight in several new (or returning) Celebrate Soulfully offerings.
Beginning May 28, 2022, Disneyland park will welcome Tale of the Lion King to its new home at the Fantasyland Theatre—where this original (and totally fantastic!) "story-theatre" adaptation of Disney's The Lion King will be staged in an all-new presentation, as depicted in the artist rendering above. At the heart of the production is a traveling troupe known as The Storytellers of the Pride Lands, who weave the tale of how a cub becomes a king through dialogue, song, dance, and percussion. From the scenic and costume designs to the new original musical arrangements and choreography, every aspect of Tale of the Lion King honors and is inspired by the cultural roots of this timeless story.
Then, beginning June 1 and running through July 4, guests can enjoy Celebrate Soulfully at Disney California Adventure park with daily live music celebrating Black music genres from Doo-Wop to Motown. Feel the nostalgia of Carthay Circle and enjoy Philly Phonics, an a capella vocal group, performing jazzy tunes from the 1920s through today; stylish Five & Dime will sing and swing 1920s and '30s tunes. In the evening, head to the Hollywood Backlot to enjoy the summer vibes of this special block party, featuring live musical acts seven nights a week.
Plus: Don't miss "The Soul of Jazz: An American Adventure," a touring exhibit illustrating the legacy and dynamic history of jazz, when it opens at Downtown Disney District—its first big West Coast stop!—on June 1. In the exhibit, which also runs through July 4, Joe Gardner from Disney and Pixar's Oscar®-winning hit Soul takes guests on a musical tour across America, showcasing the rich history of jazz along the way.
We'll see you there!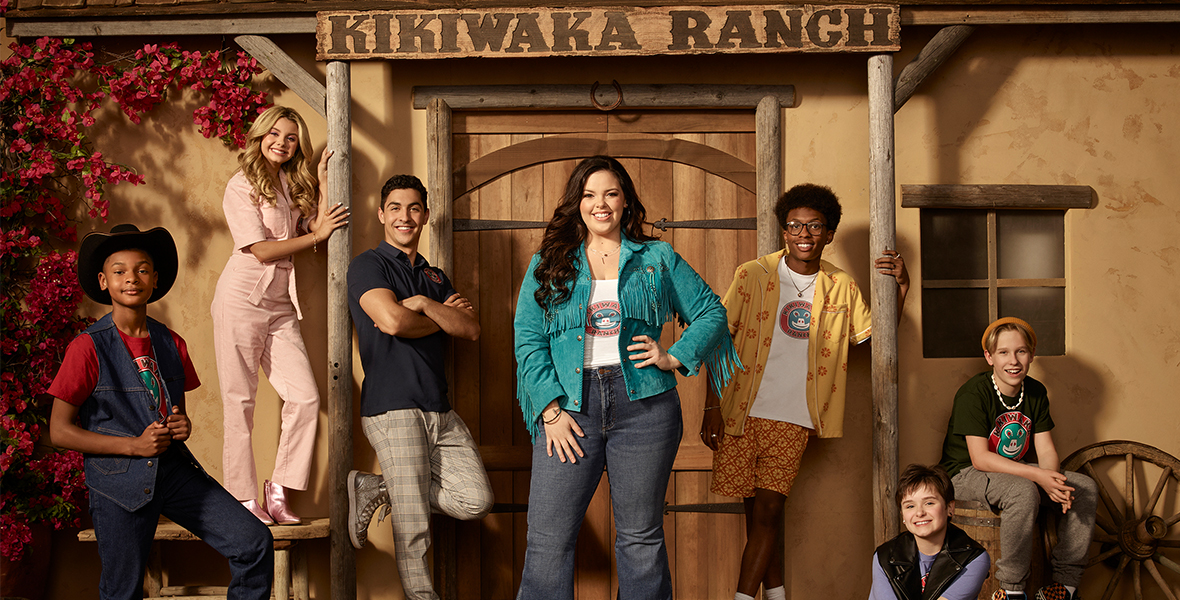 Disney Channel's BUNK'D Gets Its Season Six Premiere Date
Yeehaw! Pack yer bags and get ready for some summer fun! Disney Branded Television just announced that its long-running hit comedy series BUNK'D will return for a sixth season, beginning Friday, June 10, at 7:30 p.m. ET/PT on Disney Channel and DisneyNOW. And that's not all: Disney Channel also shared that the new season will include five additional episodes, bringing the grand total to 30.
A spinoff of the Disney Channel fan-favorite comedy Jessie, BUNK'D revolves around the hilarious adventures of the campers and counselors at Maine's rustic Camp Kikiwaka. Series regular Miranda May (Lou)—who also executive produces the series and will direct several episodes—joins Trevor Tordjman (Parker), Mallory James Mahoney (Destiny), and Israel Johnson (Noah) for the new installment. They will also welcome brand-new cast members Shiloh Verrico as Winnie, Luke Busey as Jake, and newcomer Alfred Lewis as Bill.
Season six, titled BUNK'D: Learning the Ropes, begins as Lou, Parker, Destiny, and Noah arrive at the soon-to-be Kikiwaka Ranch in Dusty Tush, Wyoming, where Lou must convince the surly owner, a.k.a. The Marshal, to officially sell the property to her. In the meantime, counselors Noah and Destiny have their hands full with the newly arrived campers, including Bill, a no-nonsense descendant of famous cowboy Bill Pickett; Winnie, a fearless girl who's earned her "Wild" nickname by breaking the rules; and Jake, a laid-back, easy-going video game fanatic.
ICYMI: Disney+ Expands the Descendants Universe with Movie Musical The Pocketwatch
Who couldn't use a little more Descendants in their life, right? We were especially excited earlier this week when the latest Auradon addition, The Pocketwatch, was officially announced; read up on what you can expect from the tune-filled Disney+ film, directed by Jennifer Phang, here at D23.com.