Mainframe Mania: TRON RUN/r Outlands Pack and Original Soundtrack
Looking to bring even more "Flynn's Arcade"-style action home? TRON RUN/r—the popular game for PlayStation 4, Xbox One, and Steam for PC—has some new adventures up its sleeve, courtesy of its just-released Outlands pack. The massive add-on offers exciting new zones and territories that bring more lightning-fast fun than ever before—including 16 new levels, five new characters (like Uprising Tron and Uprising Quorra), and three amazing new cycles.
But wait, there's more: Along with the Outlands expansion pack comes the original TRON RUN/r soundtrack! Brought to you by the award-winning video game record label Sumthing Else Music Works (in partnership with Disney), the soundtrack features the game's ultra-cool score by iconic producer Giorgio Moroder and co-composer Raney Shockne, plus remixes by EDM heavyweights Autechre, Darkstar, and Rusko—who all add their own flourishes to power you through the TRON universe.
The Outlands pack is available for digital download now … and you can find the soundtrack on Soundcloud!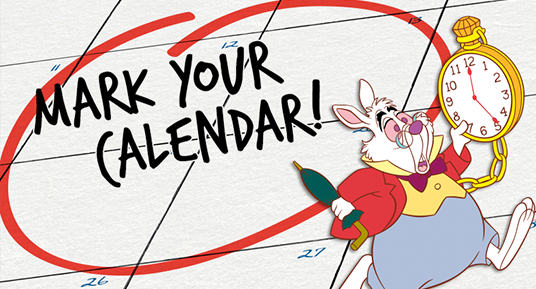 Save the Date!
Be sure to mark these upcoming Disney events on your calendar:
D23 and Walt Disney Archives


June 4


D23's Afternoon in the Sea: Finding Nemo


June 8


D23 Member Night at Newsies—On Tour in Salt Lake City, Utah


July 18


D23 Behind-the-Scenes Experience: Ink & Paint Department


August 22


D23 Presents Aloha Aulani!


November 19–20


D23 Destination D: Amazing Adventures


Studios




June 17, 2016


Finding Dory opens in theaters


July 1, 2016


The BFG opens in theaters


August 12, 2016


Pete's Dragon opens in theaters


November 23, 2016


Moana opens in theaters


December 16, 2016


Rogue One opens in theaters
Parks


June 16, 2016




Shanghai Disney Resort to open




June 17, 2016


Soarin' Around the World Debuts at Disney California Adventure and at Epcot
September 2, 8, 11, 13, 16, 18, 20, 23, 25, 29, 30; October 2, 4, 6, 7, 10, 11, 13, 14, 16, 18, 20, 21, 23, 25, 27, 28, 30, 31
Mickey's Not-So-Scary Halloween Party at Walt Disney World Resort
November 7, 8, 10, 11, 13, 15, 18, 27, 29; December 1, 2, 4, 6, 8, 9, 11, 13, 15, 16, 18, 22
Mickey's Very Merry Christmas Party at Walt Disney World Resort


Television




June 24


Adventures in Babysitting Premieres on Disney Channel at 8 p.m. EDT
---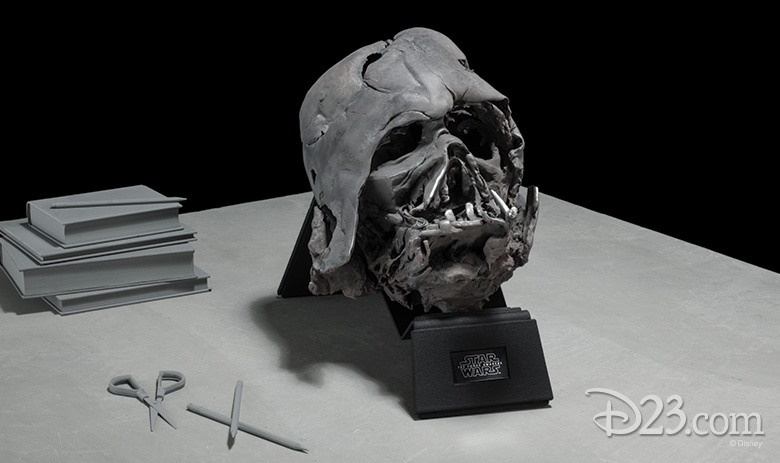 New Star Wars Prop Replicas You Have to See to Believe!
If you want to feel—even for one brief, shining moment—like you truly live in the Star Wars universe, look no further than the most authentic line of Star Wars prop replicas ever created. Just last week, Disney and Lucasfilm launched Star Wars Collectibles: Ultimate Studio Edition. Made to order by propmakers at Propshop in Pinewood Studios in London, the line will bring an unprecedented level of authenticity to prop replica products for fans. Each prop will be created using digital data collected during the filming of Star Wars: The Force Awakens, and the production process marries cutting-edge 3-D printing technology with master craftsmanship to produce replicas virtually identical to those seen on screen!
The initial offering from the Star Wars Collectibles line features eight prop replicas from Star Wars: The Force Awakens—including Darth Vader's melted helmet, Rey's lightsaber hilt, the FN-2187 Stormtrooper helmet, and more. Each item is a limited-production piece (due to the high level of craftsmanship required) and will come with custom display pedestals, all packed in cool wooden crates inspired by the real crates that ship the on-screen props.
Interested, you are? Check out StarWarsUltimateStudioEdition.com for more info.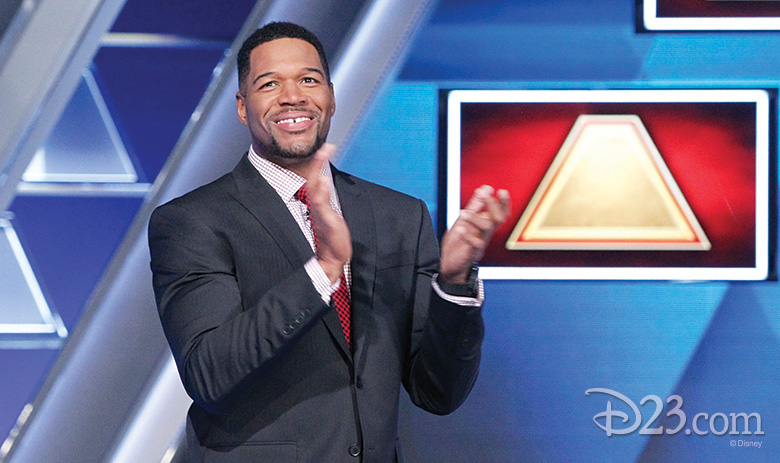 ABC's The $100,000 Pyramid Gets a Cavalcade of Stars This Summer
The hilarious, long-running game show The $100,000 Pyramid is back, and it's now in prime time. Originally hosted by the legendary Dick Clark, the game centered on two contestants—each paired with a celebrity—as they attempted to guess a series of words or phrases based on descriptions given to them by their teammates…
Now helmed by Good Morning America co-host Michael Strahan, The $100,000 Pyramid returns to ABC with more star-power than ever before! Look for priceless competitor combinations like Saturday Night Live alum Ana Gasteyer versus her former SNL cohort Rachel Dratch; rapper Snoop Dogg versus Martha Stewart; Scandal co-star Bellamy Young versus Grammy® winner "Weird Al" Yankovic; comedian Jon Lovitz versus football/baseball legend Deion Sanders; and The View contributor Sherri Shepherd versus black-ish star Anthony Anderson.
The $100,000 Pyramid is part of ABC's "Sunday Fun & Games" summer programming block—along with the return of Celebrity Family Feud (featuring Steve Harvey) and the debut of Match Game (a reboot of the '70s classic game show, now hosted by Alec Baldwin). The fun begins on Sunday, June 26!
A Look at Frozen—Live at the Hyperion's Enchanting Attire
Disney California Adventure's newest production, Frozen—Live at the Hyperion, is now open… and it's bringing a magical chill to audiences several times a day. Our friends at the Disney Parks Blog have been documenting the process of bringing Frozen to the Hyperion Theater stage over these last few months—and their newest video details what went into creating the production's exquisite costumes. Clint Ramos, the award-winning costume designer behind recent Broadway hits like Eclipsed (starring Lupita Nyong'o) and The Elephant Man (with Bradley Cooper), worked closely with the costumers at the Disneyland Resort to bring more than 1,000 costumes to life! And it was truly a global affair; some pieces were built here in Southern California, while others were created in New York, and fabric and trim were sourced from all over the world.
Follow along as Clint holds one of his final costume fittings with Frozen—Live at the Hyperion performers in the video, above.
Find Dory in New Games and Apps from Disney Interactive Media
We're tantalizingly close to the debut of Disney•Pixar's Finding Dory—and to celebrate, Disney Interactive Media is preparing a slew of mobile offerings inspired by Dory, Marlin, Nemo, and their oceanic pals.
The Finding Dory: Just Keep Swimming app, available now for mobile devices, finds players helping Dory collect bubbles through side-scrolling mazes that consist of 13 total levels (including the Reef, the Marine Life Institute, the Kelp Forest, and more). Find the app at the Apple App Store, the Google Play store, and Microsoft for Windows 10… and look for its Android and Apple TV release later this month.
Additionally, several other Disney mobile apps and games will soon feature new Dory-related content, including Disney Story Central, Disney Jigsaw Puzzles!, and Disney Color and Play. And a brand-new mobile game, Dory's Reef, is on the horizon!
Finding Dory takes the wild East Australian Current into theaters on Friday, June 17.