Neil Patrick Harris' Next Hosting Gig: World of Color—Celebrate!
What does an Oscar® host do once his hosting duties are over? He goes to the Disneyland Resort, of course! Neil Patrick Harris—a longtime Disney fan and the voice of California Screamin'—will be serving as host of the all-new World of Color—Celebrate! The Wonderful World of Walt Disney, opening May 22 at Disney California Adventure as part of the Disneyland Resort Diamond Celebration. Neil will join Mickey Mouse in taking park guests on "a fun-filled and inspirational journey, exploring Walt Disney's decades-long legacy of memorable animated moments and his dream of Disneyland park, and culminating in a madcap musical tour of Disneyland Resort attractions as you've never seen them before!"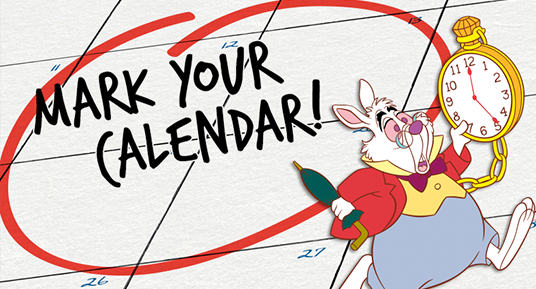 Save the Date!
Be sure to mark these upcoming Disney events on your calendar:
D23 and Walt Disney Archives


Fall 2014-2015


D23 Member Nights at Newsies—On Tour


March 3


Cinderella Cross Country Screenings


March 12


Cinderella Lights Up the Palace of Fine Arts


March 13


A Taste of Disney at Silverado Vineyards


March 15


The Hunchback of Notre Dame VIP Experience


March 27




Lunch with a Disney Legend: Orlando Ferrante




April 25


D23 Day at Walt Disney Studios and Archives


August 14-16


D23 Expo 2015 returns to Anaheim, California
Television


March 3


Marvel's Agents of S.H.I.E.L.D. returns at 9 p.m. ET/8 p.m. CT
Parks


March 4–May 17




22nd Epcot International Flower & Garden Festival.




May 15–June 14


Star Wars Weekends Returns to Disney's Hollywood Studios.


Studios




March 13


Cinderella opens in theaters.


April 17


Disneynature's Monkey Kingdom opens in theaters.


May 1


Avengers: Age of Ultron opens in theaters.


May 22


Tomorrowland opens in theaters.


June 19


Inside Out opens in theaters (along with the short Lava).


July 17


Ant Man opens in theaters.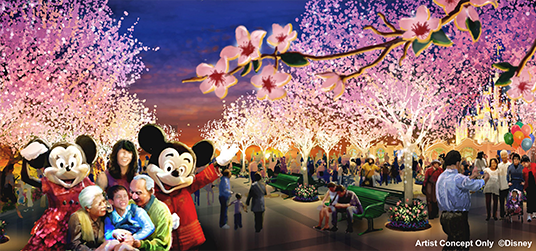 Meet the Disney Characters Who'll Be on View at The Garden of the Twelve Friends at Shanghai Disney
No two Disney parks or attractions are completely alike, which is one of the reasons why we love them individually, yet each is home to the characters and storytelling that makes Disney… Disney—which is, of course, the main reason why we love them collectively. When it opens, one of the elements that will be unique to Shanghai Disney Resort is The Garden of the Twelve Friends, which will be located near the center of the park. It will provide stunning views of the Enchanted Storybook Castle and will celebrate each of the 12 Chinese Zodiac characters by way of beloved Disney characters. The Year of the Sheep, which we're now celebrating in 2015, is represented by the "Jolly Holiday" lambs from Mary Poppins, while Tigger makes for a distinctively lively Disney representation of the Year of the Tiger. To take a look at all 12 Disney Zodiac characters, visit the Disney Parks Blog.
---
Watch Mall Shoppers Cast Surprisingly Magical Shadows
If you haven't already watched this video, it's sure to put a smile on your face and warm your heart. On a recent cold, dreary, East Coast-wintery day, some shoppers at a Long Island, N.Y. mall were pleasantly surprised to see "their" shadows showing their Disney Side. Kind of makes us want to head to our local mall . . . or, even better, a Disney park!
---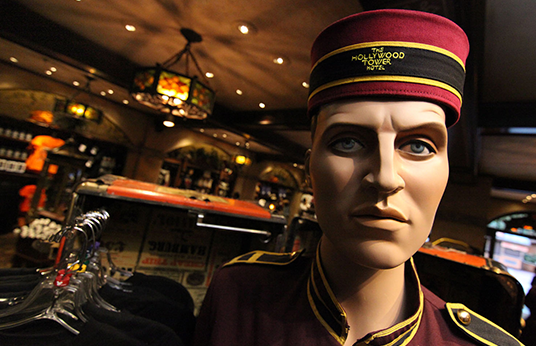 We Love the New Hollywood Tower Hotel-Themed Merchandise Now on Sale at Disney Parks
To venture into the Hollywood Tower Hotel and brave the Twilight Zone Tower of Terror's 13-story drop is an exhilarating experience. And with the new collection of Hollywood Tower Authentic Merchandise, you can commemorate that experience by bringing home items that range from bellhop's caps and Hollywood Tower Hotel luggage tags to an "HTH"-logo bell. To see more of the collection, visit the Disney Parks Blog. Additional items, including drinkware and stationery, will be added in the coming weeks.
---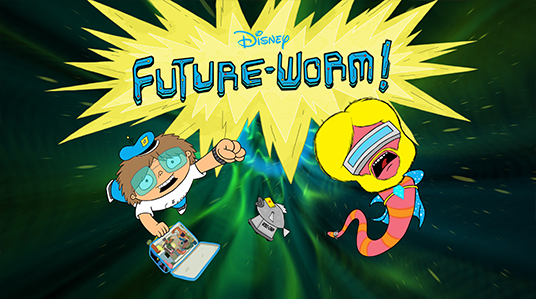 Future-Worm! Coming to Disney XD
We always love a story about a boy and his pet. But when a story is about a boy and his worm—and that worm comes from the future and has a beard? That makes us sit up and take notice! Future-Worm!—a new series premiering on Disney XD beginning in Fall 2015—follows Danny, an optimistic 12-year-old who creates a time machine lunch box and befriends Future Worm, a fearless worm from the future. Together, the duo navigates through space, time, and study hall, embarking on adventures and spontaneously making up new ones along the way. Future-Worm! is created by Emmy® Award-winning director Ryan Quincy (South Park, IFC's Out There). The role of Danny will be voiced by Andy Milonakis (Kroll Show) and Future Worm is voiced by James Adomian (The Late Late Show with Craig Ferguson).
---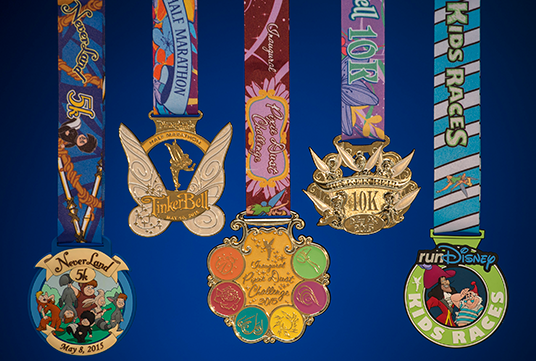 Medals for Tinker Bell Half Marathon Weekend Revealed
To complete any of the races held during the Tinker Bell Half Marathon Weekend (presented by PANDORA Jewelry) takes, faith, trust, pixie dust… and, of course, stamina and determination! The wonderful thing about finishing any runDisney race is that, in addition to the tremendous feeling of accomplishment, you receive a fabulous medal. The Tinker Bell Half Marathon Weekend takes place May 7–10 and the medals that will be awarded for the various races have been revealed. If you're running any of the races in May, enjoy this sneak peek at the rewards for your efforts; or let them inspire you to think about signing up for next year's Tinker Bell Half Marathon Weekend!
---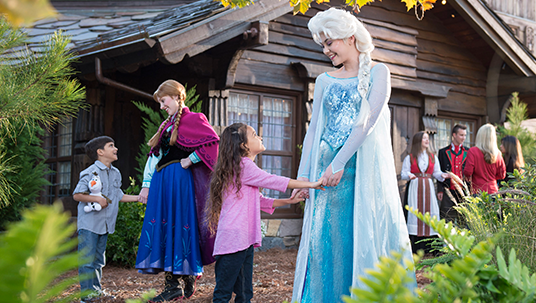 Frozen Friends Make Disney Cruise Line Port Adventures in Norway Even Cooler
It's no secret that the lovely kingdom of Arendelle was inspired by Norway, and Disney Cruise Line is sailing to Norway this summer. One of the sailings' Port Adventures now includes visits from our favorite Arendelle royal sisters, Anna and Elsa, and they'll be bringing Kristoff along with them, as well. Guests will take part in a Norwegian summer celebration, dancing folkloric tunes, playing traditional games, and taking in the beautiful surroundings. To learn more about Disney Cruise Line's sailings and ports of call, visit the official Disney Cruise Line website.
---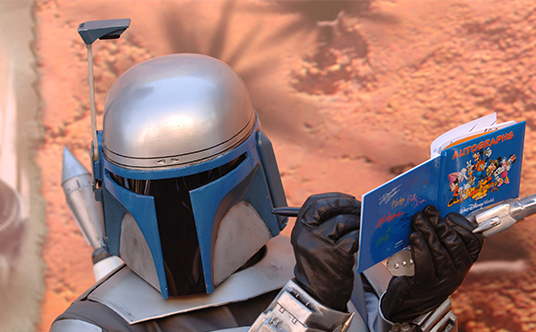 News From a Galaxy Far, Far Away
Our anticipation for the upcoming Star Wars Weekends is growing like a rebel uprising! The event returns to Disney's Hollywood Studios May 15–June 14, and details about this year's weekends are beginning to emerge. The key art was unveiled this week, and seeing Mickey wielding a lightsaber has us feeling that the Force is strong in our favorite mouse. It was also announced that James Arnold Taylor (voice of Obi-Wan Kenobi on Star Wars: The Clone Wars) will host the Stars of the Saga talk show at a new, larger location in Theater of the Stars on Sunset Boulevard. Darth's Mall will also move to a more spacious complex near Streets of America, and will feature merchandise exclusively themed to Star Wars Weekends 2015. The weekends will once again feature special guests, a grand nighttime celebration, and fireworks. As Master Yoda might say, "Wait, we can't. Patience, we must have."
Wait, we can't. Patience, we must have.
Patience is also required as we wait for Star Wars Celebration, taking place April 16–19 in Anaheim. Mark Hamill, Luke Skywalker himself, has joined the lineup of guests who will be on hand for this, his fourth Celebration; and a cantina-full of luminaries from the Star Wars Saga will be meeting fans and signing autographs in the Celebration Autograph Hall by Official Pix. Some of the names that have been announced are Peter Mayhew (Chewbacca), Jeremy Bulloch (Boba Fett in The Empire Strikes Back and Return of the Jedi), and Tim Rose (Admiral Ackbar in Return of the Jedi). Head to StarWars.com to see the celebrities already slated to attend.