Disneyland Resort Will Get Frozen This Winter…
When we think "winter," we think "snow." And when we think "snow," we, of course, think Frozen—so we're going to be spending a lot more time at the Disneyland Resort this winter, now that they've announced a slew of new Frozen experiences! Frozen Fun will open at Disney California Adventure beginning January 7, 2015, when For the First Time in Forever—A Frozen Sing-Along Celebration takes over the Muppet*Vision 3D theater in Hollywood Land. Anna, Elsa, and Kristoff will be on hand for this fun and comedic interpretation of Arendelle's history, and best of all, we get to "let it go" and sing along, too! Hollywood Land's Stage 17 will be home to a winter wonderland—hosted by our favorite snowman—with Olaf's Snow Fest. We don't know if we'll be able to buy carrots at Wandering Oaken's Trading Post, but we have a hunch it'll our go-to store for just about everything else that Frozen fans might need. And this is just the tip of an Arendelle iceberg! For all of the new experiences (like Freeze the Night! A Family Dance Party) and new additions (Arendelle will be a stop on the Storybook Land Canal Boats cruise!), visit the Disney Parks Blog.
---

Save the Date!
Be sure to mark these upcoming Disney events on your calendar:
D23 and Walt Disney Archives




Fall 2014-2015


D23 Member Nights at Newsies—On Tour


December 13, 2014


Disney's Into the Woods Advance Screening


Through January 4, 2015


Treasures of the Walt Disney Archives, presented by D23: The Official Disney Fan Club at the Museum of Science and Industry, Chicago


August 14-16, 2015


D23 Expo 2015 returns to Anaheim, California
Television


December 1–25




ABC Family's "25 Days of Christmas"




December 14




Backstage with Disney on Broadway: Celebrating 20 Years airs at 7 p.m. ET.




January 6


Marvel'sAgent Carter premieres on ABC at 9 p.m. ET
Parks


November 7, 10, 13, 14, 16, 20, 21, and 30; and December 2, 4, 5, 7, 9, 11, 12, 14, 16, 18, and 19


Mickey's Very Merry Christmas Parties at Magic Kingdom Park


Studios




December 25


Into the Woods opens in theaters.


February 20, 2015


MacFarland, USA opens in theaters.


March 13, 2015


Cinderella opens in theaters.


April 17, 2015


Disneynature's Monkey Kingdom opens in theaters.


May 1, 2015


Avengers: Age of Ultron opens in theaters.


May 22, 2015


Tomorrowland opens in theaters.


June 19, 2015


Inside Out opens in theaters (along with the short Lava).
---

And Cinderella Is Getting Frozen Fever This Spring…
You could probably argue that we already have Frozen Fever, we're so excited about a new adventure for Arendelle's royal highnesses (and Kristoff and Olaf, too)! But the film, an all-new short directed by Frozen directors Chris Buck and Jennifer Lee—with an original song by Robert Lopez and Kristen Anderson-Lopez—has been officially announced to open in theaters March 13, 2015, in front of Cinderella, the live-action feature from Walt Disney Studios. In the short from Walt Disney Animation Studios, Elsa and Kristoff are determined to give Anna the best birthday celebration ever, but Elsa's icy powers may put more than just the party at risk. It might be Anna's birthday, but we feel like we're the ones who'll be receiving a gift!
---
Disneynature Isn't Just Monkey-ing Around
There are quite a few reasons why we'll be lining up to see Monkey Kingdom. First of all, we can think of no more "Disney" way to celebrate Earth Day than to see Disneynature's latest release, which follows in the tradition of Bears, African Cats, and Chimpanzee, to name but a few. Then there's the fact that Disneynature will make a donation to Conservation International in honor of everyone who sees Monkey Kingdom opening week, to help protect monkeys and other endangered species in their natural habitats. But watch the trailer above and you'll want to see Monkey Kingdom because Maya, the clever and blonde-bobbed monkey, and her infant son, Kip, are just so darned cute. The film opens in theaters on April 17, 2015.
---
Since the debut of the trailer for Cinderella, we've decided that our "happily-ever-after" will arrive on March 13, 2015, when the film opens in theaters. But in the meantime, we're studying the character posters Walt Disney Studios released last week, which provide a closer look at the actors and their breathtaking costumes, designed for the film by Academy Award®-winning costume designer Sandy Powell. The butterflies on Cinderella's gown… the funky florals worn by her stepmother and stepsisters… the Fairy Godmother and her magical white dress. The posters don't leave us counting how many times the clock is striking so much as we're counting how many days are still left until March 13.
---

Star Wars Weekends Are Not So Far, Far Away
Sometimes it feels like an eternity until Star Wars: The Force Awakens hits theaters, just over a year from now. But there is "a new hope" to make that year go by a little more quickly. Dates have been announced for 2015's Star Wars Weekends at Disney's Hollywood Studios at Walt Disney World. The dates are as follows—Fridays, Saturdays, and Sundays:
Weekend I: May 15–17, 2015
Weekend II: May 22–24, 2015
Weekend III: May 29–31, 2015
Weekend IV: June 5–7, 2015
Weekend V: June 12–14, 2015
Stay tuned to D23.com for more details as they're announced this spring.
---

Meet Doctor Strange
Doctor Strange officially has its star: Benedict Cumberbatch has been announced to play the title role of Doctor Stephen Strange, who, after a horrific car accident, discovers the hidden world of magic and alternate dimensions. The film, which will be directed by Scott Derrickson with Jon Spaihts writing the screenplay, is scheduled for release November 4, 2016.
---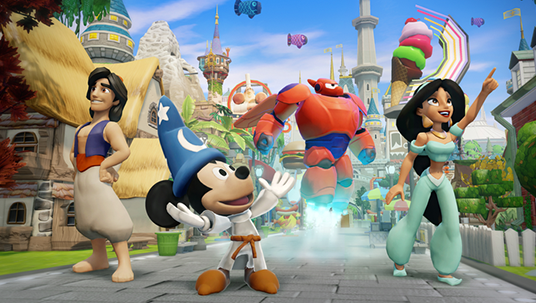 Crystal Mickey Brings the Magic To Disney Infinity
The Disney Infinity Team is continuing to fill the game's Toy Boxes with the characters we all know and love, and the newest addition is the character we know best of all: Mickey Mouse. Crystal Sorcerer's Apprentice Mickey is playable in both Toy Box 2.0 and Toy Box 1.0, bringing the magic to the game with his magic bursts and spell-casting powers, and the figure is available at retailers nationwide.
---

Watch Backstage with Disney on Broadway: Celebrating 20 Years This Weekend
Disney Theatrical Productions is celebrating 20 years on Broadway with a special that looks back at the creation of Disney's eight Broadway musicals: Beauty and the Beast, The Lion King AIDA, Tarzan, The Little Mermaid, Mary Poppins, Newsies, and Aladdin. And whether you're a frequent Broadway denizen or seeing a Disney production on Broadway is still on your bucket list, you'll love the behind-the-scenes access the special offers, including cameras showing you what it's like backstage during an actual performance of Aladdin, a special rehearsal of The Lion King, and a glimpse at how Disney Theatrical takes the show on the road with the cast of the North American tour of Newsies. Backstage with Disney on Broadway: Celebrating 20 Years is hosted by Modern Family's Jesse Tyler Ferguson—a Broadway vet himself—and airs Sunday, December 14 at 7 p.m. ET/PT.