By Courtney Potter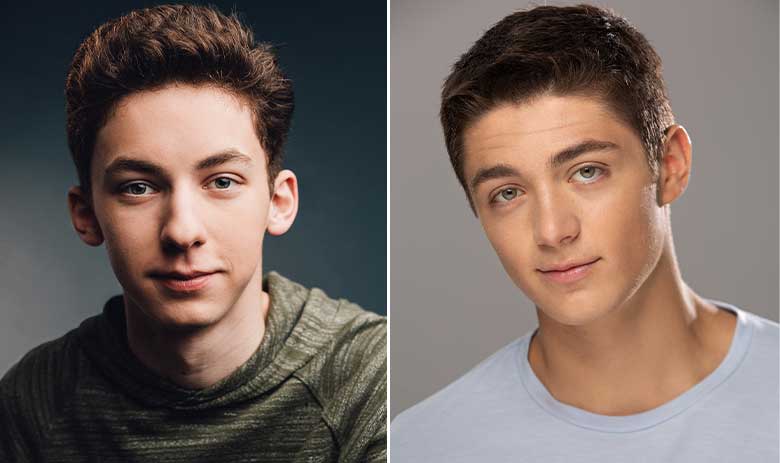 New Guest Stars Announced for Season 2 of Disney+'s High School Musical: The Musical: The Series
Great news for all fans of all things East High: Broadway's Andrew Barth Feldman (Dear Evan Hansen) and Disney Channel vet Asher Angel (Andi Mack) will guest star in the upcoming second season of the hit Disney+ original series High School Musical: The Musical: The Series. Created and executive-produced by Golden Globe® and Oscar® nominee Tim Federle, the series is currently in production in Salt Lake City.
After winning the 2018 National High School Musical Theatre Award (a.k.a. the Jimmy Award) as a high school sophomore, Barth Feldman made his Broadway debut only a year later as the title character in the Tony® Award-winning Dear Evan Hansen. If that weren't cool enough, Barth Feldman—who will attend Harvard University next year—also runs a theater company that he founded at age 12; called Zneefrock Productions, it partners theater with advocacy, raising funds for several charitable causes. He'll guest on HSM:TM:TS as Antoine, a French exchange student at East High.
As for Angel, he'll guest on the series as Jack, a charming, smooth-talking student with wanderlust. The actor/singer-songwriter is best known for his starring role as Jonah Beck on Disney Channel's award-winning series Andi Mack—as well as his turn as young Billy Batson in Warner Brothers DC Universe feature film Shazam!. Recently, Angel released his debut single "One Thought Away," featuring Wiz Khalifa.
Barth Feldman and Angel join previously announced season 2 guest stars Derek Hough (Dancing with the Stars), Roman Banks (another Dear Evan Hansen alum), and Olivia Rose Keegan (Days of our Lives). This time 'round, the East High Wildcats are preparing to perform Beauty and the Beast as their spring musical—and they'll be facing off against rival school North High to win a prestigious and cutthroat student theater competition. Wigs are snatched, loyalties are tested, and ballads are (as they should be) belted.
Look for more High School Musical: The Musical: The Series news—including a season 2 premiere date—soon.
5 Fantastic Things to Watch This Weekend
There are lots of premieres to look forward to from around the worlds of Disney this very weekend (which also happens to be the start of Lunar New Year; did you know 2021 is the Year of the Ox?). Look for the sure-to-be-amazing new documentary special Marvel's Behind the Mask on Disney+; Hip Hop Uncovered debuting on FX; an all-new season of American Idol kicking off on ABC this Sunday; and so much more!
New Trailer for Genius: Aretha, Debuting Soon on National Geographic
Genius, the Emmy®-winning anthology series from National Geographic, dramatizes the fascinating stories of the world's most brilliant innovators… and in its newest season, it'll take a deep dive into the life of the legendary—and we do mean legendary!—Aretha Franklin.
Genius: Aretha will explore Franklin's musical genius and incomparable career, as well as the immeasurable impact and lasting influence she has had on music and culture around the world. Over the course of her life, the Grammy®-winning singer was a gospel prodigy; an outspoken civil rights champion; and widely considered to be the greatest singer of the past 50 years, receiving countless honors throughout her career. Franklin will be portrayed by the triple threat Tony-, Emmy- and Grammy-winning Cynthia Erivo (Harriet, The Color Purple), with Emmy winner Courtney B. Vance as Aretha's father, C.L. Franklin. Genius: Aretha is the first-ever, definitive, and only authorized scripted series on the life of the universally acclaimed Queen of Soul.
This new season—produced by 20th Television and Imagine Television—will premiere in the U.S. on National Geographic, with two episodes across four consecutive nights beginning on Sunday, March 21, at 9/8c. Plus, the premiere episodes will be available the next day on Hulu, culminating in a celebration of Franklin's birthday, with all eight episodes available to stream by Thursday, March 25. Better not find yourself on that proverbial "chain of fools" and missing out—mark your calendars now.
The Fascinating Spring to Come from National Geographic…
In other National Geographic-related news: There is so much cool stuff to look forward to watching as we head into spring! Debuting Friday, March 12, on Disney+ is Own the Room, from National Geographic Documentary Films and the team behind the Emmy-winning Science Fair. The film follows five students from distinct corners of the globe as they take their big ideas to Macau, China, host of the Global Student Entrepreneur Awards. Among those profiled in this inspiring documentary are Santosh, from a small farming town in Nepal; Alondra, who works the register at her family's bakery in Puerto Rico; Henry, a programming wiz from Nairobi; Jason, a marketing machine from Greece; and Daniela, an immigrant escaping the crisis in Venezuela, taking on the chemical industry from her lab at NYU. They've each overcome immense obstacles in pursuit of their dreams, from hurricanes to poverty to civil unrest. Their ideas have already changed their own lives—but are they ready to change the world?
Additionally, viewers can look forward to the March 29 premiere of the new seven-part series Race to the Center of the Earth—from the producers of The Amazing Race—which will be paired with a new season of fan-favorite adventure series Running Wild with Bear Grylls; an all-new season of Dr. Oakley, Yukon Vet premiering March 13 on Nat Geo WILD; the new digital doc shorts series National Geographic Presents: IMPACT with Gal Gadot, debuting on April 19 across National Geographic digital and social platforms; the Disney+ Earth Day premiere of the original series Secrets of the Whales, from executive producer James Cameron and featuring National Geographic photographer Brian Skerry; and the Memorial Day premiere of the new series Breaking Bobby Bones, in which the American Idol mentor travels to far-flung destinations across the country to find folks with unique jobs, skills, hobbies, and abilities.
We can't wait for all the adventurous fun to come!
Disney Channel Announces Cast for Marvel's Moon Girl and Devil Dinosaur
There's a highly anticipated new series coming in 2022 to Disney Channel—and earlier this week, they announced who will be lending their voices to the show's colorful and exciting characters. For the latest news that's fit to print (err, make that "post") about Marvel's Moon Girl and Devil Dinosaur, click here.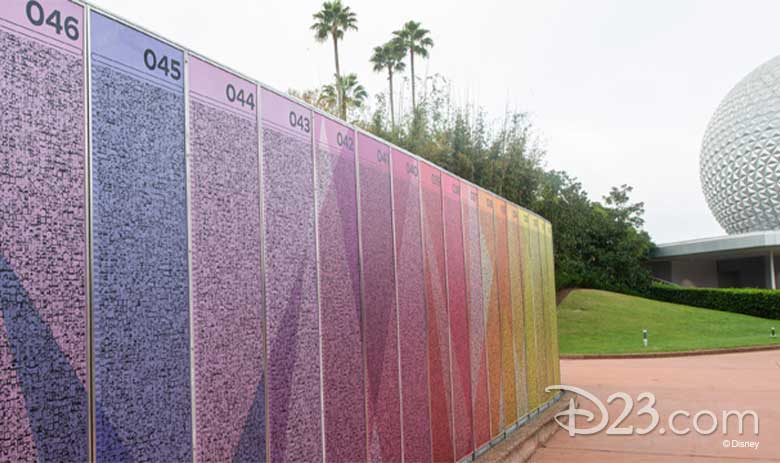 New Design for Returning EPCOT Leave a Legacy Display
EPCOT fans (hey, that's us!), listen up: Cool news from our pals at Walt Disney World Resort… As part of the transformation of the EPCOT main entrance area, the beloved original Legacy sculpture was removed in 2019. But the Leave a Legacy display will now live on in a beautiful new setting just outside the park!
The newly designed panels seen above are the first of many that'll be installed outside the EPCOT touch points, featuring fun, fresh hues from the park's new color palette. Along with the new look for Leave a Legacy, the beautiful fountain and shimmering pylons further illustrate the park's transformation—and the magic of possibility.
Want to search for a tile at this new location? WDW guests can use their smart device to scan the QR code at the Leave a Legacy display; this opens up the tile finder search feature, which can provide the coordinates for a tile's location. (Fancy!) Guests can also visit the EPCOT guest Relations team for assistance.
For more info—including an adorable story about some of our Parks Blog pals, related to the original Leave a Legacy display, that's perfect for this Valentine's Day Weekend—visit DisneyParksBlog.com.
ICYMI: Trailers for Raya and the Last Dragon and The Falcon and The Winter Soldier
In case you missed last weekend's Big Game, and—subsequently—the debut of some fantastic new Disney-related trailers, we're here to help. Take a gander at new clips for Raya and the Last Dragon (coming to theaters or available for order on Disney+ with Premier Access on March 5) and The Falcon and The Winder Solder (the original series debuting March 19, exclusively on Disney+) right here at D23.com.