If ye come seekin' news about Pirates, you've come to the proper place! The Disney Parks Blog just revealed that a few changes are coming to the Pirates of the Caribbean attraction at Disneyland Paris when it reopens on July 24, and we've got all of the details about the new rascals and scoundrels who are joining the crew.
Disney Imagineers took inspiration from the blockbuster Pirates of the Caribbean movie franchise as they added new magic to the attraction, in the form of new Audio-Animatronics® figures, costumes, special effects, lighting, and sound. Guests might recognize some melodies from the films, and they'll see a familiar face, as well: In a new scene that can only be experienced at Disneyland Paris, Captain Barbossa makes his attraction debut. And fans are advised to heed the warning they receive from the ghosts of Davy Jones and Blackbeard that "dead men DO tell tales!" Indeed.
On this side of the pond, at Magic Kingdom park and Disneyland park, it's a pirate's life for a favorite redhead—beginning in 2018, after an already-planned refurbishment, the redhead is trading her fashionable bonnet for a pirate's hat. Guests will now see her joining the pirates' ranks and helping the locals "unload" their valuables at the Mercado auction.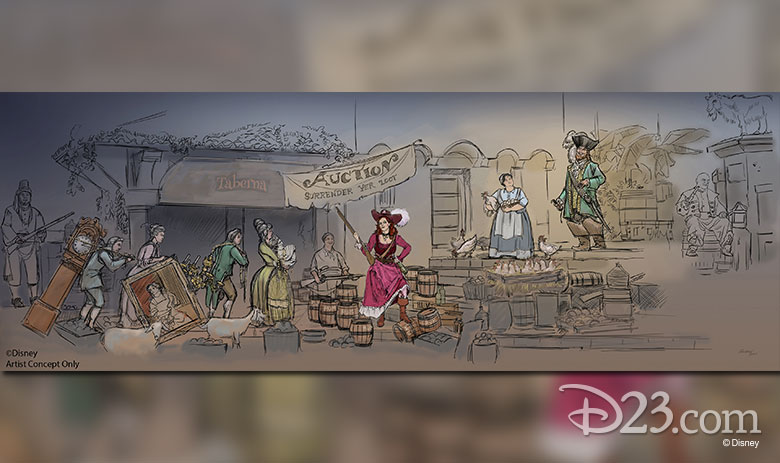 Kathy Mangum, senior vice president, Atlantic Region Executive for Walt Disney Imagineering, said, "Our team thought long and hard about how best to update this scene. Given the redhead has long been a fan favorite, we wanted to keep her as a pivotal part of the story, so we made her a plundering pirate! We think this keeps to the original vision of the attraction as envisioned by Marc Davis, X Atencio, and the other Disney Legends who first brought this classic to life."
Walt Disney Imagineering Ambassador Marty Sklar said of this new story twist, "Pirates of the Caribbean has always represented great Disney Park storytelling; it has set the standard for the theme park industry for half a century! But it's a story you can continue to add fun to, with great characters in new 'performances.' That's what the Imagineers have done with this new auction scene—it's like a theatre show with a new act."
The Disney Legend continued, "To me, the Imagineers are simply reflecting what Walt started the day Disneyland opened—making changes that create exciting new experiences for our guests. I can't think of a single attraction that has not been enhanced and improved, some over and over again. Change is a 'tradition' at Disneyland that today's Imagineers practice—they learned it from their mentors, many of them Walt's original team of storytellers and designers—the Disney Legends."
Keep a weather eye open for more tales about these new pirates on D23.com.