By Courtney Potter
With epic scope and significance, Disney's Mulan tells the story of a fearless young woman who risks everything out of love for her family—and her country—to become one of the greatest warriors China has ever known. As with any film of such heroic scale, the design seen on screen is of utmost importance. Enter Bina Daigeler, the renowned costume designer recently nominated for a Primetime Emmy® Award for her work on FX on Hulu's Mrs. America…
Daigeler, who worked with Mulan director Niki Caro on 2017's The Zookeeper's Wife, was tasked with bringing Imperial China to life—and it was a task not taken lightly. "All my costumes are based on deep research that I did about Chinese culture and Chinese history," Daigeler recently explained to D23. "And for me, it was very important that I treat the Chinese history with respect, because it's so rich and such a treasure—and so amazing. So I went for a few weeks through China, and visited all the big museums. Many costumes are inspired by the Tang dynasty… There's so much handicraft behind these costumes, and so much mutual inspiration and teamwork. And I had a lot of artists working with me, and everybody enjoyed it; I think the base of our movie is [a feeling of] good spirit, and I hope that everybody can see that."
Earlier this year, D23 attended a special Mulan costume display walk-through led by Daigeler herself; read on for her thoughts on some of the film's most intricate costuming.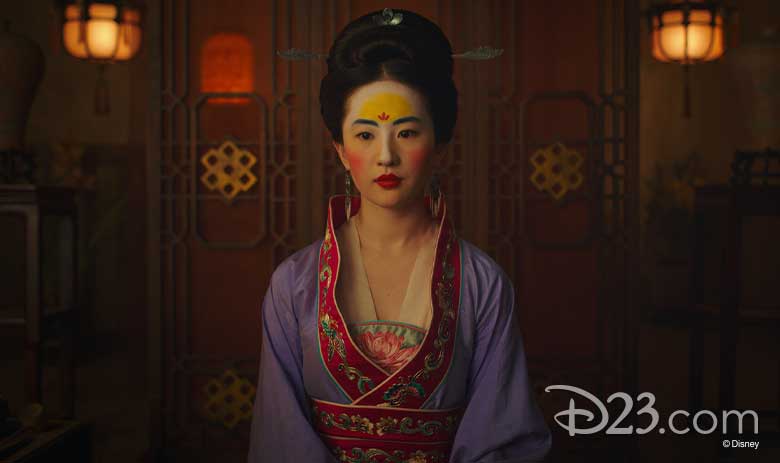 On Mulan's (Yifei Liu) matchmaking dress:
"So the inspiration [for this dress] came very soon, like the second day when I started after the [initial] script reading," explains Daigeler. "And I started to go through the different dynasties… I just like this idea that perhaps we see Mulan when she gets dressed, and I could imagine that it would be just an amazing visual moment on screen, when she twirls into this dress. And I proposed that to Niki and she loved the idea—and it is in the movie, so I'm very happy about that. The development of this dress took a long time, because she also has stunt scenes [in it]—and as you can see, it's very shaped to the body. So we had to do different dresses to 'cheat,' so that Yifei could do all her beautiful movements that she had to do… We constructed the whole thing, every single layer. And I think that that's very important—because the actresses and the actors, they can really feel it, how they get dressed and how they get into this completely other [time] period."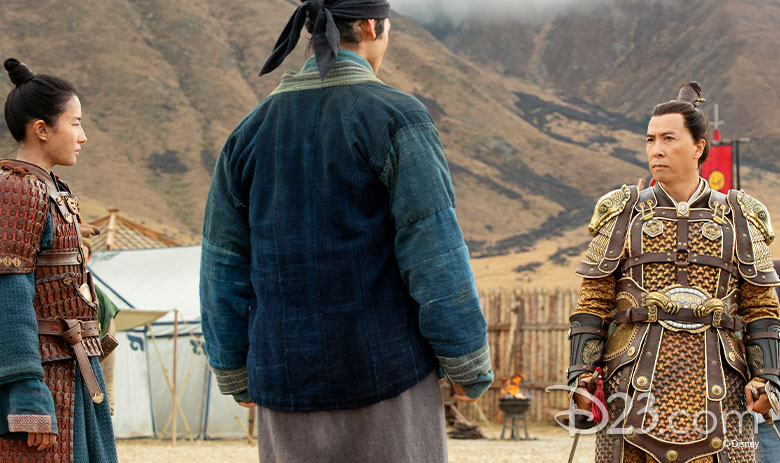 On Commander Tung's (Donnie Yen) military armor:
"[Donnie] himself was an inspiration," Daigeler says, "because we know that he knows all this special martial-arts movement… Everything [for Commander Tung] is inspired by turtles, and turtle shells. I had support from Chinese specialists who were very experienced with symbolism, and also military costumes. And so [the small details you see] play into military structure and hierarchy—you know, it's not by chance. There are many things really based on research… And it's very important that everything fits, [like] this leather piece is exactly the length of Donnie's arm, so that he can bend with it… We tried to make everything really rich because it was such a rich time."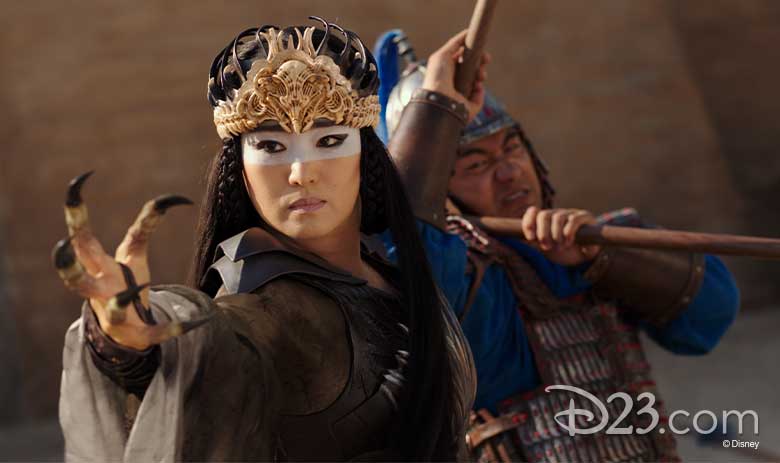 On Xianniang's (Gong Li) costume, perhaps the film's most elaborate:
"I was inspired by hawks," explains Daigeler. "[It felt like] they were visiting our workroom! We had hawk images all over… I take inspiration from a lot of things that I see and then I print them and I put them around the workroom for my crew; we have 'mood boards' so that everybody can get inspired and look for new ideas… The crown is inspired by bird skeletons—everything for [Xianniang] was inspired by the Earth, as well as hawks, with very grounded colors. That was important to me, that it looks somehow grounded and strong. You see that it's all hand-stitched, and it's all sculpted out of leather. You can bend it, and it gives the whole thing an organic feel… I think this character is actually very important, because it helps the storytelling. The journey of Mulan is also represented in [Xianniang] because both of them can't really be who they want to be [initially]… Her costume is quite stiff, but it also empowers her, and it protects her because she is living in a man's world."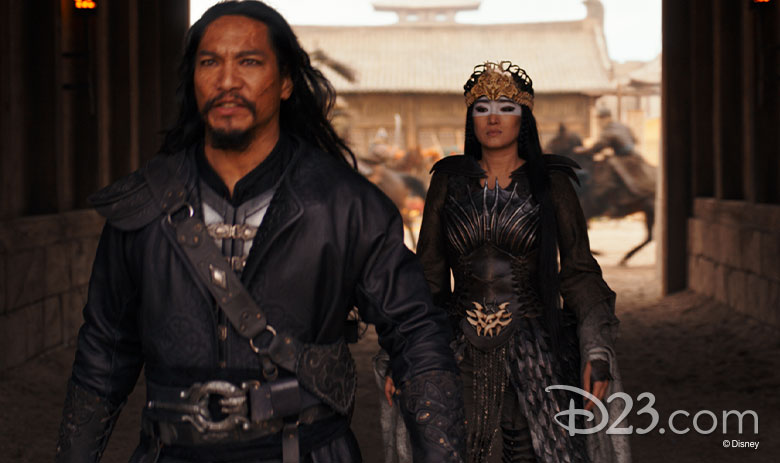 On the challenges of Böri Khan's (Jason Scott Lee) costume:
"Jason did such strong preparation [for this role]," Daigeler explains. "He went through such deep physical training—it was just inspiring to see how strong he is, and how well he really took it on and learned all these amazing skills. I immediately thought black was the right color for him… The first thing we needed was a signature belt for him. We thought once we have the right belt, everything else will come together. Niki was really looking for it to have a very strong image [for Böri Khan]. And I think once I had this particular belt, I knew, okay—now I can present something to her. With Niki, I had to surprise her… that was my challenge, and a great inspiration to me to see if I can surprise her with something… The initial prototype [of his armor]—I really wanted to have it made out of metal, so that I could really see what would look like. But we couldn't use it because he is riding horses; it was just too dangerous. So we used leather to copy the real armor. And it's a full circle skirt—so when he does his [martial arts] movements, the whole skirt can move. And all of it, again, is hand-stitched."
See Disney's Mulan beginning Friday, September 4, as a Premier Access offering on Disney+!