By Jocelyn Buhlman
We made our debut at San Diego Comic-Con today, and it's only appropriate that our very first panel would honor the mouse that started it all. Fans who gathered in Room 6A came to celebrate Mickey Mouse himself, but also to witness the unveiling of a brand-new work of art: Mickey's new birthday portrait! Titled "Spreading Happiness Around the World," the painting by legendary Walt Disney Animation Studios animator Mark Henn honors Mickey's 90th anniversary, and the fans gathered at our panel "Celebrating 90 Years of Mickey Mouse with D23: The Official Disney Fan Club" were the very first to see it in person!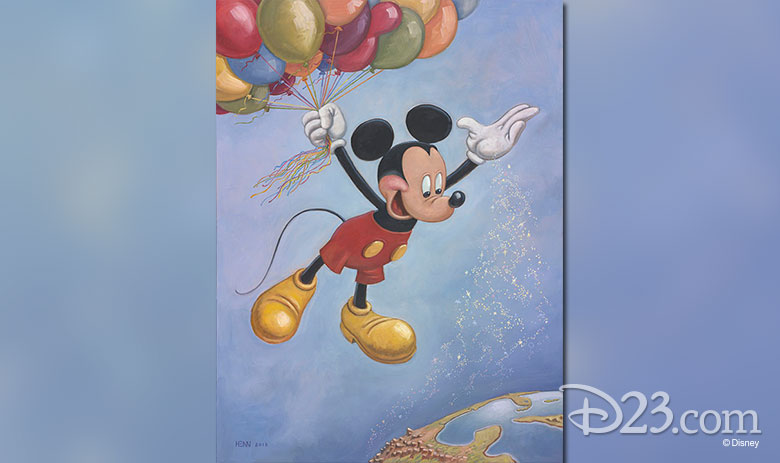 This stunning portrait, featuring Mickey floating over a world full of happiness, was commissioned by D23 and our friends at the Walt Disney Archives, in partnership with Walt Disney Animation Studios. Henn—a Disney animator currently working on Ralph Breaks the Internet, but who previously brought his magic to "Mini Maui" in Moana, along with supervising the animation on a castle's worth of Disney Princesses such as Ariel, Belle, Jasmine, Mulan, Pocahontas, and Princess Tiana—follows in the footsteps of Disney Legend John Hench, who crafted five of Mickey's previous official portraits.
"It is one of the great honors of my career to be asked to paint Mickey's 90th birthday portrait," says Henn. "I was greatly inspired by the portraits painted by John Hench. I wanted to capture some of the same style and sense of youth that John achieved in his portraits." D23 Gold Members can enjoy the portrait in their own homes, as it is the stunning cover of the Fall 2018 issue of Disney twenty-three, the quarterly publication sent exclusively to Gold Members of D23.
Since we first met Mickey in his big-screen debut in Steamboat Willie on November 18, 1928, he has been the global ambassador for The Walt Disney Company. From the beloved Mickey Mouse Club to today's Mickey Mouse cartoon shorts, fans around the world enjoy Mickey's optimistic outlook and endearing personality every day. You can find out even more ways we'll be celebrating Mickey Mouse this year and join in the celebration yourself on social media with the hashtag #Mickey90.