By the D23 Team
Delight your loved ones with this magical hot cocoa concoction! These hot cocoa surprises—inspired by our pal Mickey Mouse—are the perfect homemade gift for the Disney fan in your life. For more tasty holiday recipes, visit our D23 Season of Magic page!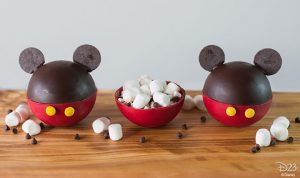 Ingredients
Cocoa Ingredients:
6 tablespoons instant hot cocoa mix
2 cups dark chocolate candy melts
2 cups red candy melts
1/4 mini marshmallows
1/3 cup mini semi-sweet chocolate chips
1 package mini candy-coated chocolates
Special Equipment:
Silicone half-sphere mold (available online or at most craft stores)
Directions
Place dark chocolate candy melts in a microwave-safe bowl and microwave for 30 seconds, stir, and continuing microwaving in 10-second intervals and stirring until completely melted. Repeat with the red candy melts in a separate bowl.
Using the back of a spoon, spread the melted dark chocolate in half of the indents in the silicone mold. Be sure to spread it all the way to the edge, keeping the layer as even as possible. Repeat with the red chocolate on the other half of the mold. Place in the fridge to chill for about 5 minutes or until hardened.
Spread a second layer of chocolate in each mold, making sure to fully cover any areas where the first layer was thin. Place in the fridge for another 5 minutes or until fully hardened.
Carefully remove each shell from the silicone mold. Fill each of the red shells with 2 tablespoons of hot cocoa mix, a handful of mini marshmallows, and a sprinkle of mini chocolate chips.
Using the remaining melted chocolate, spread a thin layer of chocolate around the top of each red shell, then place a dark chocolate shell on top, creating a full sphere. Use your finger to smooth any excess chocolate around the seam.
Grab 6 un-melted dark chocolate candy melts. Dip each of the candy melts into the remaining melted chocolate, then stick two to the top of each sphere, creating a Mickey Mouse silhouette. Carefully hold each in place for a few seconds to allow the chocolate to harden.
Finally, separate out 6 yellow candy-coated chocolates to use as Mickey's buttons. Dip each into the melted chocolate, then carefully stick 2 onto the red half of each sphere, just below the seam in the middle.
Ta-da! You're got a set of hot cocoa surprises inspired by Mickey Mouse himself. To serve, place in a heat-safe mug and carefully cover with hot milk or water. Stir until fully dissolved and enjoy!