By Zach Johnson
Marvel Studios' Black Widow doesn't just explore the titular hero's past—it introduces fans to the people who shaped it. Based on the beloved Marvel comic-book series first published in 1964, the film features Scarlett Johansson reprising her role as Natasha Romanoff/Black Widow. Rounding out the cast are Florence Pugh as Yelena Belova, David Harbour as Alexei aka Red Guardian, Rachel Weisz as Melina, and O-T Fagbenle as Mason.
The film is directed by award-winning filmmaker Cate Shortland and produced by Kevin Feige. Louis D'Esposito, Victoria Alonso, Brad Winderbaum, Nigel Gostelow, and Johansson serve as executive producers, and Brian Chapek and Mitch Bell serve as co-producers. The screenplay is written by Eric Pearson, and the story is by Jac Schaeffer and Ned Benson. Shot on location in Atlanta, Budapest, Morocco, Norway, and the U.K., Black Widow—the first film in Phase Four of the Marvel Cinematic Universe (MCU)—debuts concurrently in theaters and on Disney+ with Premier Access (for $29.99) in most markets on July 9, 2021.
Set between the events of Captain America: Civil War and Avengers: Infinity War, Black Widow shines a new light on Natasha's life in the shadows. "I think what's exciting about the film is we're playing with the audience's expectations. We're exploring parts of Natasha that the audience has absolutely no idea about," says Shortland. "We explore her family, love, and passion, and you get to see all these facets of her that we've never seen before."
Before Black Widow launches worldwide, get to know the characters: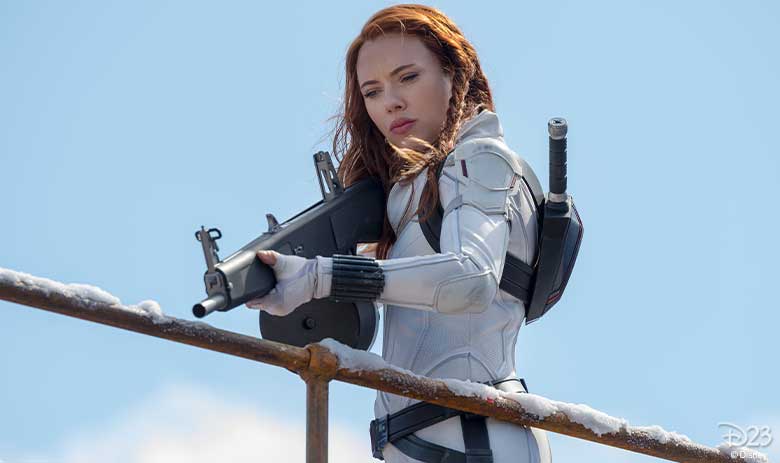 Natasha Romanoff aka Black Widow
After her new family, the Avengers, breaks up, Natasha—now a fugitive for breaking the Sokovia Accords—confronts the dark path she took to becoming a covert agent, as well as events that followed. She reluctantly reunites with people from her past who share a critical part of her history, as well as a desire to stop a lethal force from being released.
"I know a lot about this character because she's in me. But I haven't really had the opportunity to access all the parts of her," says Johansson. "Cate loves the idea of going inside this character. I've been able to make a lot of discoveries about her—to find different strengths and different flaws. It's been pretty therapeutic. I can't imagine that many actors have the opportunity to do that with a character they've played for 10 years."
"When you see Natasha in the Marvel Cinematic Universe, she's often this kind of impenetrable force," the Tony® Award winner continues. "She's reckless and out of control but still has this amazing intellect. What are her secrets? Her vulnerabilities? I am excited to share her fragility and her strength. She is in a male world, and she projects a certain way of being in that world. What we wanted to do is find out who is the real Black Widow."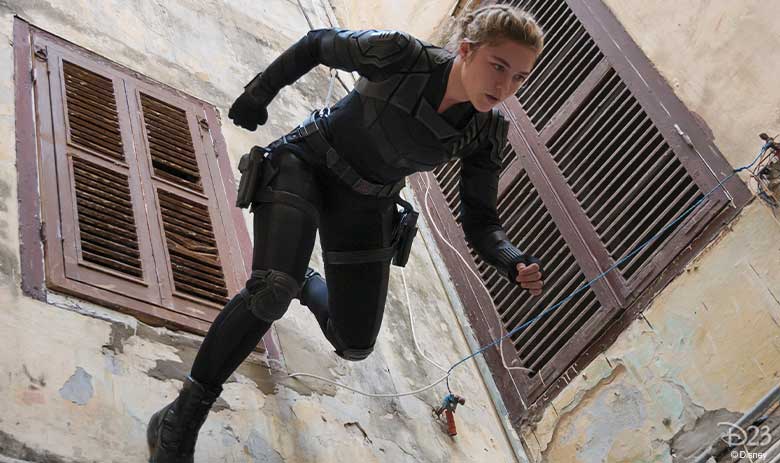 Yelena Belova
A product of the Red Room's unforgiving training program, Yelena is assertive and unapologetic. But when she finds herself caught in more than one widow's web, Yelena's only chance at survival may require teaming up with the one person she blames for a lifetime of suffering: Natasha. "Yelena is hurt and complicated and acts out," says Pugh. "One of the coolest things about playing Yelena is just how complex and broken she is for someone who is so sure of what she does. She knows exactly how to function in the areas in which she's been trained, but she has no clue how to live as a human being. She's a lethal weapon, but also a bit of a kid. That's been one of the nicest qualities about her."
"She doesn't exactly fit," Pugh continues. "That's one of the charming things about her. She reacts instinctually. There's nothing mysterious about her. She's quite simply there to get the job done. I think her relationship with Natasha is interesting because they're constantly butting heads in the way that siblings do. But she's equally, deeply in pain. She's had a very confusing childhood and I think she's constantly searching for a way to patch herself up."
What Yelena wants more than anything, Pugh says, is for someone to apologize. "She wants to stop feeling like she's insane. This isn't normal, and she really wants to let everybody know that she did not have a choice in this," the actress explains. "The whole of Yelena's anger, and I suppose her journey, is just trying to get these people that she thought she knew so well to admit that what they did was wrong, and that she was abandoned."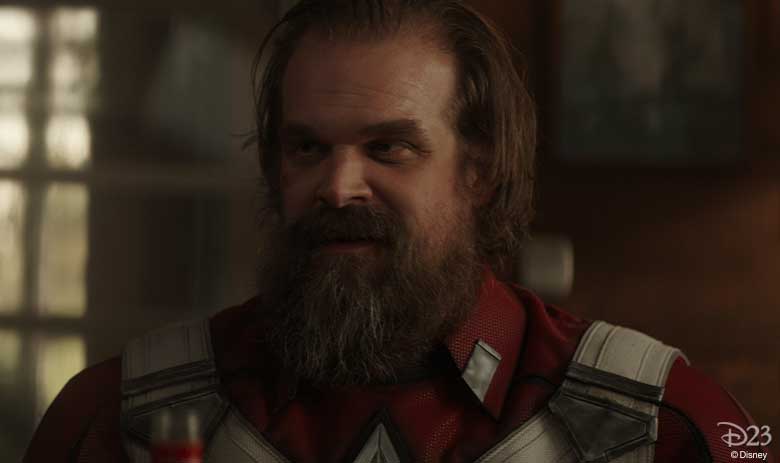 Alexei aka Red Guardian
The Red Room's answer to Captain America, Alexei is a super soldier and spy who lived a lifetime of triumph during the Cold War. Alexei's years of espionage are in the rearview, but he still considers himself a top hero… even if no one else does. He loves bragging about his glory days to anyone who will listen—which is easy, as his fellow inmates are a captive audience. Deep down—way deep down— he harbors a lot of guilt about his life as a spy, especially when it involves Natasha, whom he knew long before she became Black Widow. "In the beginning, for Alexei, everyone is sort of a reflection of him. That's the narcissist's M.O.; he is not interested in anyone else," says Harbour. "He's interested in how he's reflected in their eyes: 'So, am I cool? Am I strong? Do you like me? I know you do.'"
After all these years, Alexei has a chip on his shoulder that's the size of The Hulk. "He grew up in the Soviet Union and was chosen for a program similar to the Americans' Captain America," says Harbour. "While the Americans were creating their hero, the Russians were developing the Red Guardian. The problem was that he did not become as famous as Captain America, and it's the great tragedy of his life. He feels very unappreciated."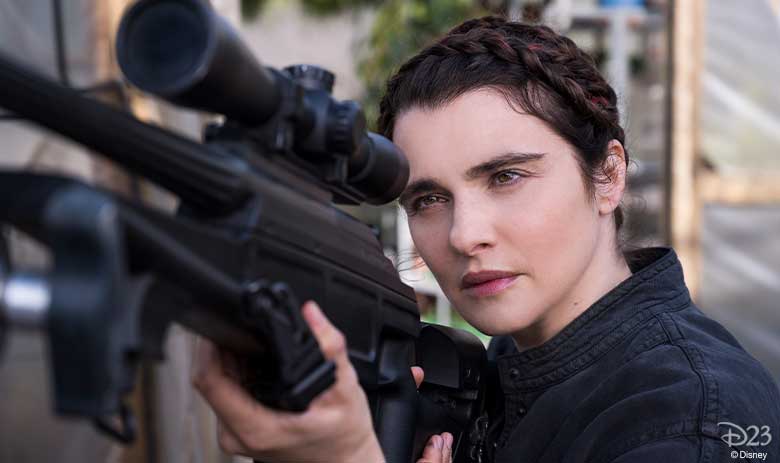 Melina
A highly trained spy who has been cycled through the Red Room's Widow program four times, Melina is cunning and methodical. After various undercover missions, one of which involved a young Natasha, the Red Room recognized Melina's intelligence and made her one of its lead scientists. After decades of service, Melina has been able to distance herself from the Red Room and lives on a pig farm in Russia. But when Natasha shows up on her doorstep with Yelena and Alexei in tow, Melina must decide where her true allegiance lies.
After posing as the matriarch of a seemingly normal family that included Alexei and a young Natasha and Yelena, Melina wonders if she became too attached to her comrades. "She was recruited when she was very young. She became a Russian spy and was planted with Alexei and two very young children in America pretending to be a suburban family with a white picket fence. I think Melina was a lot happier in those years," Weisz says. "I think her heart really hardened after that. She became hard and maybe a little bitter."
Taskmaster
The masked assassin carries out deadly missions on behalf of the Red Room. Armed with the ability to mimic an enemy's every move, the calculating and formidable villain will stop at nothing until his mission is accomplished. Taskmaster has an ability called photographic reflexes, meaning that "if he fights you once, he knows how to emulate your style," says Winderbaum. "Natasha's tricks might work in their first altercation, but by round two and three he knows everything, and she has to come up with something else." Natasha also has a complicated connection to Taskmaster, even if it's not immediately apparent. Teases Shortland, "In some ways, the Taskmaster is the living embodiment of Natasha's backstory."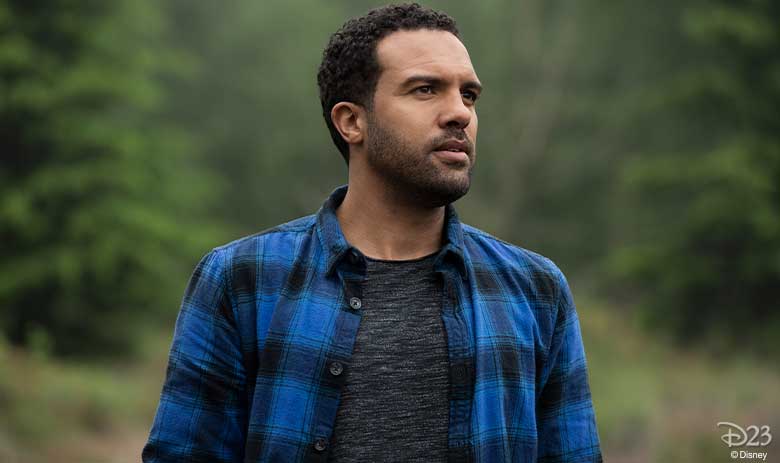 Mason
A man of mystery with a can-do attitude, Mason is actually a former soldier turned international smuggler who's paying a debt to Natasha after she rescued him from a Cambodian prison. Nonetheless, their bond is unmistakable. His ability to deliver on even the most far-fetched requests is admirable… though he's often caught sleeping on the job.
"When we meet Natasha and Mason, we realize that they have this rapport—even though they have not seen each other for many years," says Chapek. "They have this chemistry. It was very important to Cate that we see someone in Natasha's past life who understands her in a way that the Avengers might not have." New to the MCU, Mason is a "fixer," Chapek adds. "We needed someone who could be charming, strong, and intelligent, and be on the same playing field as Natasha. O-T Fagbenle is just that; he is an incredible actor."